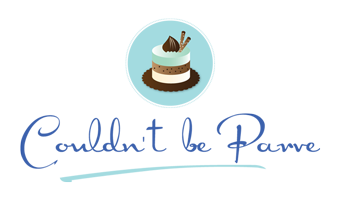 Gluten-Free Sugar Cookies
February 1, 2011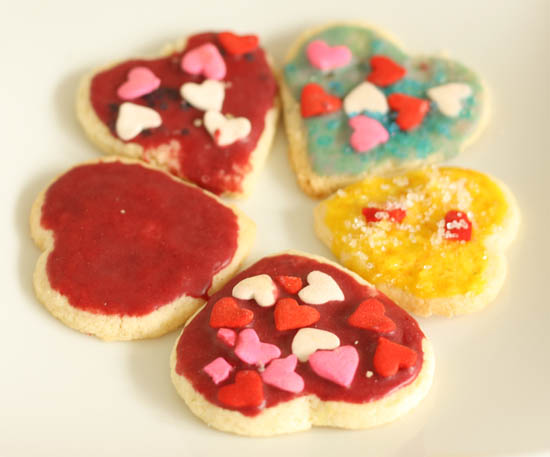 The baby is now three weeks old and we are starting to settle into being a family of four instead of three. It has been a bit of a difficult adjustment for my older son, who is no longer able to get all of my attention. Knowing that there would be other people around on Friday afternoon to help hold the baby (when he wasn't eating) I decided that it was the perfect opportunity to do a "big boy" project with my son so that he could have my undivided attention. We decided that making and decorating cookies seemed like a fun activity. When I questioned him, however, it became clear that he was not so interested in making the cookies. He wanted to decorate them with frosting and the new heart sprinkles we had just gotten. And of course eat them. So I made the cookies while he was at school and we made the frosting together when he got home.
Decorating these cookies with my three year old was an important lesson for me in letting go. These cookies were for him. Not for guests, not for my blog, these cookies were all about spending time with my little boy. About doing something together, just the two of us. I bake so often with this blog in mind that it took a little while for me to remember that it didn't matter what the finished product looked like. It didn't matter that he squirted half the bottle of red food coloring into the frosting making it intensely red, or that he wanted to add vanilla extract to the blue which made it grey. I didn't get to put a single sprinkle on a cookie, he did it all himself. And that was great. Sometimes it is really nice to bake without worrying about how to style the finished product to get the best picture. To bake just for the fun of it, without any ulterior motives. I haven't done that enough lately, and it was really nice. While I love all that goes into having a blog I am finding it difficult to find time these days to make things and photograph them (especially since the room I was using as my photography studio has become the baby's room). Remembering that I can bake just for fun feels liberating. I will bake and post as much as I can, but if an occasional cake, cookie or candy goes unphotographed that is fine too.
In spite of all that, these cookies were so delicious I wanted to share them. Knowing that in my son's mind these cookies were all about the frosting anyway, I decided to experiment with a gluten-free sugar cookie. The recipe fromThe Baking Beauties sounded promising, and I generally like her recipes, so I decided to try it. I tasted the batter and it had a bit of a funny flavor (I'm not used to gluten-free doughs) so I added a bit of Buttery Sweet Dough Bakery Emulsion which gave the cookies a great taste. The cookies were tasty unfrosted, but the slight grittiness of the rice flour was noticeable. However, once frosted the grittiness completely disappeared. The cookies were soft, moist and delicious. I gave them to several people without telling them they were gluten-free and everyone thought they were very tasty. I would certainly make these again.
Gluten-Free Rolled Sugar Cookies
(adapted from Incredible Edible Gluten-Free Food for Kids by Sheri L. Sanderson via The Baking Beauties)
Ingredients:
1/3 cup margarine
1/3 cup shortening
3/4 cup sugar
1 egg
1 tsp vanilla
1 tsp Buttery Sweet Dough Bakery Emulsion
1 Tbsp soymilk or other non dairy milk
1 cup rice flour
1/2 cup tapioca starch
1/2 cup potato starch
1 tsp unflavoured gelatin
2 tsp baking powder
1/4 tsp salt
1 tsp xanthan gum
For Frosting
powdered sugar
soy milk or other non dairy milk
a few drops lemon oil
food coloring (I use these natural ones)
Directions:
Preheat oven to 375 degrees F and line baking sheets with parchment paper.
In a large bowl, beat margarine and shortening until creamy. Add egg, vanilla and soymilk. Mix until combined.
In a separate large mixing bowl, combine rice flour, tapioca starch, potato starch, unflavoured gelatin, baking powder, salt and xanthan gum. Whisk to combine.
Add dry ingredients to creamed mixture. Stir until combined.
Dived dough in half and wrap each half in plastic wrap. Refrigerate for 2-3 hours, or overnight.
Remove one package of dough from the refrigerator. Roll it out between 2 sheets of waxed or parchment paper, to 1/4″ to 1/2″ thick. Place the dough, still between the waxed or parchment paper, on a cookie sheet and place it in the freezer for 20 minutes. Repeat with the remaining dough.
Remove one sheet of dough from the freezer and working quickly cut into desired shapes. Transfer cookies to the prepared cookie sheets. (If the dough becomes sticky, return to the freezer to chill again.) Bake in preheated oven for 7-8 minutes (for 2 1/2 inch cookies; less for smaller ones, more for larger ones) or until the edges are first and bottoms are very lightly browned. Cool for a minute or two on the cookie sheet, then transfer to a wire rack to cool fully.
Once cool, frost as desired. (Sprinkles are always fun)
I didn't measure the ingredients for the frosting/glaze. Simply place some powdered sugar in a bowl and add the soy milk bit by bit until it reaches the desired consistency. Add the lemon oil (to taste) and the food coloring. Let the frosting dry completely before stacking the cookies.
Recipe Updates – Delivered Fresh!
Thank You For Printing This Recipe! Visit Us Again Soon!
Recipe Page: http://www.couldntbeparve.com/recipe/gluten-free-sugar-cookies/