Gluten-Free Honey Cake
July 22, 2013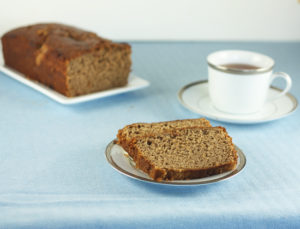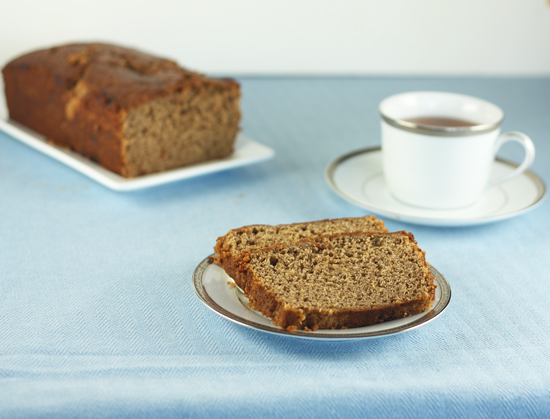 As some of my regular readers may have noticed over the past year I have been participating in the Kosher Connection Link-ups, posting a recipe each month in keeping an assigned theme. As a dessert blogger it is a been a wonderful challenge and I look forward to each month's linkup. For the one year anniversary of these linkups the organizers have initiated the "Great Blog Swap" where each of us makes a recipe from someone else's site rather than come up with our own. I was very happy when I saw that I got to make something from the The Gluten Free Nosh. As the mother of a daughter with celiac The Gluten Free Nosh shares all kinds of great tips and recipes for having a gluten-free family. Since I do quite a bit of gluten-free baking myself (for those interested here are all my gluten free recipes) I am always eager to try new gluten-free treats, and she has quite a collection.
I decided to make the honey cake recipe on her site because it is based off of my favorite honey cake recipe which seemed like a very good place to start. Since gluten free baking can be a bit finicky I decided to follow the recipe exactly, rather than make any changes. I have to admit that it makes me a bit crazy when people make all kinds of substitutions in my recipes and then send me emails complaining that they didn't work, so I didn't want to do the same to someone else. I am all in favor of adapting recipes and making them your own, and I frequently do just that, but once major components have been adapted I recognize that it is no longer a reflection on the original recipe if the end result is less than stellar. With this cake I am glad I left the recipe just as written. The cake is delicious. It is moist and flavorful and truly delicious, not just "good for gluten-free". You could easily serve this to everyone on Rosh Hashanah, gluten eaters and non-gluten eaters alike, and everyone would rave. That being said, next time I make this I will probably replace some of the liquid with a bit of brandy, since I like that boozy kick in my honey cake.
Even though I haven't changed anything in the recipe I am posting it below because I have added weights to the measurements. I find that with gluten-free baking, even more so than with standard baking, it is important to be precise with the measurements and a scale is the easiest way to do that. This is especially important if you are substituting different gluten free flours for the ones in the recipe. Since different flours weigh different amounts per cup, a cup for cup substitution will generally be less successful than one done by weight.
As part of this great birthday celebration the Kosher Connection is also holding an exciting giveaway. Enter for a chance to win one of two great prizes from from Emile Henry, a Bread Cloche valued at $130 and a 4.2 qt Dutch Oven valued at $170! There are 23 ways to enter so be sure to use the rafflecoptor below to get in on this great giveaway.
a Rafflecopter giveaway

Check out all these links for the rest of the "Great Blog Swap" recipes! Happy First Birthday to the Kosher Connection.
Recipe Updates – Delivered Fresh!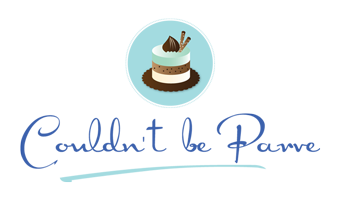 Ingredients & Instructions
Ingredients & Quantities
1 cup (160 g) brown rice flour
1/2 cup (60 g) buckwheat flour
1/2 cup (60 g) tapioca flour
3/4 cup (102 g) sorghum flour
3/4 cup (144 g) potato starch
1 1/4 cup (262 g) granulated sugar
1/2 cup (112 g) dark brown sugar
1 teaspoon xanthan gum
1 tablespoon baking powder
3/4 teaspoon baking soda
4 teaspoons ground cinnamon
½ teaspoon ground cloves
½ teaspoon ground nutmeg
½ teaspoon salt
3 (140 g) eggs
1/2 cup (112 g) apple sauce
1/3 cup (75 g) oil
1 cup (336 g) honey
1 cup (224 g) brewed tea or coffee
3/4 cup (168 g) orange juice
1 teaspoon grated orange zest
1 teaspoon (5 g) vanilla extract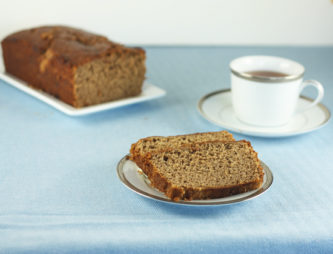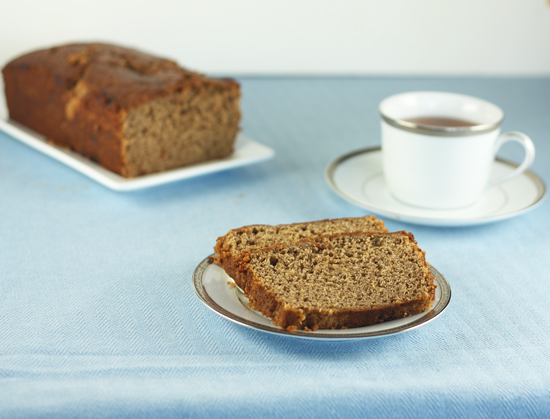 Preparation Instructions
Preheat oven to 350 degrees. Grease a baking pan well and coat it well with flour, so all surfaces are well coated. Use either a 10-inch tube or bundt pan, three 8 by 4½-inch loaf pans, or two 10 by 5 inch loaf pans. If using loaf pans line them with parchment paper leaving a one inch overhang on each side to make the cake easier to remove.
In a large bowl, whisk together the gluten-free flours, xanthan gum, baking powder, baking soda, cinnamon, cloves, nutmeg and salt. Mix in the granulated sugar and brown sugar. Set aside.
Beat the eggs in the bowl of an electric mixer. With the mixer on low speed, beat in the applesauce, vegetable oil, honey, tea, orange juice, orange zest and vanilla extract. Slowly mix in the dry ingredients until incorporated. The batter will be liquidy.
Pour the batter into the prepared pan(s). Bake until cake tester inserted into the middle of the cake comes out clean and the cake springs back when you touch it. For tube and bundt pans, bake for 50 to 60 minutes; loaf cakes, about 45-50 minutes.
When ready, remove the cake from the oven. If you are using a bundt pan, wrap the outside of the bundt pan in a kitchen towel that has been soaked in steaming hot water; the steam will help the cake release from the pan. Let the cake cool for 10 minutes before inverting onto a serving plate. Honey cake is best made at least one day in advance, to give the flavors time to develop. Wrap well and store at room temperature.
* Recipe adapted from The Gluten-Free Nosh's adaptation of Marcy Goldman's Majestic and Moist New Year's Honey Cake
Thank You For Printing This Recipe! Visit Us Again Soon!
Recipe Page: http://www.couldntbeparve.com/recipe/gluten-free-honey-cake/