Gluten-Free Hamentashen
March 3, 2011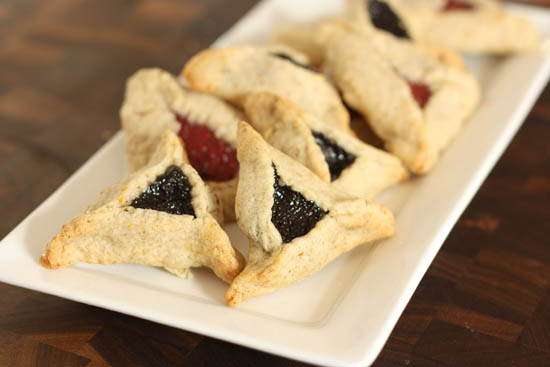 For many people food traditions are central to holiday celebrations. Whether it is matzah ball soup on Passover, turkey on Thanksgiving or hamentashen on Purim, sharing traditional foods is something we cherish. One of the hardest things about being on any kind of restricted diet is having to forgo the nostalgic food that everyone else is enjoying. This year I wanted to make hamentashen that everyone could enjoy, whether they eat gluten or not. A little bit of tinkering with my go-to hamentashen recipe and I came up with a gluten-free dough that makes hamentashen everyone is sure to love. I have been fighting off everyone who wanders through my kitchen to make sure that there are enough left for friends and family who really can't eat gluten. It looks like I am going to need to make another batch.
A word about gluten-free baking. In my experience a kitchen scale is really a must for gluten-free baking. (I would argue that it also a must for standard baking as well, it is so much easier to measure everything by weight.) With all of the different gluten-free flours that need to be used in a single recipe it is quite tedious to measure everything out. With a scale you simply place the bowl on the scale and pour in the ingredients one at a time and tare the scale back to zero in between each one. Also, different flours weigh different amounts for the same volume. If you want to substitute one flour for another do it by weight not volume. That being said, I realize that not everyone has a scale so I have provided the ingredients in volume measurements as well. They are a very close approximation of the weights,  but if you have a choice the scale is absolutely the way to go.
Recipe Updates – Delivered Fresh!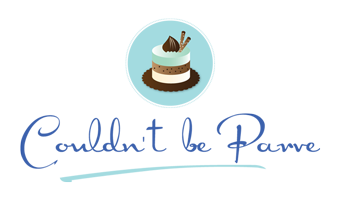 Ingredients & Instructions
Ingredients & Quantities
6 tablespoons (63g) potato starch
6 tablespoons (60g) superfine brown rice flour
1/2 cup (60g) tapioca starch/flour
5 tablespoons + 1 teaspoon (45g) sorghum flour
1 1/2 tablespoons (17g) potato flour (not potato starch)
7 1/2 tablespoons (75g) sweet rice flour
1 teaspoon (4 g) xanthum gum
1/2 cup (3 oz or 86g) chopped nuts
1 cup (7.5 oz or 210g) sugar
1 1/2 tsp baking powder
1/2 tsp salt
1 teaspoon orange zest
1/2 cup (4 oz or 112g) margarine, cut into 8 pieces
1/2 cup (4 oz or 112g) shortening, cut into 8 pieces
2 beaten eggs
2-4 Tablespoons orange juice
1 egg + 1 Tablespoon water, lightly beaten
Fillings of choice*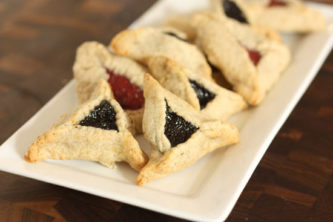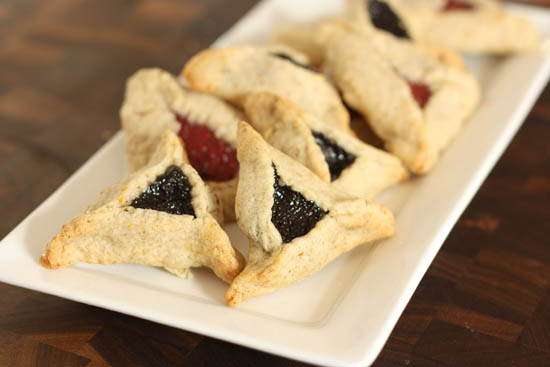 Preparation Instructions
Pulse the flours, xanthum gum, baking powder, salt, sugar, nuts and orange zest in the food processor until well combined. Add the margarine and shortening and pulse until mixture resembles a coarse meal.
Add the beaten eggs and pulse until combined.
Remove the mixture from the food processor and pour it into a large bowl. Sprinkle with two tablespoons of orange juice and mix until it comes together into a ball. If the dough seems dry add the remaining orange juice. Divide the dough into three pieces, form each piece of dough into a disk, and wrap in plastic wrap. Refrigerate at least 1 hour.
Preheat the oven to 350
Cooking Instructions
Roll out each section of dough between two sheets of parchment paper. Place the dough (still in the parchment) on a cookie sheet and freeze for 10 minutes.
Remove one sheet of dough from the freezer. Remove the top piece of parchment and cut into circles using a round cutter or the mouth of a drinking glass. Transfer circles to a parchment lined cookie sheet.
Fill each circle with a small amount of filling. (For 2 1/2 inch circles use about a teaspoon of filling). Brush each circle with the egg wash and fold two sides together, pinching tight to make a corner. Fold up the remaining side to make a triangle with the filling showing in the middle and pinch the other two corners well. It is important that they are well pinched, so that they do not come open in the oven. If the dough becomes too sticky, freeze it for a few minutes to re-chill it. Re-roll and freeze scraps. Repeat with remaining sheets of dough.
Bake the hamentashen until they are slightly firm to the touch, about 11 minutes. Transfer to a wire rack and cool completely.
*It is important that the fillings are not too runny. If using pie fillings or other canned fillings (like the Solo ones) the consistency should be fine. If using fruit preserves stir cornstarch into the preserves until they look slightly cloudy. Bake one test hamentash to make sure the filling doesn't run out in the oven before filling the rest of the batch. If it runs add a bit more cornstarch and test again.
Thank You For Printing This Recipe! Visit Us Again Soon!
Recipe Page: http://www.couldntbeparve.com/recipe/gluten-free-hamentashen/