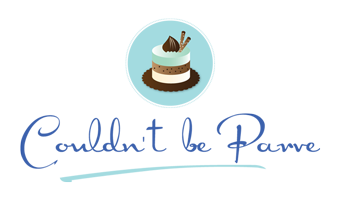 Gluten-Free Chocolate Chip Cookies
June 7, 2010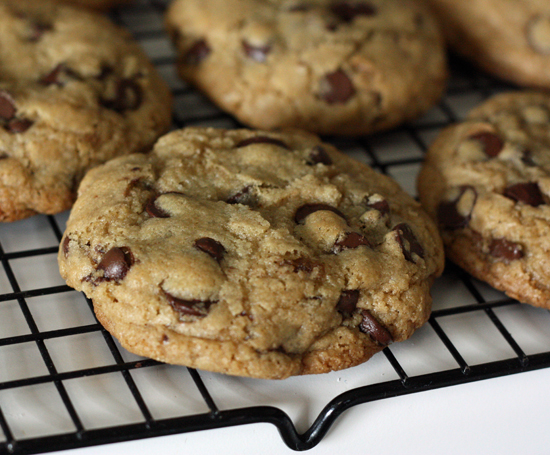 As I mentioned before I have been experimenting with gluten-free baking. So far I have had some complete failures, some delicious successes, and some things that were just ok but nothing to get excited about. These cookies are firmly in the success category. While the were not the most amazing chocolate chip cookie I have ever had, they were certainly tasty. These are thick and chewy chocolate chip cookies, which are my favorite kind. I am pretty picky about the baked goods that come out of my kitchen. These were good enough that I found myself going into the kitchen for just one more several times over the weekend.
I think the basic recipe would make a good base for substitutions, so I may play around a bit to turn it into a chewy peanut butter cookie or an oatmeal cookie.
Chewy Chocolate Chip Cookies
(adapted from Alton Brown)
8 ounces unsalted margarine
11 ounces brown rice flour, approximately 2 cups
1 1/4 ounces cornstarch, approximately 1/4 cup
1/2-ounce tapioca flour, approximately 2 tablespoons
1 teaspoon xanthan gum
1 teaspoon kosher salt
1 teaspoon baking soda
2 ounces sugar, approximately 1/4 cup
10 ounces light brown sugar, approximately 1 1/4 cups
1 whole egg
1 egg yolk
2 tablespoons non-dairy milk
1 1/2 teaspoons vanilla extract
12 ounces semisweet chocolate chips
Directions
Preheat the oven to 375 degrees F.
Melt the margarine in a heavy-bottom medium saucepan over low heat or in the microwave. Once melted, pour into the bowl of a stand mixer.
In a medium bowl, sift together the rice flour, cornstarch, tapioca flour, xantham gum, salt and baking soda. Set aside.
Add both of the sugars to the bowl with the butter and using the paddle attachment, cream together on medium speed for 1 minute. Add the whole egg, egg yolk, non-dairy milk and vanilla extract and mix until well combined. Slowly incorporate the flour mixture until thoroughly combined. Add the chocolate chips and stir to combine.
Chill the dough in the refrigerator until firm, approximately 1 hour. Shape the dough into 2-ounce balls and place on parchment-lined baking sheets, 6 cookies per sheet. Bake for 14 minutes, rotating the pans after 7 minutes for even baking. Remove from the oven and cool the cookies on the pans for 2 minutes. Move the cookies to a wire rack and cool completely. Store cooked cookies in an airtight container.
Recipe Updates – Delivered Fresh!
Thank You For Printing This Recipe! Visit Us Again Soon!
Recipe Page: http://www.couldntbeparve.com/recipe/gluten-free-chocolate-chip-cookies/