Gingerbread Caramel Corn
December 19, 2013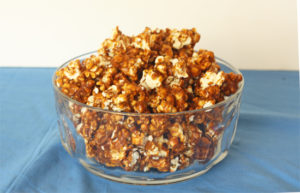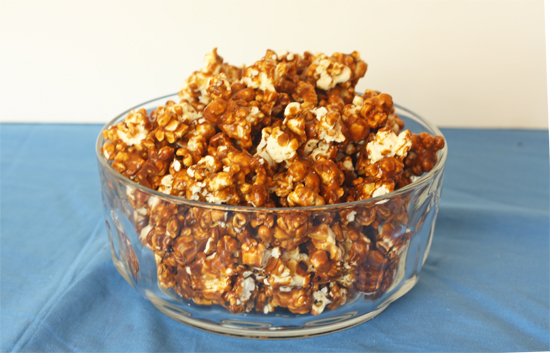 As I have said many times before I absolutely adore the foods and flavors of the Christmas season. I would never let a small thing, like the fact that we don't celebrate Christmas, keep me from filing my kitchen with all kinds of holiday treats and goodies. I turn my kitchen into a cookie and candy factory ostensibly for the purpose of making christmas and chanukkah presents, but if I am being perfectly honest I really do it so I have an excuse to make (and taste) some of my favorite treats. One of my favorite holiday flavors is gingerbread. While I do love a good spicy gingerbread cookie, it is also fun to take the flavors of gingerbread and turn them into something unexpected and delicious (like these marshmallows). This gingerbread caramel corn is the perfect thing to snack on throughout the holiday season. It is sweet, spicy and utterly addictive. Not to mention how amazing the house smells while it is baking. It will be hard not to make this again and again.
Besides being delicious, this gingerbread popcorn can also be very useful. When I am sending homemade candy and baked goods I like to fill the shipping box with popcorn (not the styrofoam packing kind, the edible kind) and then nestle the other goodies in with the popcorn. The popcorn protects the other things, is completely Eco friendly, and is delicious to boot! (In order to keep the popcorn clean and still edible when it arrives I use glad press n seal to completely line the inside of the box before filling it). I have used regular caramel corn in the past but this gingerbread version will take the holiday theme of the packages to the next level.
Recipe Updates – Delivered Fresh!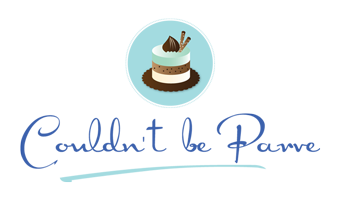 Ingredients & Instructions
Ingredients & Quantities
16 cups popped popcorn (4 oz unpopped kernels)
1 cup +2 tablespoons (9 oz) brown sugar
¾ cup (6 oz) salted margarine
6 tablespoons (4.5 oz) corn syrup
6 tablespoons (4.5 oz) molasses
1 tablespoon ground ginger
1 teaspoon cinnamon
pinch cloves
1/4 teaspoon freshly grated nutmeg
1/4 teaspoon salt
¾ teaspoon baking soda
1 teaspoon vanilla extract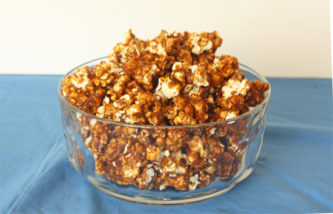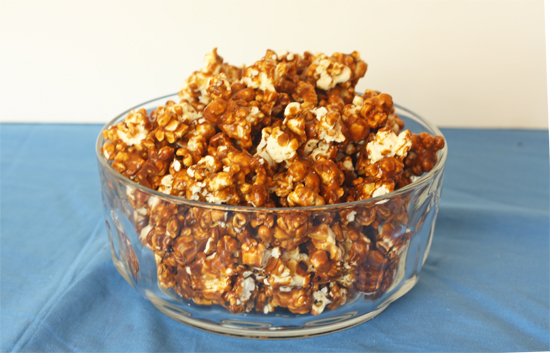 Preparation Instructions
Place the popcorn in a very large oiled bowl. (If you don't have a large enough bowl a stock pot works too). Set aside.
Oil the sides of a small heavy saucepan; add the brown sugar, margarine, corn syrup, molasses, spices and salt. Bring to a boil over medium heat, stirring constantly. Boil without stirring for 5 minutes.
Remove from the heat and stir in the baking soda (mixture will foam). Stir in the vanilla. Quickly pour the syrup over the popcorn and mix well.
Transfer the popcorn to two greased or parchment lined baking pans. Bake at 250° for 1 hour, stirring every 10 minutes. Remove from pans and cool completely. Store in an airtight container.
Recipe adapted from Taste of Home
Recipe Yield
3-1/2 quarts
Thank You For Printing This Recipe! Visit Us Again Soon!
Recipe Page: http://www.couldntbeparve.com/recipe/gingerbread-caramel-corn/