Ganache Filled Pecan Cookies
April 4, 2012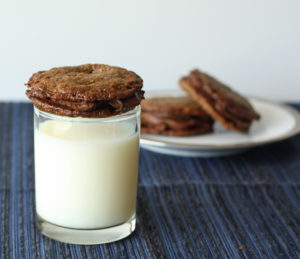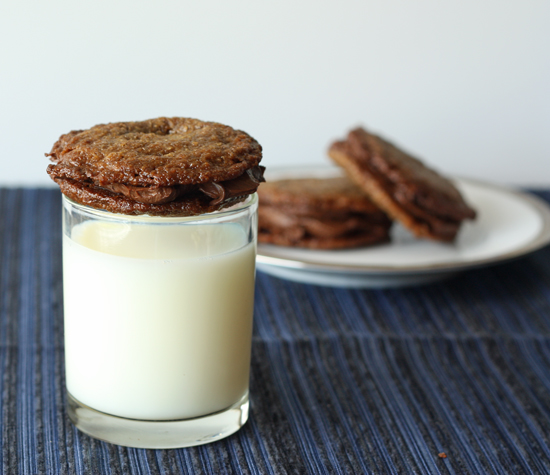 Several years ago my husband and I worked in the kitchen at the Seminary. While the food in the regular cafeteria at the Seminary was always pretty good, it was fun to work the fancy catered meals and see what delicious things the chef would come up with. One thing that was often served at the fancy meals that wasn't made in house was an assortment of petit fours and cookies. Elegant assortments of tiny cookies, tarts, cream puffs and mousses that were served with coffee. They were all beautiful to look at, but to be perfectly honest most of them didn't taste all that great. The one exception was the almond florentines. Shatteringly crisp cookies sandwiched with dark chocolate, those were my favorites. And fortunately for me, as someone working in the kitchen, they were so delicate there were always broken ones at the bottom of the box to snack on.
So what do those cookies have to do with these cookies? Even though they look totally different my husband took one bite of these and said "these taste like those cookies we liked at the Seminary." I completely agree. They do not have the crispness of those cookies, they are more of a chewy cookie, but the caramel-y nut flavor combined with chocolate is very similar. One of the tasters even said he thought it tasted like there were oats in the cookies which, even though there aren't in these cookies, there are in florentines. Even better these cookies are extremely easy to make. The ganache is smooth and creamy, with the texture of frosting. The ganache is so silky and smooth, it is one of my new favorite fillings. It is going to be showing up in a lot of different recipes, that is for sure.
The cookies do get soggy fairly quickly once they are filled so they need to be filled not too long before serving. However the ganache can be made up to a month ahead and is soft enough to spred right from the refrigerator. Keep some ganache on hand ready to go and you can whip up these cookies in no time at all.
UPDATE: I have gotten quite a few emails and comments from people who tried these cookies with other nut butters (primarily almond) and were disappointed that they did not spread and get thin and chewy like they were supposed to. This is because pecan butter is much runnier than other nut butters and the different types of nuts are not interchangeable. This ganache would be amazing in an almond butter sandwich cookie as well, so if using almond butter feel free to use the filling recipe but use this cookie recipe instead, substituting almond butter for the peanut butter.
Recipe Updates – Delivered Fresh!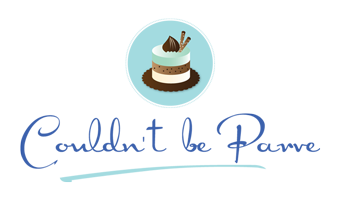 Ganache Filled Pecan Cookies
Ingredients & Instructions
Ingredients & Quantities
For Cookies
1 cup 
pecan butter
1 cup dark brown sugar 1 egg 1/2 teaspoon salt 1 teaspoon vanilla 1 teaspoon cinnamon
For Ganache
6 ounces good quality dark chocolate 3/4 cups (6 ounces) almond milk 1/2 teaspoon vanilla extract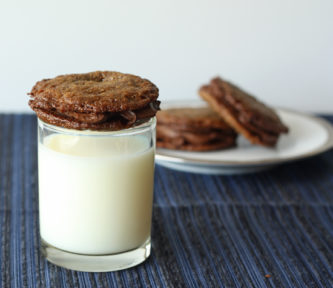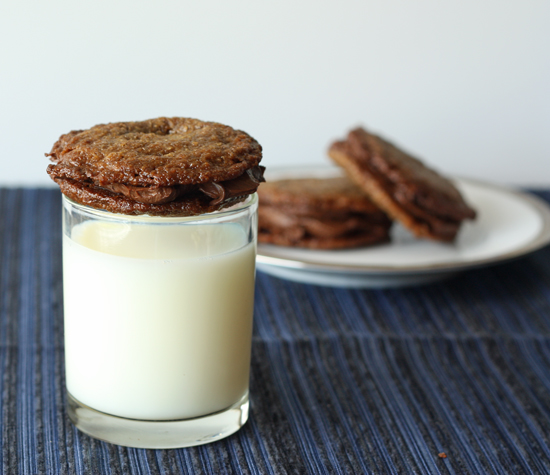 Cooking Instructions
For Cookies
Combine all the ingredients in a bowl and stir until well combined. Scoop out teaspoon sized balls of dough onto a parchment lined baking sheet. Space the cookies at least two inches apart since the spread considerably. Flatten the cookies slightly. Bake until the cookies are set and golden, approximately eight minutes. Remove from oven and let cool completely before filling.
For Ganache
There are two ways to make this ganache, with a food processor or an immersion blender. If using a food processor coarsely chop the chocolate and then process it in a food processor until finely chopped. Heat the almond milk until just boiling (this can be done in the microwave). Pour it into the food processor while the motor is running. Process until the chocolate is fully melted. Add the vanilla and then process until smooth and glossy.
If using an immersion blender chop the chocolate until it is in very small pieces, no bigger than a lentil. Place the chocolate in a large bowl. Heat the almond milk until just boiling (this can be done in the microwave). Pour the almond milk slowly over the chocolate while blending with the immersion blender. Add the vanilla and blend until smooth and glossy.
Pour the ganache into a shallow dish and let stand at room temperature until it has set, at least a few hours (the time it will take to set is determined by how warm the kitchen is). Once the ganache has set it can be stored in an airtight container at room temperature for up to a week or in the refrigerator for up to a month.
To fill the cookies spread the flat side of half of the cookies with ganache. Top with the remaining cookies, flat side down.
Thank You For Printing This Recipe! Visit Us Again Soon!
Recipe Page: http://www.couldntbeparve.com/recipe/ganache-filled-pecan-cookies/