Flourless Chocolate Hazelnut Cookies
April 21, 2011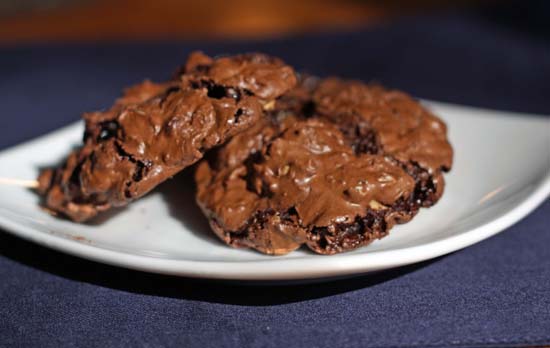 Nutella is one of my favorite things. I have to admit that we almost never have it in the house because it is too dangerous. The creamy combination of chocolate and hazelnut just calls from the pantry until I give in and spread it on whatever I can find. When we were on vacation in Venice a couple of years ago we tried to exercise restraint and only bought a small jar to have with breakfast and snacks. We were so restrained that the next day we had to go back for another jar. Oops. I even found a parve version while we were there and brought several (glass!) jars back in the suitcase.
With the winning combination of chocolate and hazelnut these cookies are fudgy and rich like a brownie with the flavor of Nutella. They are great as a snack or light dessert and keep for several days in an airtight container. Even better, they are quite easy to make. Since time is always short when baking for Pesach these cookies are a quick and delicious way to please any chocolate lover.
Recipe Updates – Delivered Fresh!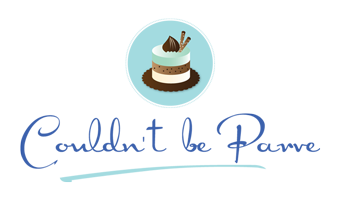 Flourless Chocolate Hazelnut Cookies
Flourless Chocolate Hazelnut Cookies
Ingredients & Instructions
Ingredients & Quantities
2 3/4 cups hazelnuts, toasted, skinned and coarsely chopped 3 cups Passover confectioners' sugar 3/4 cup unsweetened Dutch-process cocoa powder 1/4 teaspoon salt 1 cup chocolate chips 4 large egg whites, at room temperature 1 tablespoon pure vanilla extract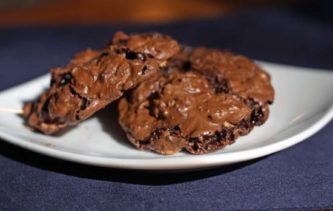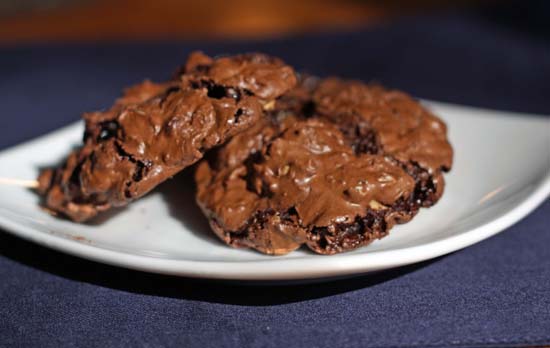 Preparation Instructions
Preheat oven to 350. Position two racks in the upper and lower thirds of the oven. Line two large-rimmed baking sheets with parchment paper.
Cooking Instructions
In a large bowl, whisk together the confectioners' sugar, cocoa powder, and salt. Add the egg whites and vanilla extract, and whisk until well combined. Do not overbeat or it will stiffen. Stir in chopped hazelnuts and chocolate chips.
Spoon a generous tablespoon of batter onto the baking sheets, 5 per sheet, leaving 3 inches between each mound so that they have room to spread.  If there is additional batter wait until the first batch comes out of the oven before scooping the rest of the cookies.
Bake for 14 to 16 minutes, until the tops are glossy and lightly cracked; shift the pans from front to back and top to bottom halfway through to ensure even baking.
Slide the parchment paper (with the cookies) onto 2 wire racks. Let cookies cool completely, and store in an airtight container for up to 3 days.
Recipe Yield
Approximately 32 cookies
Thank You For Printing This Recipe! Visit Us Again Soon!
Recipe Page: http://www.couldntbeparve.com/recipe/flourless-chocolate-hazelnut-cookies/