Father's Day Cornbread and a Winner
June 18, 2011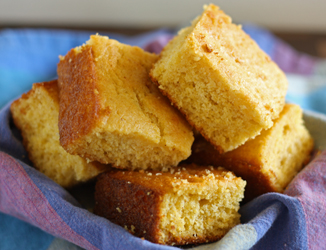 My husband recently told me that he doesn't really like chili. That might not seem that surprising but here is the thing. I have been serving him chili fairly frequently for years and he never mentioned it before. Since he is not shy about expressing his food preferences I have to admit I was quite surprised. I dug a bit more to get to the bottom of this and here is what I figured out. What it comes down to is cornbread. I always make cornbread to go with chili but rarely make it other times. Not for any good reason, it just doesn't occur to me to make cornbread on a regular basis. Because my husband loves this cornbread so much he has fond feelings towards every meal that includes it, even if that means chili.
Since tomorrow is Father's Day my wonderful husband is getting his cornbread without chili. The southern boy in him requested a true southern feast including barbecued beef ribs, cornbread and even collard greens with pot liquor so that is what we are having. (The Californian is me is throwing in some other grilled veggies too.) I am making my dad's favorite (sticky buns) for brunch and we are all having a barbecue for dinner. It should be a good day!
This cornbread is a combination of a variety of different recipes. The method of soaking the finished cornbread with a honey glaze comes from Sherry Yard. Her cornbread recipe is absolutely delicious, but it is a bit too fussy for an everyday staple like cornbread, especially since I already had a recipe from my mother-in-law that we all like. I decided to try adding a glaze (like in Sherry Yard's recipe) to my recipe and it worked fantastically! The glaze completely soaks into the cornbread so it isn't even noticeable as a separate entity. Instead it makes the cornbread deliciously moist with the perfect amount of sweetness. Truly a cornbread to build a meal around.
On an entirely different topic I want to announce the winner of a year subscription to the Joy of Kosher Magazine. The number picked by the random number generator was 7. Congratulations to Jennifer in Mamaland who wrote "Mmm… http://joyof.kosher.com/recipe/blintz-souffle/ Blintz soufflé!" Send me your mailing address and your subscription will start with the next issue!
For those who are celebrating, Happy Father's Day!
Recipe Updates – Delivered Fresh!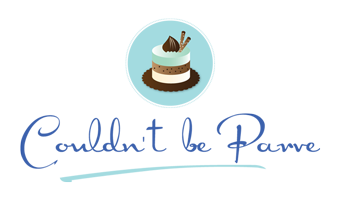 Father's Day Cornbread and a Winner
Father's Day Cornbread and a Winner
Ingredients & Instructions
Ingredients & Quantities
1 cup corn meal
1 cup flour*
¼ cup sugar
4 teaspoons baking powder
½ teaspoon salt
1 cup soymilk (or other non-dairy milk)
1 egg
¼ cup margarine, softened
*This cornbread can be made gluten-free by using a gluten-free flour blend (I used the King Arthur Flour multi-purpose blend to test it) and adding a teaspoon of xantham gum. The gluten-free version does not come out exactly the same as the original, but it is quite good nonetheless. It does go stale quite quickly, though, so if making the cornbread gluten-free, bake it as close to serving as possible.
Glaze:
3 tablespoons margarine
2 tablespoons honey
2 tablespoons water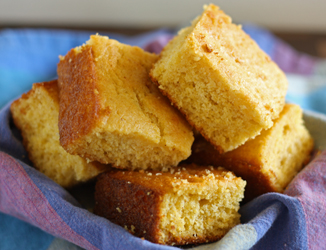 Preparation Instructions
Preheat the oven to 425. Grease an 8 x 8 baking pan.
Combine the dry ingredients in the bowl of an electric mixer. Add soymilk, egg, and margarine and beat until fairly smooth, about 1 minute. Pour the mixture into the prepared pan
Bake for 20-25 minutes, or until a tester comes out with only a few crumbs. While the cornbread is baking make the glaze.
To make the glaze:
Combine the margarine, honey, and water in a small saucepan. Heat over low heat until the margarine is melted, whisking occasionally to help the mixture to combine. (This can also be done in the microwave.)
When the cornbread is cooked remove the cornbread from the oven. Immediately poke it all over with a toothpick. Make sure the holes go all the way to the bottom of the pan. Pour the glaze over the cornbread and let cool to room temperature.
Thank You For Printing This Recipe! Visit Us Again Soon!
Recipe Page: http://www.couldntbeparve.com/recipe/fathers-day-cornbread-and-a-winner/