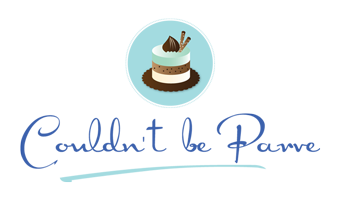 Eggnog Ice Cream
December 26, 2010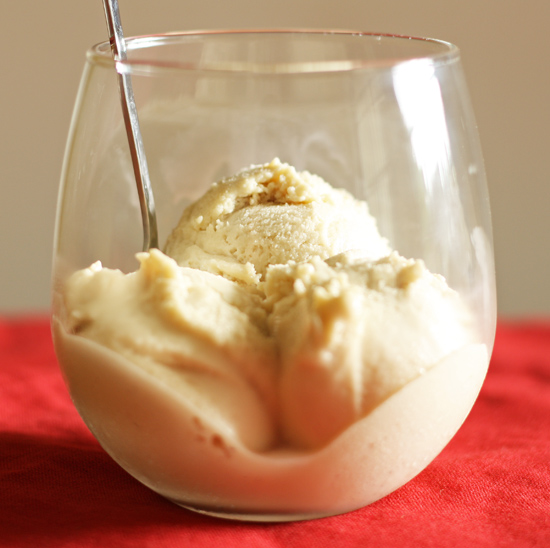 In the fall I look forward to the eggnog appearing on the shelves at the grocery store. Even though I usually resist buying it until later in the winter it is comforting to see one of my favorite treats waiting there for me. In my family the tradition is to drink eggnog and eat fruitcake on New Years Eve. Every year we would buy a few different brands and do a taste test to see which we liked the best. For some reason, we never seemed to remember the favorites from year to year so each year we would have to repeat the test.
Since this year I am not eating any dairy and New Years Eve is also Shabbat, which means that we will have probably eaten meat for dinner, simply buying eggnog wasn't a good option. Eggnog panna cotta is an elegant option and would be right at home at any New Years party, but as regular readers of this blog know what I really love to make is ice cream so that is what I decided to make.
Since eggnog is basically an eggy custard drink, eggnog ice cream makes a lot of sense since it starts with the same basic ingredients. This recipe is inspired by David Lebovitz's recipe for eggnog ice cream. The addition of nutmeg and some alcohol and the ice cream base tastes just like traditional eggnog. I might even make a double batch and serve some of it as a beverage instead of freezing the whole recipe. I have to say this may be my favorite ice cream recipe I have developed. (It is in close competition with burnt caramel ice cream.) It has a creamy rich texture and truly no one would ever be able to tell it is completly dairy free unless you told them. Because of the alcohol it freezes slightly softer than standard homemade ice cream, which means it the texture stays better in the freezer if it sits for a little while
While this ice cream is delicious on its own it is even better served with a drizzle of caramel rum sauce (recipe below). I imagine it would also be delicious as a grownup ice cream drink, served with a shot of good quality of bourbon or rum poured over it in a cocktail glass. (Since I am 39 weeks pregnant I can't test that idea myself, so if someone tries it let me know how it is)
Eggnog Ice Cream
Makes approximately 1 quart
3 cups almond milk (I used Almond Breeze unsweetened original)
1 cup soy milk powder
1/2 cup vegetable oil
2/3 cup sugar
pinch of salt
6 large egg yolks
1 1/2 teaspoons freshly grated nutmeg
2 tablespoons dark rum
2 tablespoons brandy
1 tablespoon vanilla
In a medium saucepan whisk together 2 cups of almond milk, soy milk powder, oil, sugar and salt. Place the egg yolks into a medium bowl and whisking to combine. Place the remaining cup of almond milk in another medium bowl set over a bowl of ice water and set the strainer on top.
Slowly stream the warm mixture into the egg yolks while whisking constantly. Scrape the warmed yolk mixture back into the pan and cook over medium heat stirring constantly with a heatproof spatula. Make sure to scrape the bottom of the pan with the spatula while stirring. Cook until the mixture thickens and coats the back of the spatula. Pour the custard through the strainer into the remaining almond milk. Stir in the nutmeg, rum, brandy and vanilla. Stir over the ice bath until cool.
Chill the mixture thoroughly in the refrigerator and then freeze in a ice cream maker according to the manufacturers instructions.
Note: The ice cream will get harder as it sits in the freezer so if it has been in the freezer a while let it sit out for a few minutes to soften it before serving in order to get the best texture.
Rum Caramel Sauce
1 cup sugar
1 cup water
1 tablespoon rum
Spread the sugar in an even layer on the bottom of a large heavy saucepan. Pour 1/2 cup of water evenly over the top. Heat the sugar over medium heat without stirring until the mixture begins to bubble. If it is cooking unevenly gently swirl the pan, but it is important not to stir. Cook until the sugar turns a deep amber color and begins to smoke slightly. Remove from the heat and carefully pour in the remaining 1/2 cup of water. It will steam up a lot, so pour carefully. When it stops steaming whisk the caramel until smooth. Whisk in the rum.
Caramel sauce can be stored in an airtight container in the refrigerator for up to one month.
Recipe Updates – Delivered Fresh!
Thank You For Printing This Recipe! Visit Us Again Soon!
Recipe Page: http://www.couldntbeparve.com/recipe/eggnog-ice-cream/