Cranberry Orange Matzolah Bark
April 1, 2014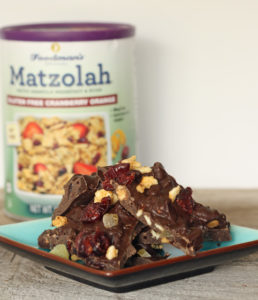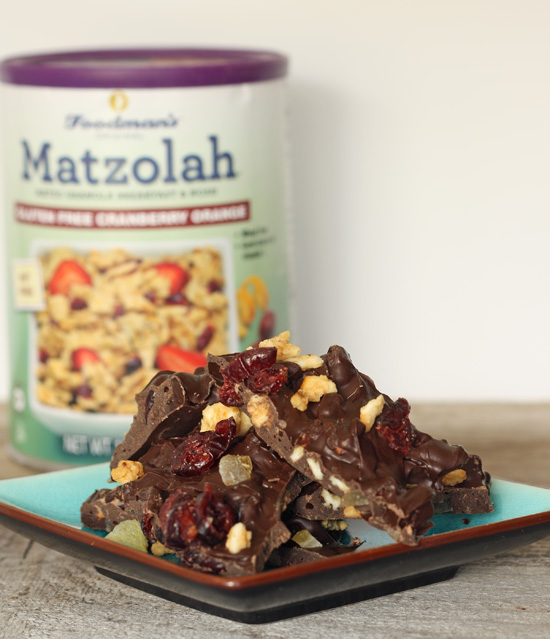 I like looking at the Passover displays in the grocery stores, even when they put them out earlier than I might like. I'm always curious about what the new products will be each year. I don't usually buy many packaged passover products like cereals or cake mixes because I like to make all my own from scratch, but part of my Passover preparation ritual is walking up and down the passover asiles checking out the newest offering. This year while perusing the shelves I saw that Matzolah has a new gluten-free flavor. I tried their regular maple nut flavor at Kosherfest a couple of years ago and it is delicious, so I was interested in trying the gluten-free version as well. When the company that makes Matzolah contacted me and asked me if I wanted a sample I jumped at the opportunity.
The gluten-free matzolah has a nice crunch and a delicate orange flavor that is nicely complimented by the dried cranberries. It is not overly sweet and we have all been happily snacking on it all week. Since I can't leave good enough alone I wanted to do something with it besides the obvious ideas like sprinkling it over yogurt or pouring milk over it and calling it breakfast. Not surprisingly, I decided to turn it into a dessert. I love how crunchy the Matzolah is so I decided to capitalize on that by turing it into a crunchy chocolate bark.
Since the Matzolah is flavored with orange and cranberry I decided to highlight those flavors even more by adding dried cranberries and candied orange peel to the chocolate along with the Matzolah. I have to say, the bark turned out even better than I had hoped. The flavors of the orange and cranberry really pop and the crunch is positively addictive. Even better, the matzolah is nut-free, which makes this a nut-free treat. Passover can be difficult for people with nut-allergies to negotiate since so many of the desserts use nuts as a replacement for flour. This is a great way to add a nut-free crunch that everyone will enjoy. Also, since the gluten-free matzolah is made without any matzah it is also non-gebrotz. I am planning on making a large batch to serve at my seders this year.
Disclaimer: I received samples of the Matzolah free for the purpose of recipe testing but all opinions here are my own.
Recipe Updates – Delivered Fresh!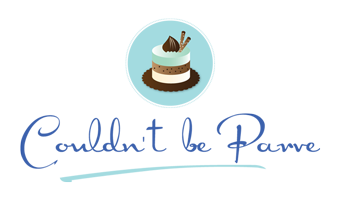 Cranberry Orange Matzolah Bark
Ingredients & Instructions
Ingredients & Quantities
3 tablespoons (1 oz) chopped candied orange peel*
3/4 cup (2.8 oz or 78 g) Gluten-Free Cranberry Orange Matzolah, coarsely chopped
1/4 c (1.5 oz or 40 g) dried cranberries
12 oz finely chopped chocolate or good quality chocolate chips
*If candied orange peel is not available for Passover, and you do not want to make your own, substitute chocolate covered candied orange peel instead.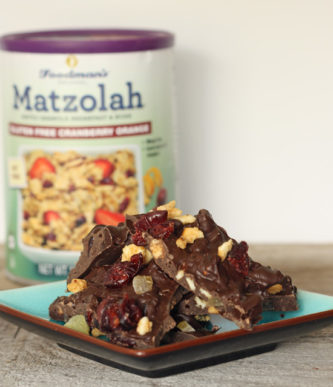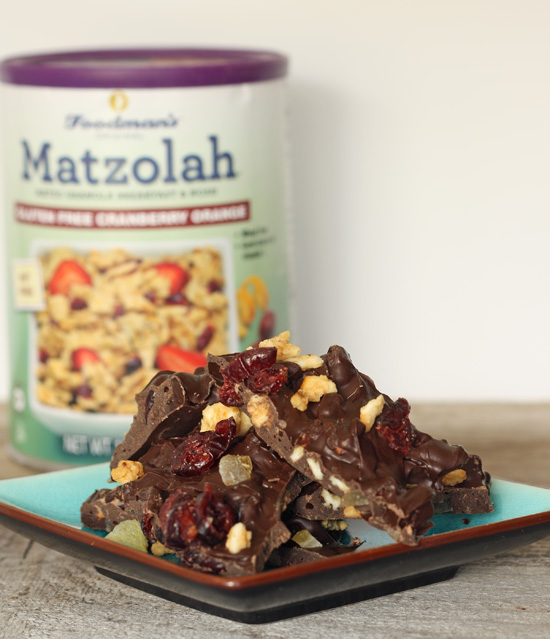 Preparation Instructions
Combine the orange peel, Matzolah, and cranberries in a small bowl and mix well. Transfer a third of the mixture into another small bowl and set both bowls aside. Line a cookie sheet with parchment paper and tape the parchment down to the cookie sheet.
Place eight ounces of the chocolate in a microwave safe bowl. Microwave on 50% power for 90 seconds. Stir the chocolate then heat it at 50% power for another 30 seconds. Repeat one more time. If the chocolate is not completely melted continue to microwave it at 50% in 15 second increments until the chocolate is fully melted. Add the remaining four ounces of chocolate and stir until it is fully melted. This may take several minutes.
Stir the larger bowl of the mix-ins into the melted chocolate. Scrape the chocolate onto the prepared cookie sheet and use a spatula to spread it as thin as possible. Take the small bowl of add-ins and sprinkle it evenly over the top of the melted chocolate. Press down gently so that the toppings stick to the chocolate once it hardens.
Let the chocolate bark harden at room temperature for at least 30 minutes. If it still seems soft place it in the refrigerator for a few minutes. Break the bark into pieces and store in an airtight container at room temperature.
The bark will keep for several days.
Recipe Yield
Approximately 1 pound
Thank You For Printing This Recipe! Visit Us Again Soon!
Recipe Page: http://www.couldntbeparve.com/recipe/cranberry-orange-matzolah-bark/