Ginger Cheesecake with Sour Cherry Compote
September 11, 2008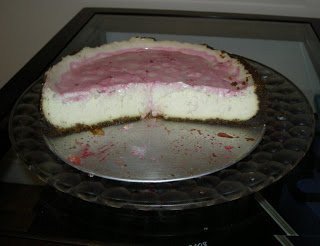 For many years I refused to make parve versions of any dessert that was by definition supposed to be dairy. Like cheesecake. Or ice cream. Or caramel. There are worlds of delicious parve desserts that are not merely a poor imitation of the original dairy version and those seemed like a better place to start if I wanted to wow people. If I wanted a specific dairy dessert that badly, I could always make a dairy meal to serve it at.
As you can tell if you have been reading my blog, my opinion on this topic has shifted.
For eight months I was unable to eat any dairy products because they disagreed with the baby's stomach. That meant that if I was craving ice cream, it had to be parve. As I began experimenting converting recipes with a strong reliance on dairy to make them parve, I realized two things. A lot more is possible than I thought and it is an exciting new challenge to attempt all these previously unattempted delicacies.
Enter this cheesecake. It seemed that for a cheesecake without any cheese or sour cream my best bet was to use a strong complementary flavor. I decided to make the
ginger cheesecake with sour cherry compote
from Bon Appetit since I had some farmers market sour cherries I had frozen (which also meant they were pitted and ready to go, saving me from squirting cherry juice all over the kitchen while at the same time attempting a cheesecake).
I served the cheesecake at a dairy (well, parve really) lunch, just to see if I could pass it off, and it went over famously. (Sorry for the terrible picuture. Since I didn't unmold it until just before serving on shabbat I couldn't take a picture until later that night when it had already been partially devoured and the topping had been removed to prevent sogginess). The texture was creamy and the flavor of the ginger with the cherries was outstanding. In fact, the compote was one of the best things I have ever eaten, if I had more cherries I would have made more to spoon over everything! I used tahitian vanilla beans and I think that made all the difference.
The cheesecake itself was delicious. It didn't have that over the top richness that cheesecake sometimes does that, although delicious while eating it, kind of makes you feel like there is a lump of lead in your stomach after it. This version was creamy and satisfying, but not too heavy. The leftovers froze fantastically, a plus when you make a whole cheesecake to serve to only 4 people! My only complaint was that the crust was a bit too hard, making it a little bit difficult to cut through with a fork. The gingersnaps added nice flavor, but I think it would be just as good without them, so next time I will try it with a graham cracker crust instead.
Overall I am a convert. Parve cheesecake can, and should, be made. Next time I am going to make a chocolate one.
Recipe Updates – Delivered Fresh!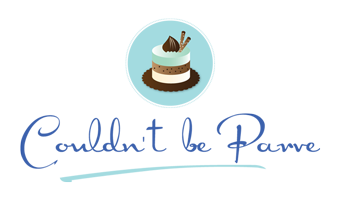 Ginger Cheesecake with Sour Cherry Compote
Ginger Cheesecake with Sour Cherry Compote
Ingredients & Instructions
Ingredients & Quantities
Crust:
3 cups gingersnap cookie crumbs (about 12 ounces)
6 tablespoons (3/4 stick) margarine, cut into small pieces
Filling:
3 8-ounce packages toffuti cream cheese, room temperature
1 cup sugar
2 teaspoons vanilla extract
1/8 teaspoon salt
3 tablespoons minced peeled fresh ginger
4 large eggs, room temperature
Topping:
2 cups toffuti sour cream
1/4 cup sugar
2 tablespoons chopped crystallized ginger
1 teaspoon vanilla extract
1/2 teaspoon ground ginger
Compote:
2/3 cup water
6 tablespoons sugar
3 tablespoons fresh lemon juice
1 vanilla bean, halved lengthwise
2 1/2 cups (1 pound) cherries, pitted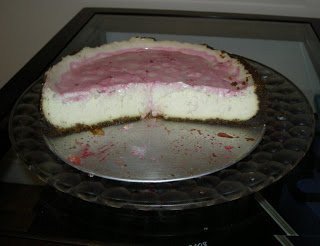 Preparation Instructions
To make the compote:
Combine water, sugar and lemon juice in heavy medium saucepan. Scrape seeds from vanilla bean into saucepan; add bean. Bring to boil over high heat, stirring until sugar dissolves. Boil until thin syrup forms, about 7 minutes. Reduce heat to medium; add cherries. Stir 1 minute. Cool compote. Cover and chill until cold.
To make the cheesecake:
Position rack in center of oven; preheat oven to 350°F. Butter 9-inch diameter springform pan with 2 3/4-inch-high sides. Wrap outside of pan with foil. Blend cookie crumbs and butter in processor until moist clumps form. Press crumbs on bottom and up sides of pan. Chill crust while preparing filling.
Blend cream cheese in processor until smooth. Add sugar, vanilla and salt; process until smooth, occasionally scraping down sides of work bowl. Blend in ginger. Add eggs; process just until blended. Pour filling into crust.
Bake cake 15 minutes. Cover top of pan loosely with foil. Continue to bake cake until sides begin to puff and center is softly set, about 50 minutes longer. Transfer to rack; uncover and let stand 5 minutes. Maintain oven temperature.
While the cake is baking, prepare the topping:
Whisk first 5 ingredients in medium bowl to blend. Spoon over cake. Return to oven; bake until topping sets, about 10 minutes.
Transfer cake to rack. Cut around pan sides. Let cool. Cover; chill overnight. Release pan sides. Top with Sour Cherry compote.
Thank You For Printing This Recipe! Visit Us Again Soon!
Recipe Page: http://www.couldntbeparve.com/recipe/contradiction-in-terms-parve-cheesecake/