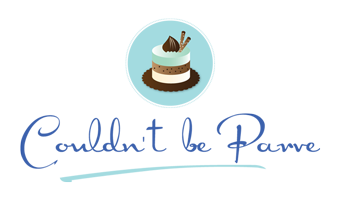 Coconut Chocolate Ganache Tartletts
January 18, 2012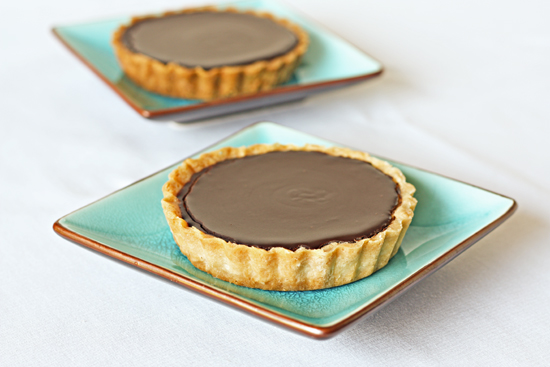 Over the past few months I have been playing around in the kitchen trying to perfect my parve pie crust recipe. I have been using different recipe ratios, with different fats and a variety of methods, and am slowly narrowing in on what I think is my perfect pie crust. In my mind the perfect pie crust should be flaky and delicious while not being too much of a pain to work with. The recipe isn't quite there yet, but I will be sure to share it when it is. One of the fats I have been experimenting a lot with lately is refined coconut oil. People say it lends a buttery flavor and richness to recipes, which is great for parve baking, and it is supposed to have some health benefits too. I haven't done enough experimenting to know exactly what it is best for in baking, but it certainly is nice to have an option that is more natural that margarine or shortening (even though I only use the natural, trans-fat free versions of those).
One of the recipes I tried in my quest for the perfect pie crust was an oil based crust. I thought it was an Alice Medrich recipe from Pure Dessert but when I went back to look for it I couldn't find it, so now I'm not sure. I wrote down my adapted version, so I have no idea how close this is to that original recipe, but if anyone knows please let me know. I used melted refined coconut oil for the oil, and although I didn't love it as a pie crust (not flaky enough and too cookie-like) I did think that with a bit of tweaking it would be a fantastic tart crust.
Wanting to make something a bit different I decided to use unrefined coconut oil instead of refined in making these tarts. With refined coconut oil the coconut flavor is barely discernable. Unrefined coconut oil has a strong coconut flavor, which is the perfect pairing for a nice dark chocolate ganache. These tartlets are quite easy to make, and look very elegant. They would be perfect for any special occasion dinner.
Coconut Ganache Tarts
Makes 6 (4-inch) tartlettes
Coconut tart crust
½ c unrefined coconut oil
6 tbs sugar
pinch salt
1 oz coconut milk
1 tsp vanilla
1 ½ cup (7 oz) flour
Preheat the oven to 350.
Whisk everything together except flour. Gently whisk in flour until just combined. Roll out the dough between two sheets parchment to approximately 1/4 inch thick. Cut five inch circles in the dough (if using different sized tart pans cut circles 1-1 1/2 inches bigger than the pans) Carefully place each circle in a tartlet pan with a removable bottom. Gently fit the dough into the pan and trim the excess. If the dough breaks or tears simply press it back together or patch it with extra dough. Roll out the scraps and cut additional circles until all the pans are lined. (There may be some extra dough, it makes delicious cookies*)
Place all the tartlette pans on a cookie sheet. Prick the bottoms with a fork and line with foil. Place some pie weights on each pan (dry beans work great). Bake for ten minutes. Remove the foil and return to the oven until the crust is golden brown, another 15-18 minutes. Let cool completely before filling.
*To make cookies from the scraps roll them out and cut shapes using a cookie cutter. Place the cookies on a parchment lined cookie sheet. Brush them with a bit of coconut milk and sprinkle generously with coarse sugar. Bake for 10-12 minutes or until they are starting to brown around the edges and the tops have set. Cool on a cookie rack.
For Ganache:
1 cup (8 oz) unsweetened thai style coconut milk, well mixed
9 oz bittersweet chocolate, finely chopped
Place the chocolate in a large bowl. Heat coconut milk until just boiling, either on the stovetop or in the microwave. Pour hot coconut milk over the chocolate and let sit for 5 minutes. Whisk gently until completely smooth. If some chocolate remains unmelted microwave the mixture on 50% power in 15 second intervals, whisking after each one, until the chocolate is completely melted. Pour into the prepared crusts and refrigerate until firm, approximately one hour. Remove from the refrigerator and store at room temperature in an airtight container up to one day. (If the tarts are left in the refrigerator too long the ganache may crack and pull away from the sides of the tart shell, like what happened to the ones in the picture) Alternatively, let the ganache set up at room temperature for a few hours before serving.
Recipe Updates – Delivered Fresh!
Thank You For Printing This Recipe! Visit Us Again Soon!
Recipe Page: http://www.couldntbeparve.com/recipe/coconut-chocolate-ganache-tartletts/