Coconut Chocolate Chip Cookies
March 26, 2012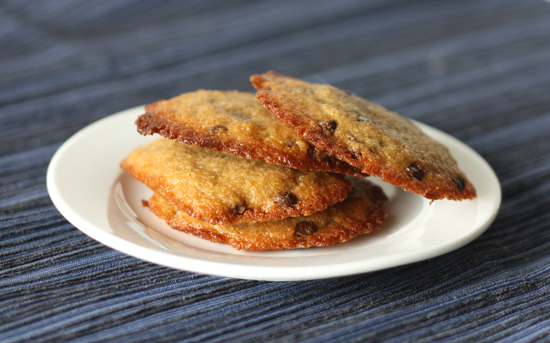 When I was growing up, I never felt deprived on Passover. Quite the opposite in fact. In an effort to make sure the kids didn't feel like Passover was too much of a hardship, my normally health-conscious mother would fill the pantry with all kinds of sweets and treats we didn't usually get to have. We looked forward to it all year! Now that I have my own kids I have that same urge to want to make sure they don't feel deprived, but I do try to restrain myself from buying them too much packaged junk food just because it is Pesach. That doesn't keep me from turning the kitchen into a bakery/candy shop and turning out all kinds of homemade treats throughout the week though. From homemade marshmallow frogs sitting on the kids plates at the seder to meringue cookies with a hidden surprise to munch on throughout the week, there is no dearth of sugary goodness for us to enjoy. While I do love to potchke around in the kitchen making desserts on Pesach, I don't always have a lot of free time with all the other cooking I have to do. That's why I love having some quick and easy cookie recipes that I can whip up when the craving for something sweet strikes.
After having great success with quick and easy peanut butter and almond butter cookies (like these and these) I started wondering what other kinds of butters I could make cookies with. I decided to try coconut butter and I am very happy with the result. The coconut flavor is noticeable but not overpowering while the brown sugar gives these cookies a deep caramel flavor. They are chewy and delicious with slightly crispy edges. They would be even easier to make if using pre-made coconut butter, but since as far as I know there is no Kosher for Passover coconut butter I made my own. (It isn't hard if you have a food processor or blender)
While I have grand plans for all the elegant desserts I am going to make over Passover this year, these cookies are sure to make an appearance at the seders and throughout the week.
Recipe Updates – Delivered Fresh!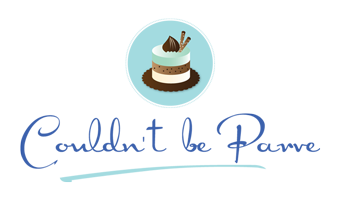 Coconut Chocolate Chip Cookies
Coconut Chocolate Chip Cookies
Ingredients & Instructions
Ingredients & Quantities
Coconut Chocolate Chip Cookies
1 cup coconut butter (128g) (see below for recipe)
1 cup dark brown sugar
1 egg
1 teaspoon vanilla
1/2 cup mini chocolate chips
Coconut Butter: Makes one cup
4 cups (128g) ground coconut (if using shredded coconut measure by weight because you will need slightly more than 4 cups)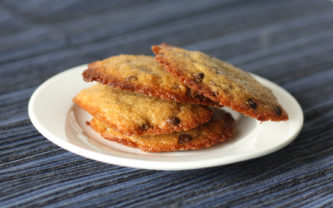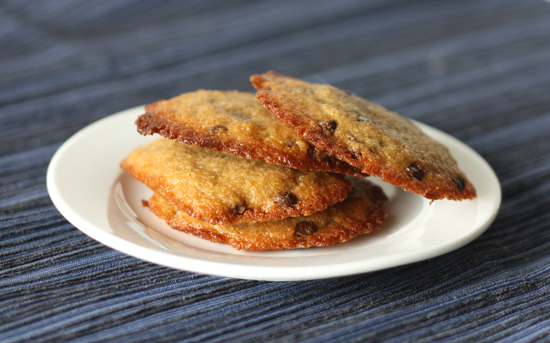 Preparation Instructions
Coconut Butter
Place the coconut in a food processor fit with a metal blade. Process, scraping down the sides every minute or so, until the mixture liquifies and takes on the texture of coconut butter. This will take several minutes and at first it will look like it will never come together, but keep scraping down the sides and it will liquify.
This can be made up to a week in advance and stored in an airtight container in the refrigerator. It will solidify so warm slightly to re-liquify the coconut butter before making the cookies.
Preheat oven to 350
Cooking Instructions
Combine all of the cookie ingredients except the chocolate chips in a large bowl. Stir until well combined. Stir in the mini chocolate chips.
Scoop out tablespoon sized balls of cookie dough onto a parchment lined cookie sheet. Flatten the balls slightly. Bake cookies for 8-10 minutes or until set on top and slightly browned around the edges.
Thank You For Printing This Recipe! Visit Us Again Soon!
Recipe Page: http://www.couldntbeparve.com/recipe/coconut-chocolate-chip-cookies/