Cocoa Nib Brittle
February 23, 2014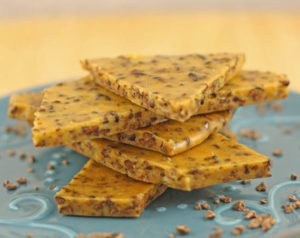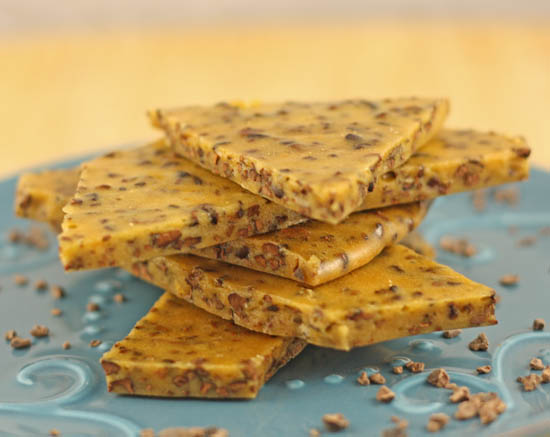 With Purim coming up in just a few weeks it is time to start thinking about homemade candy. Some years I go all out with the homemade candies, making molded chocolates and candied fruit that takes weeks of preparation. This year I am going much more simply, only making things that can be made in large quantities without too much effort. A great candy to make for gift-giving is brittle. The combination of sweet caramel and crunchy nuts is sure to please. Even better it is easy to make in large quantities, and brittle doesn't even require a candy thermometer. While nuts like peanuts make the most traditional brittle, cocoa nib brittle is my favorite. The slight bitterness of the nibs perfectly offsets the sweet caramel and the flavor is rounded out by a bit of flaky sea salt. Truly a sophisticated treat.
I have to admit I am a little bit surprised that I have never shared this recipe for cocoa nib brittle on my blog. I have shared it all across the web and have made it multiple times, yet somehow it never managed to make it here. And that is something that needs correcting. This brittle is one of my favorite candies and I don't say that lightly. The cocoa nibs give it a chocolatey flavor and a slight bitterness while maintaining the crunch that is distinctive of a good brittle. It is utterly addictive and very sophisticated, which is a great combination for gift giving. This will be going in my Purim packages this year for sure.
Recipe Updates – Delivered Fresh!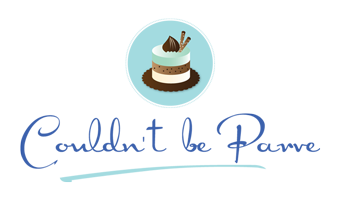 Ingredients & Instructions
Ingredients & Quantities
2 cups granulated sugar
1/2 cup water
½ cup light corn syrup
2 tablespoons margarine
1 teaspoon baking soda
1 cup cocoa nibs
1 teaspoon fleur de sel or other flaky salt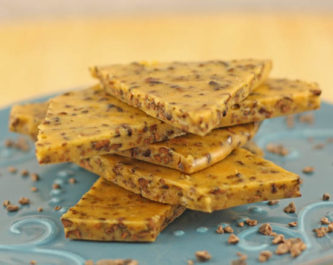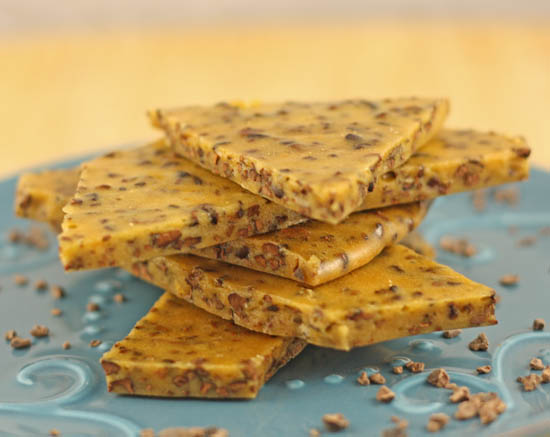 Preparation Instructions
Line a rimmed baking sheet with a silpat mat or parchment paper lightly coated with cooking spray.
In a medium saucepan, combine sugar, water, corn syrup and salt. Bring to a rapid simmer over medium-high and cook until dark golden, about 10 to 15 minutes. Remove pan from heat. Stir in margarine, baking soda, fleur de sel and cocoa nibs (mixture will foam). Stir until mixture is no longer bubbling, about 1 minute.
Transfer to the prepared baking sheet and spread with a lightly greased spatula. Let cool until firm, 15 minutes. Break into pieces.
The brittle can be stored in an airtight container at room temperature for up to 3 weeks.
Recipe Yield
Approximately one pound
Thank You For Printing This Recipe! Visit Us Again Soon!
Recipe Page: http://www.couldntbeparve.com/recipe/cocoa-nib-brittle/