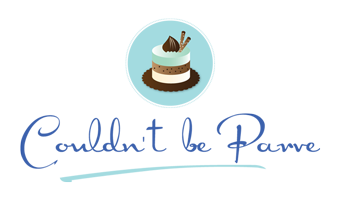 Chocolate Spoons
December 22, 2010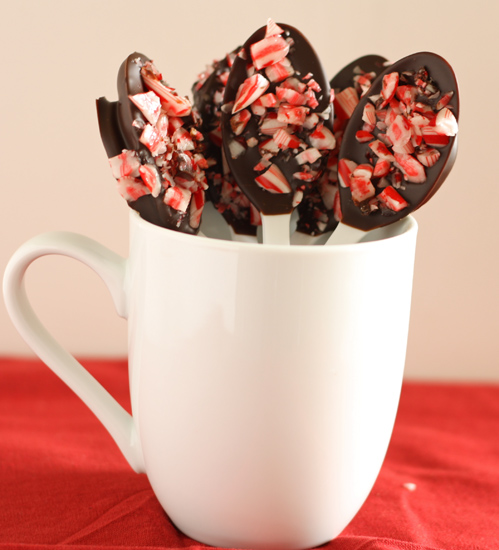 I always find that when making things that need to be dipped in melted chocolate I almost always melt more than I need. The extra chocolate can always be poured onto a piece of parchment to be reused another time, but especially if I have gone to the trouble of tempering the chocolate it seems like a waste of effort. Instead I try to find ways of using up the remaining tempered chocolate. This often leads me to search the kitchen for stray things to dip (crystalized ginger, dried fruit, pretzels, etc). Another option is to add a few drops of flavoring oil to the remaining chocolate and pour it into small molds to make flavored chocolates. Last night, due to the fact that my truffle centers turned out to be too soft to dip, I found myself with not just a little bit of leftover tempered chocolate but quite a bit. Since it is the holiday season I decided to turn that extra chocolate into more things to put into my gift boxes and chocolate spoons seemed like the perfect thing.
Easy to make, these spoons can be packaged along with cocoa or coffee to make a cute gift for anyone on your list. Stirred into a steaming hot cup of coffee or cocoa they will add richness and holiday flavor and can turn an ordinary beverage into something special. I made some with plain chocolate and crushed peppermints and then added cinnamon oil to the chocolate and made the rest with the cinnamon chocolate. As much as I love peppermint, I think that the cinnamon chocolate may be my new favorite.
Here is how to make them.
Simply dip a plastic spoon in the chocolate. Hold it flat over the bowl of melted chocolate so that the curved side of the spoon stays full of chocolate while the excess drips off the back. Place the spoon on a piece of parchment paper. If desired sprinkle the spoon with crushed peppermint candy while the chocolate is still wet. Let the chocolate harden, and then package in cellophane bags.
Recipe Updates – Delivered Fresh!
Thank You For Printing This Recipe! Visit Us Again Soon!
Recipe Page: http://www.couldntbeparve.com/recipe/chocolate-spoons/