Chocolate Raspberry Ganache Tart
March 18, 2013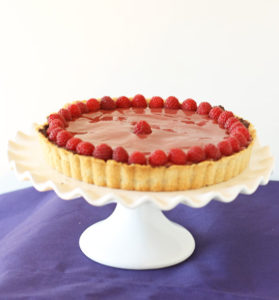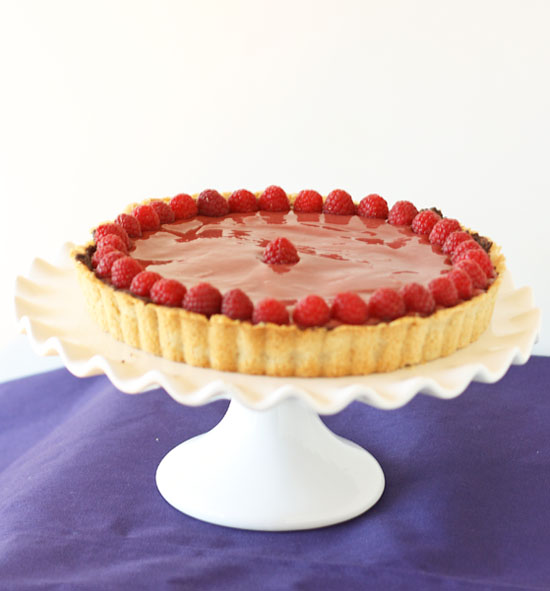 One of my favorite flavor combinations is raspberry and chocolate. The sweet/tart quality of the raspberry perfectly cuts through richness of the chocolate making for a wonderfully balanced dessert. This is especially important with parve baking. It is easy to make intensely rich parve desserts but it is a bit more difficult to make desserts with balance, ones that don't make you want to take a large swig of water between each bite. With a dairy dessert it is easy to cut the richness of an intense chocolate ganache or cake with a bit of whipped cream, but with parve desserts there isn't that same easy solution. That is why I adore the combination of chocolate and raspberry especially in intense chocolate desserts like this one.
This tart is filled with a rich chocolate ganache and topped with a tangy raspberry curd. It is decadently rich and extremely satisfying. This is the kind of dessert you serve in thin slices after an elegant dinner party. I served this tart after shabbat dinner last week and got rave reviews, even before I told anyone that it also happened to be Kosher for Passover. The recipe looks like it has a lot of steps each step is actually fairly straight forward to make, and the raspberry curd can even be made up to week ahead. I love this crust because not only is a press in crust, which means no rolling, it also uses oil instead of margarine. I try not to use margarine on Passover since there are no Passover margarines without hydrogenated oils, so I try to make recipes that avoid margarine all together. This crust is one of my favorite pesach building block recipes. (I use it in this meyer lemon tart and this honey nut tart as well)
I highly recommend adding this tart to your pesach repertoire, it is sure to be a big hit.
For more delicious Passover desserts be sure to check out all the recipes the talented cooks and bakers of the Kosher Connection dreamed up this month.
Recipe Updates – Delivered Fresh!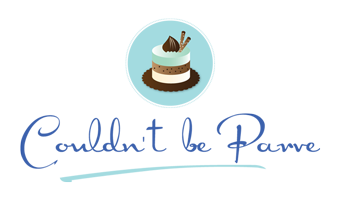 Chocolate Raspberry Ganache Tart
Ingredients & Instructions
Ingredients & Quantities
For the Raspberry Puree
1 (12 oz) bag frozen no-sugar added raspberries, thawed with juices reserved
For the Raspberry Curd
1/4 cup (2 oz) lemon juice
3/4 cup )6 oz) raspberry puree
1 1/4 cup (9.5 oz) sugar
4 eggs
4 egg yolks
small pinch of salt
4 teaspoons potato starch
2 tablespoons (1 oz) coconut or vegetable oil
For the Crust
1.5 oz (1/4 cup) potato starch
2 oz (6 tablespoons) matzah cake meal*
2 oz (1/2 cup) almond meal
1/2 tsp salt
2 oz (1/4 cup) oil
2 oz (1/4 cup) almond milk
1 oz(2 tablespoons) sugar
2 oz semi sweet chocolate, melted
**to make this tart gluten-free substitute Yehudah Gluten Free Cake Meal in place of the standard matzah cake meal.
For Ganache
12 ounces good quality dark chocolate
1 1/2 cups (12 ounces) almond milk
1 teaspoon vanilla extract
Fresh raspberries for garnish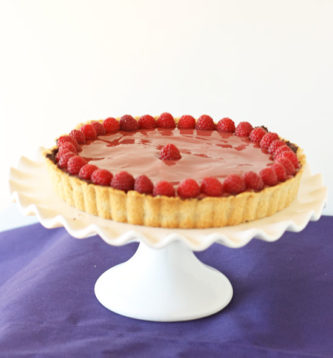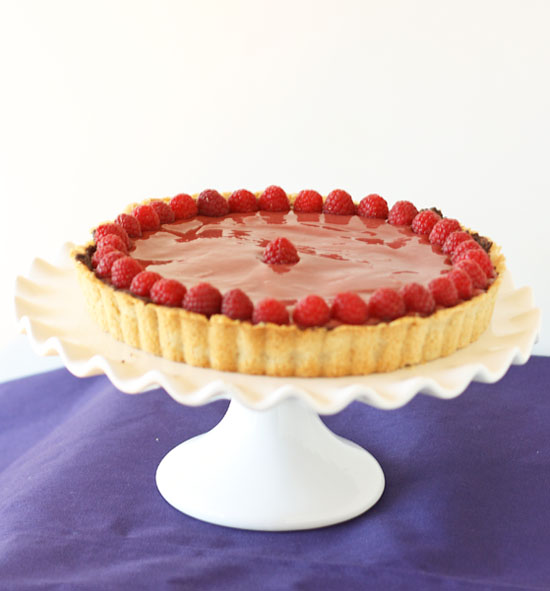 Cooking Instructions
To Make the Raspberry Puree:
Puree the raspberries in a food processor or blender. Pour the puree into a fine mesh strainer set over a bowl and use a spoon to force the puree through the strainer, leaving the seeds behind. Alternatively, run the raspberries through a food mill to remove the seeds. There may be more puree than is needed for the curd. Store the remainder in the refrigerator. (Lightly sweetened it makes a delicious sauce)
To Make the Raspberry Curd:
Combine all of the ingredients except for the oil in a medium sauce pan. Whisk well to combine. Place a fine mesh strainer over a medium bowl and set aside. Cook over medium-low heat, stirring constantly, until the mixture thickens and coats the back of the spoon. Remove from the heat and pour through the strainer, pushing the curd through with a rubber spatula. Whisk in the oil. Cover the bowl with plastic wrap and refrigerate until set. (can be made up to a week ahead, store in an airtight container in the refrigerator.)
To Make the Crust:
Preheat the oven to 425.
Whisk the potato starch, cake meal, almond meal, sugar and salt together in a large bowl. Add the oil and almond milk and stir to combine. Press the crust into a 9-inch tart pan with a removable bottom. Cover with a piece of foil, top with pie weights and bake for 15 minutes. Remove the foil and bake an additional 5-10 minutes or until golden brown. Remove the tart shell from the oven and cool completely.
Brush the melted chocolate over the crust to make a thin even layer of chocolate. Freeze for a few minutes to set the chocolate.
To Make the Ganache
There are two ways to make this ganache, with a food processor or an immersion blender. If using a food processor coarsely chop the chocolate and then process it in a food processor until finely chopped. Heat the almond milk until just boiling (this can be done in the microwave). Pour it into the food processor while the motor is running. Process until the chocolate is fully melted. Add the vanilla and then process until smooth and glossy.
If using an immersion blender chop the chocolate until it is in very small pieces, no bigger than a lentil. Place the chocolate in a large bowl. Heat the almond milk until just boiling (this can be done in the microwave). Pour the almond milk slowly over the chocolate while blending with the immersion blender. Add the vanilla and blend until smooth and glossy.
Pour the ganache into the chocolate coated tart crust, filling it 3/4 full. (There may be a bit of ganache left over, it is great as a cookie filling or in chocolate cups) Let the tart stand at room temperature until the ganache has set, at least a few hours (the time it will take to set is determined by how warm the kitchen is). Once the ganache has set gently spoon the raspberry curd over the top of the ganache. Place the tart in the refrigerator until firm.
Before serving, remove the sides of the tart pan and garnish with fresh raspberries.
Thank You For Printing This Recipe! Visit Us Again Soon!
Recipe Page: http://www.couldntbeparve.com/recipe/chocolate-raspberry-ganache-tart/