Chocolate Mint Cookies
March 24, 2010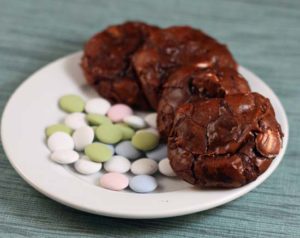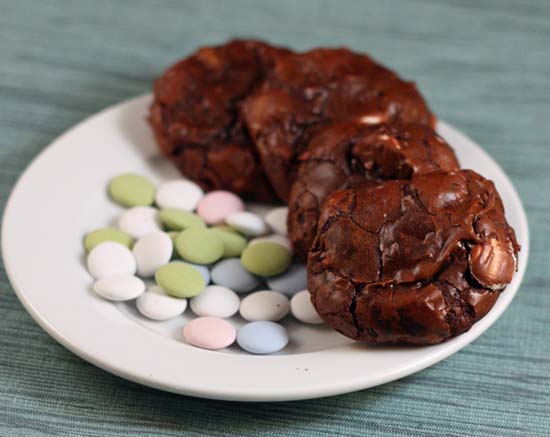 I am a sucker for anything mint. Especially anything that combines mint and chocolate. Something about the refreshing flavor of the mint makes me feel like a dessert is light even though I know that in reality there is nothing light about it. While pesach shopping with my son today at Pomegranate (that place is amazing!), I spied a box of mint lentils among the candy selection. Although we had decided not to buy much candy this year (you should see the list of the things I am planning to make to compensate) I couldn't resist throwing them into my cart. Earlier in the day Laura from Pragmatic Attic had reminded me of the chocolatey goodness of Alice Medrich's Bittersweet Decadence Cookies and suggested some minor modifications to make them Kosher for Passover. Seeing the mint lentils in the store I knew these cookies would be the perfect home for them.
Not even hours after getting home I had to make a test batch and I was right. The rich chocolate flavor of the cookies was the perfect foil for the mint. While I still love the original version which has a combination of nuts and chocolate chips, the mint cookies are something different. Nuts and chocolate are expected on Passover. The mint brings a bit of the unexpected and is a nice change. I think these may be showing up at the seder sometime right before Elijah.
Recipe Updates – Delivered Fresh!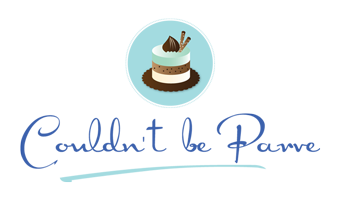 Ingredients & Instructions
Ingredients & Quantities
1/4 cup potato starch 1/4 teaspoon baking powder (optional) 1/8 teaspoon salt 8 ounces chocolate chips or bittersweet or semisweet chocolate 2 Tablespoons vegetable oil 1/2 cup sugar 2 eggs 1 teaspoon vanilla 1 generous cup mint lentils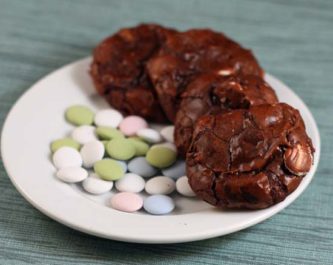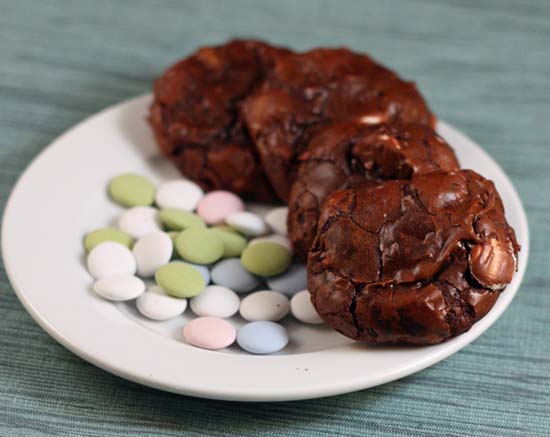 Cooking Instructions
Combine the potato starch, baking powder and salt and set aside. Place a pan of water on the stove and bring to a simmer. Place the chocolate and oil in a heat proof bowl and place over the simmering water. Stir occasionally until melted. Remove from the pan and set aside.
In another heat proof bowl combine the eggs, sugar and vanilla. Whisk them over the simmering water until warm to the touch. Stir in the melted chocolate. Add the dry ingredients and stir until combined. Stir in the mint lentils.
Drop tablespoon sized portions of the batter onto parchment lined baking sheets or chill the dough and then roll it into small balls. Bake for 12-14 minutes.
Recipe Yield
Approximately three dozen small cookies
Thank You For Printing This Recipe! Visit Us Again Soon!
Recipe Page: http://www.couldntbeparve.com/recipe/chocolate-mint-cookies/