Chocolate Ganache Cups
April 18, 2012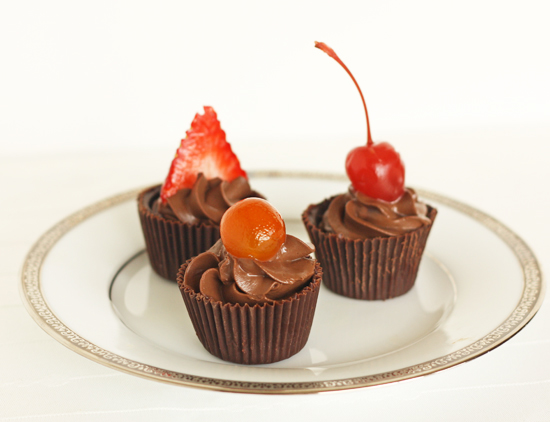 There is something about bite-sized desserts that I just love. Besides the fact that they are adorable, I love the idea that people can try a variety of desserts rather than just having to commit to a single piece of one thing. Because I'll be honest. At a dessert buffet with many choices I always want to try all of them. Bite sized desserts make that a much more reasonable proposition.
When I have people over for Shabbat or holidays I often serve a selection of desserts and candies (especially marshmallows) rather than committing to a single large dessert because I love having the assortment (and because I have trouble deciding on a single dessert when there are so many things I want to make). These ganache filled chocolate cups would make a very elegant addition to any dessert selection. They can be served with other desserts or can be served as a stand alone dessert by using an assortment of toppings. (The chocolate cups are also delicious filled with peanut butter mousse or raspberry curd for even more variety.) I made these tiny because I was serving them as part of a large dessert buffet but for a stand alone dessert that can be made bigger by using regular sized muffin cups rather than the mini ones.
Recipe Updates – Delivered Fresh!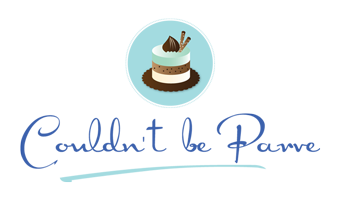 Ingredients & Instructions
Ingredients & Quantities
For Ganache
12 ounces good quality dark chocolate
1 1/2 cups (12 ounces) almond milk
1 teaspoon vanilla extract
Chocolate Ganache Cups
melted chocolate (12 ounces will make approximately 48 candy cups)
foil or paper candy cups or mini muffin papers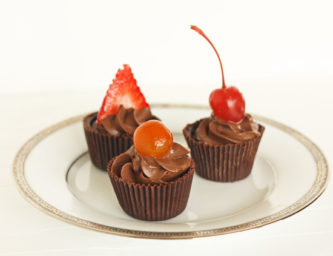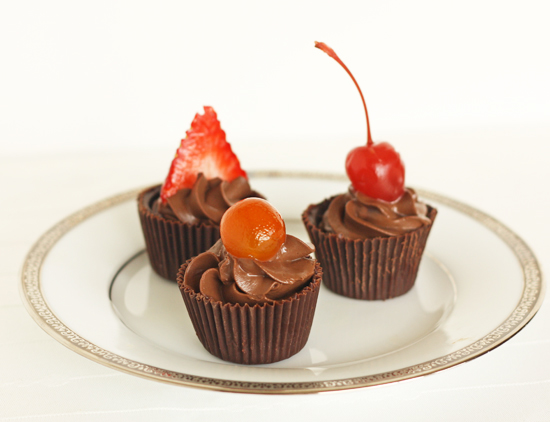 Preparation Instructions
To Make the Ganache
There are two ways to make this ganache, with a food processor or an immersion blender. If using a food processor coarsely chop the chocolate and then process it in a food processor until finely chopped. Heat the almond milk until just boiling (this can be done in the microwave). Pour it into the food processor while the motor is running. Process until the chocolate is fully melted. Add the vanilla and then process until smooth and glossy.
If using an immersion blender chop the chocolate until it is in very small pieces, no bigger than a lentil. Place the chocolate in a large bowl. Heat the almond milk until just boiling (this can be done in the microwave). Pour the almond milk slowly over the chocolate while blending with the immersion blender. Add the vanilla and blend until smooth and glossy.
Pour the ganache into a shallow dish and let stand at room temperature until it has set, at least a few hours (the time it will take to set is determined by how warm the kitchen is). Once the ganache has set it can be stored in the refrigerator for up to a month.
To fill the cups place the ganache in a pastry bag fit with a large tip. (I like a star tip, but a round tip will work too.) If you do not have a pastry bag the ganache can be piped out of a large ziplock bag with a corner cut off. Pipe the ganache into the chocolate cups and top with assorted garnishes, such as candied kumquats, natural maraschino cherries, fresh fruit like strawberries or raspberries, or even some grated chocolate or a chocolate covered coffee bean.
To Make the Chocolate Cups
Place a dollop of chocolate in the bottom of the cup (it should come about 1/4 of the way up the side.) Using a small paint brush paint the chocolate evenly up the sides. Repeat with the remaining cups. Refrigerate cups until firm. Remove the cups from the refrigerator. Paint a second coat of chocolate on the sides and on any thin spots on the bottom or the cup. Refrigerate again until firm. Carefully and gently remove the wrapper. The chocolate cups are very fragile and a few may break during this process so it is a good idea to make a few extras just in case.
Thank You For Printing This Recipe! Visit Us Again Soon!
Recipe Page: http://www.couldntbeparve.com/recipe/chocolate-ganache-cups/