Chocolate Coconut Panna Cotta
February 6, 2011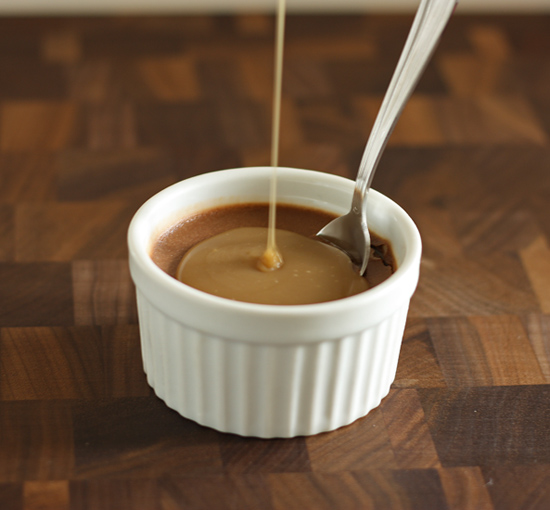 Panna Cotta is one of those desserts that is so elegant it seems like it should be incredibly difficult make at home. Instead it is one of the easiest. Usually just made with cream, flavorings and a bit of gelatin to set it, a good panna cotta is a deliciously satisfying dessert. Add a little bit of chocolate, a topping of luscious caramel sauce, and you have the perfect dessert for a romantic Valentines Day dinner. Or frankly any night of the week.
This recipe is from the back of the box of Guittard chocolate. I had wanted to try it for a while, and ended up making it a week when I was a bit pressed for time to make a dessert for Shabbat dinner. It literally took me ten minutes to throw together Thursday night. Given that a four week old baby doesn't leave all that much time for elaborate kitchen projects I imagine that I will be making it again in the near future. I have to say, though, that the texture of this panna cotta is not quite like that of a traditional panna cotta. A great panna cotta should be just barely set so that it sits softly on the spoon without being at all rubbery. This is much firmer, more the consistency of a dense chocolate mousse, but it is delicious nonetheless.
I served it with a coconut caramel sauce which was the perfect pairing. Unfortunately I seem to have misplaced the recipe I used for the sauce. I found some that look similar, but until I have a chance to test them I don't want to post them. Sorry about that. Any caramel or fruit sauce would be a great accompaniment.
Recipe Updates – Delivered Fresh!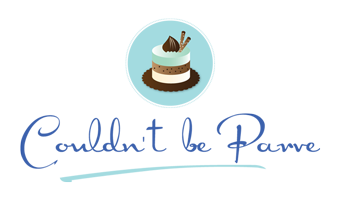 Chocolate Coconut Panna Cotta
Chocolate Coconut Panna Cotta
Ingredients & Instructions
Ingredients & Quantities
1 can (14 oz) coconut milk*
1 envelope (1/4 oz) gelatin
2 tablespoons sugar
4 oz semisweet chocolate, coarsely chopped
1 teaspoon vanilla
*if making for Passover use
this recipe
to make the coconut milk.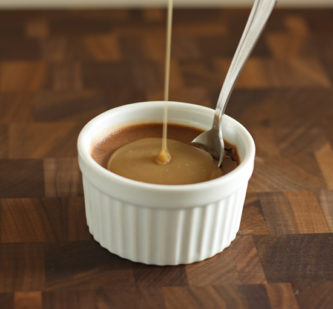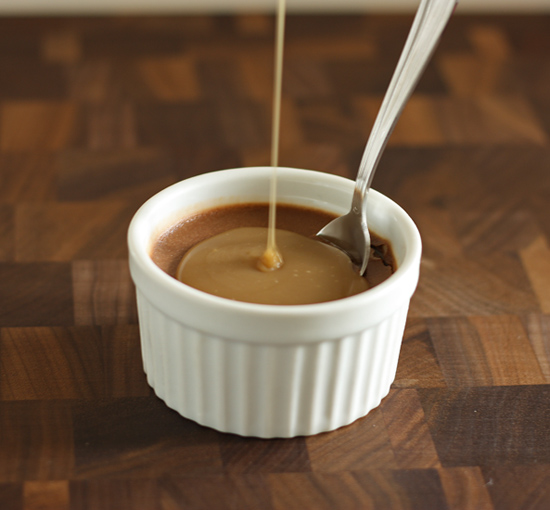 Preparation Instructions
Place the coconut milk in a medium saucepan. Sprinkle gelating over the top of the coconut milk and let stand several minutes. Add sugar and chocolate. Whisk over medium-low heat to scald, and until the gelatin and chocolate are melted. Add vanilla and pour through a strainer into a large measuring cup. Pour into ramekins.
Cover and chill until set at least 2-3 hours, or overnight. Serve with coconut caramel sauce.
Recipe taken from the back of the Guittard Chocolate box
Thank You For Printing This Recipe! Visit Us Again Soon!
Recipe Page: http://www.couldntbeparve.com/recipe/chocolate-coconut-panna-cotta/