Chocolate Chip Cookie Dough Filled Hamentashen
February 21, 2013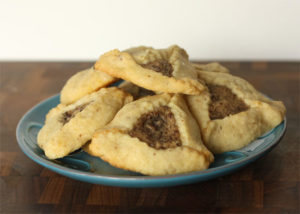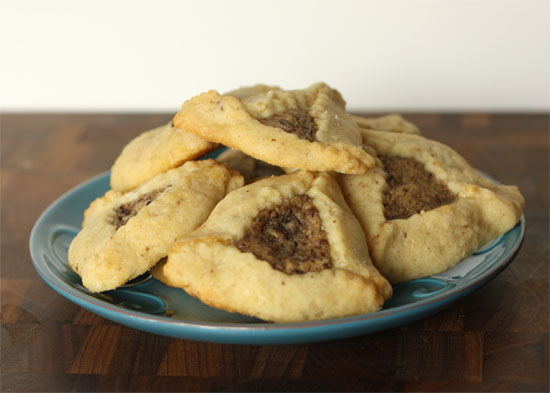 Sometimes I get a recipe idea in my head and I just can't let it go until I get it right. That is what happened with these hamentashen. I was trying to think of new creative hamentashen ideas to post this year and the first thing that popped into my mind was "chocolate chip cookie dough". It took a few iterations to get a cookie dough filling that would stay soft enough after baking that it still tasted like cookie dough but I think this is finally it. Soft cookie dough with a rich brown sugar flavor encased in a crisp hamentashen dough, these cookies are sure to get a lot of attention. It is hard to go wrong with chocolate chip cookie dough. They don't taste like traditional hamentashen, but I like to mix a few untraditional cookies into the mix just to keep people on their toes. I like nuts in my cookie dough so I made the hamentashen dough with pecans but feel free to use your favorite hamentashen dough instead.
Recipe Updates – Delivered Fresh!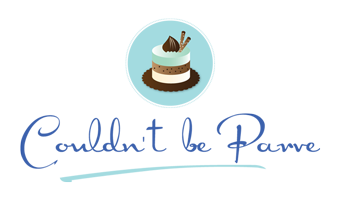 Chocolate Chip Cookie Dough Filled Hamentashen
Ingredients & Instructions
Ingredients & Quantities
For Dough
1/2 cup (4 oz) margarine, cut into 8 pieces
1/2 cup (4 oz )shortening, cut into 8 pieces
3 cups(13.5 oz, 380 g) flour
1 teaspoon baking powder
1/2 teaspoon salt (scant 1/2 teaspoon if using salted margarine
1 cup (7.5 oz) sugar
1/2 cup (2 oz) chopped pecans
1 beaten egg
1 teaspoon vanilla extract
2-4 tablespoons ice water
1 egg + 1 tablespoon water, lightly beaten
1/4 cup (2 oz) margarine
2 tablespoons sugar (1 oz)
1/4 cup (2 oz) brown sugar
2 tablespoons (1 oz) non-dairy milk of choice
1/2 teaspoon vanilla extract
1/2 cup (2.25 oz) flour
1/4 cup mini chocolate chips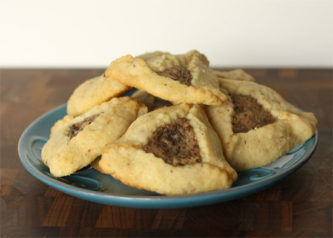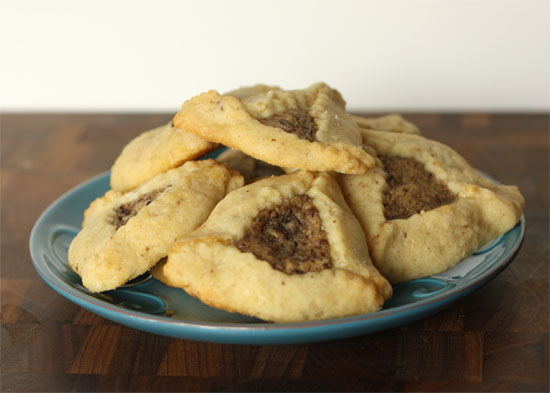 Cooking Instructions
While the dough is chilling make the filling:
Combine the margarine, sugar and brown sugar in the bowl of an electric mixer and cream until smooth. Add the milk and vanilla and mix until smooth. Add the flour and mix until well combined. Mix in the chocolate chips.
Assemble the hamentashen:
Working with one disk of dough at a time roll out the dough. It is easiest to roll the dough out between two pieces of parchment paper. If the dough gets sticky while working with it place the parchment paper on a cookie sheet in the freezer for a few minutes. Cut the dough into circles, using a round cutter. Fill each circle with a small amount of filling. (For 2 inch circles use about a teaspoon of filling).
Be careful not to overfill the hamentashen or they will burst open in the oven. Also, if there are any holes in the dough the filling will leak out in the oven so patch any cracks in the side of the hamentashen before baking. Brush each circle with the egg wash and fold two sides together, pinching tight to make a corner. Fold up the remaining side to make a triangle with the filling showing in the middle and pinch the other two corners well. It is important that they are well pinched, so that they do not come open in the oven.
Bake at 350 until they are slightly firm to the touch, about 11 minutes. Transfer to cooling rack and let cool completely.
Preparation Instructions
To make the dough:
Pulse the dry ingredients in the food processor until well combined. Add the margarine and shortening and pulse until mixture resembles a coarse meal. Add the beaten eggs and pulse until combined.
Remove the mixture from the food processor and pour into a large bowl. Sprinkle with two tablespoons of ice water and mix until it comes together into a ball. If the dough seems too dry add the remaining water one tablespoon at a time until the dough just comes together.
Divide the dough into two disks, wrap each disk in plastic wrap and refrigerate for one hour.
Thank You For Printing This Recipe! Visit Us Again Soon!
Recipe Page: http://www.couldntbeparve.com/recipe/chocolate-chip-cookie-dough-filled-hamentashen/