Chocolate Almond Toffee Cookies
April 5, 2011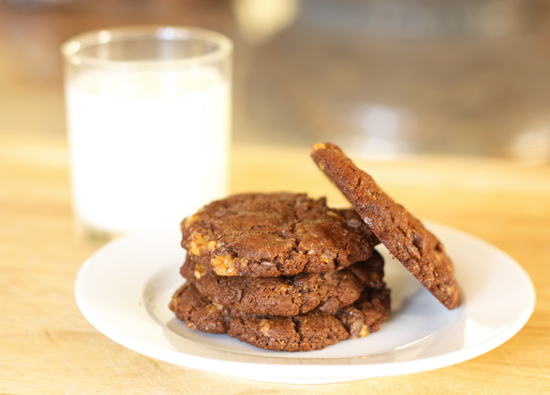 It seems like these days it is hard for me to find the time (or motivation) to make big elaborate desserts. Some days I get as far as standing at the kitchen counter looking at the ingredient list when the sheer number of steps needed to go from a pantry full of ingredients to a finished dessert overwhelms me and I sit back down on the couch to check my email again instead. This is probably because I tend to start my baking projects at 10:00 at night after all the little ones are asleep. I know that anything that can't be done in about an hour is going to make for a late night, which makes it hard to find the energy to get started. That is why cookies are my perfect dessert right now. Not only are they quick to make, they are easy to eat with one hand, an important feature while holding the baby with the other arm.
These cookies are an adaptation of my flourless peanut butter cookies (the ones I used to make these classic lunch box treats) I wanted to see what happened when I added cocoa powder to the recipe in a sort of nutella-ish combination of nuts and chocolate. (A hazelnut version is in the works too, that one will be really nutella-ish). Since pesach is fast approaching I decided to make them with almond butter instead of the peanut butter and I am sure glad that I did. One taste of the batter and I knew they would be better with some toffee, and with that the cookies were complete. These cookies are delicious. The combination of chocolate and almond and toffee just works perfectly. Although in the interest of full disclosure I should mention that my husband liked the version with the plain chocolate chips better. I guess it is a matter of individual taste. Either way, I promise no one would guess that these cookies don't have any flour. Quick and easy to make, they are perfect to whip up for any occasion. They sure disappeared fast around here! I will be making these again during pesach for sure.
Recipe Updates – Delivered Fresh!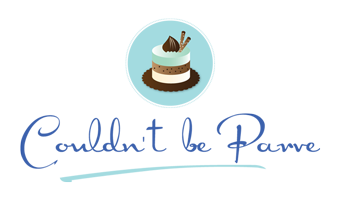 Chocolate Almond Toffee Cookies
Chocolate Almond Toffee Cookies
Ingredients & Instructions
Ingredients & Quantities
1 cup almond butter 1 cup plus 2 tablespoons brown sugar 1 egg 2 tablespoons cocoa powder 1 tsp vanilla 1 tsp baking soda 1/2 teaspoon salt (use less salt if using salted almond butter) 1 cup finely chopped
parve chocolate covered toffee
or ½ cup mini chocolate chips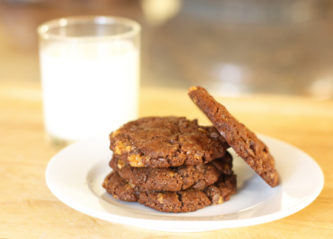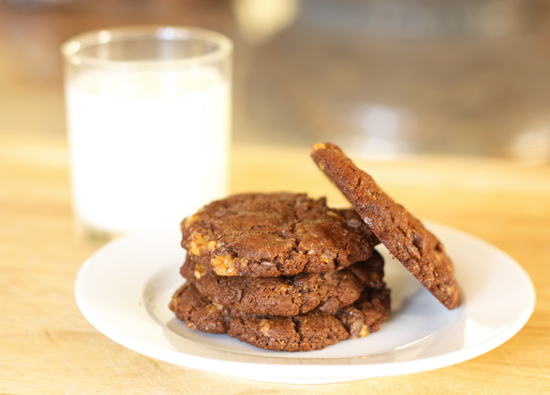 Preparation Instructions
Preheat the oven to 350. Line two cookie sheets with parchment paper.
Cooking Instructions
Place all the ingredients except the toffee or chocolate chips in a large mixing bowl. Stir until well combined. Stir in the toffee or chocolate chips. Scoop out tablespoon sized balls of cookie dough and place on the parchment lined cookie sheets, spacing them two inches apart. Using slightly moistened hands lightly press down the balls to flatten.
Bake for 10-12 minutes, or until the tops are just set. Be careful not to overbake. Remove the cookies from the oven and cool for five minutes on the cookie sheets. Transfer to a cooling rack and cool completely.
Thank You For Printing This Recipe! Visit Us Again Soon!
Recipe Page: http://www.couldntbeparve.com/recipe/chocolate-almond-toffee-cookies/