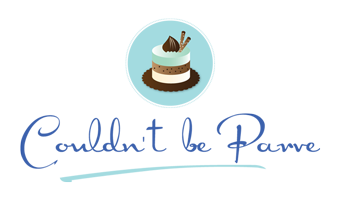 Cherry Linzertorte
February 23, 2011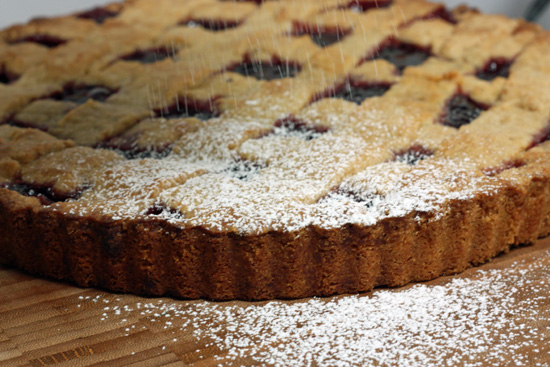 Since the last two posts were both of pudding like desserts made with chocolate and coconut milk, I thought it was time to post something entirely different. This linzertorte is one of my favorites. I have been making it ever since I cut it out of a Bon Appetite magazine almost ten years ago. (Back when I actually cut out recipes and pasted them in a binder by category instead of just storing everything in folders on my computer). What makes this tart special is the use of hazelnuts instead of the traditional almonds. The combination of a lightly spiced hazelnut cookie crust and cherry preserves is truly delicious. It also freezes well, which makes this a good make ahead dessert. Even better, the recipe makes a bit more dough than is needed for the tart. The leftover can be made into linzer cookies, the perfect cooks treat.
Cherry Linzertorte
(adapted from Bon Appétit, December 2001)
Yield: Makes 8 to 10 servings
1 1/4 cups hazelnuts (about 5 ounces), toasted, husked, cooled
2 1/3 cups all purpose flour
3/4 cup sugar
2 teaspoons ground cinnamon
1/2 teaspoon baking powder
1/2 teaspoon salt
1/4 teaspoon ground nutmeg
1 cup (2 sticks) chilled unsalted margarine, cut into 1/2-inch pieces
3 large egg yolks
1 tablespoon vanilla extract
1 1/2 cups cherry preserves (preferably imported; about 18 ounces)
Powdered sugar (optional)
Preheat oven to 350°F. Grease 9-inch-diameter tart pan with removable bottom. Combine nuts and 1/3 cup flour in processor; finely chop nuts. Transfer mixture to large bowl. Add remaining 2 cups flour and next 5 ingredients to bowl; whisk to blend. Add margarine. Using electric mixer at low speed, blend ingredients until coarse meal forms (this will take several minutes). Add egg yolks and vanilla. Beat until moist clumps form. Gather dough into ball. Press 1 1/2 cups (packed) dough over bottom and up sides of prepared pan; spread preserves in dough. Roll remaining dough on sheet of parchment paper to 13×10-inch rectangle. Freeze rectangle 5 minutes to firm. Cut twelve 1/2-inch-wide strips lengthwise from rectangle. Arrange 6 strips across torte, spacing evenly. Arrange 6 more strips across torte in opposite direction, forming lattice. Seal ends of strips to dough edge, trimming excess. Reserve all dough scraps to make cookies, if desired.
Bake torte until crust is golden brown and preserves are bubbling thickly, about 40 minutes. Cool torte completely on rack. (Can be made 2 days ahead. Cover with foil; store at room temperature. It can also be frozen)
Push bottom of pan up to free torte from pan. Sift powdered sugar over edge of torte, if desired, and serve.
Recipe Updates – Delivered Fresh!
Thank You For Printing This Recipe! Visit Us Again Soon!
Recipe Page: http://www.couldntbeparve.com/recipe/cherry-linzertorte/