Chai Truffles
May 15, 2010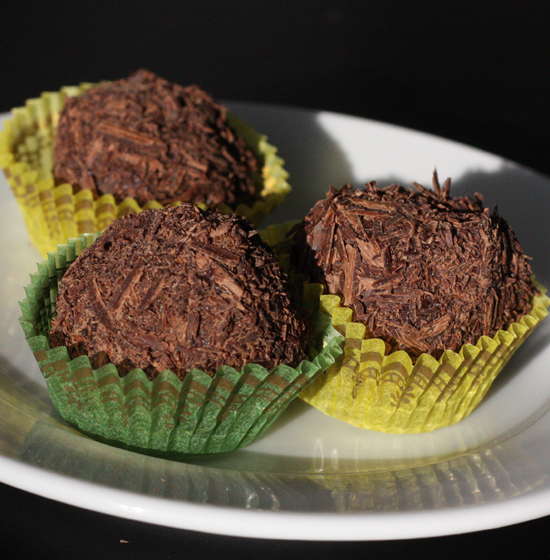 One of my favorite things to make is truffles. Besides the obvious reason that I love them (they are chocolate) what makes truffles fun to make is that they are infinitely customizable. Almost any flavor can be integrated into a truffle. Depending on my mood the same basic ingredients can make a truffle that is new and interesting while still being comforting in its creamy chocolateyness.These chai truffles are fragrant with the spices of chai tea. I was inspired to make them after having Chinese 5-spice truffles that were outstanding. Rather than just recreate those I wanted to make a different spicy truffle so here they are.  I admit they can be a bit messy to make, so once I am making them I always make a lot. The extras can be frozen for several months ready to impress impromptu visitors or cure a late night chocolate craving.
A note about the coating. Traditionally truffles are coated in a thin layer of tempered chocolate before they are rolled in the coatings. I was making these truffles for an intro to chocolate desserts class and knew that if I brought up tempering people would never bother to make them at home. So I tested them using plain melted chocolate. It turns out that the plain chocolate shell isn't quite as firm and doesn't have the snap of tempered chocolate, but worked fine for these truffles. They won't keep quite as long at room temperature, but will freeze better because there is less chance of the coating cracking.
Chai Truffles
Makes approximately 30 large truffles
Ingredients
1 cup coconut milk
2 small sticks cinnamon
10-12 cloves
1/2 star anise
3 cardamom
3 peppercorns
13 1/2 ounces  bittersweet or semisweet chocolate, coarsely chopped
For Coating
6 oz chocolate, coarsely chopped
cocoa powder, finely chopped almonds or chocolate shavings for coating
Combine the coconut milk and spices in a small saucepan and bring to a simmer. Cover the pan and remove from the heat. Let steep for 30 minutes. Pour the mixture through a fine mesh strainer and return the coconut milk to the pan.
Line  a shallow baking pan with plastic wrap leaving enough hanging over the sides to cover the ganache once it is in the pan.
Place the chocolate in a medium heatproof bowl in a wide skilled or barely simmering water and stir frequently until most of the chocolate is melted. This can also be done in a microwave at 50% power. Microwave for 1 ½ minutes then stir. Continue microwaving in 30 second intervals, stirring after each one, until most of the chocolate is melted. Remove chocolate from heat and stir until smooth.  Set aside.
Bring the coconut milk back to a boil. Remove from the heat and let it stand for 3 minutes to cool slightly. Pour the hot coconut milk over the chocolate and whisk briskly keeping the whisk in contact with the bottom or sides of the bowl to reduce splashing. Whisk until the coconut milk is completely mixed with the chocolate. Once the ganache is mixed it should be smooth and glossy and slightly thickened like pudding. Do not mix it beyond this point. Immediately scrape the ganache into the lined pan and let cool at room temperature, without stirring or disturbing it.
Once the ganache is cool fold the plastic wrap over it and let set at room temperature for at least several hours, preferably overnight, until firm enough to scoop. Once the ganache has set it can be refrigerated for a day or two or frozen for up to 2 months.
To shape the truffles use a small ice cream scoop or melon baller to form ¾ to 1 inch balls of ganache. Refrigerate briefly to allow the balls to firm up slightly.
Melt the remaining chocolate and place the coating (cocoa powder, almonds or chocolate shavings) in a small bowl. To make chocolate shavings use a vegetable peeler to shave thin pieces from a large piece of chocolate. Place a cookie sheet or plate next to the bowl for the finished truffles.
To finish the truffles place a small amount of chocolate in one hand. Pick up one uncoated truffle and roll it in the chocolate on your hand. The goal is to get a thin coating over the entire truffle. Immediately drop it into the coating, and using a fork push it around until fully coated. Transfer to the cookie sheet or plate. Repeat with the remaining truffles. Refrigerate a few minutes until set, and then store in an airtight container
Recipe Updates – Delivered Fresh!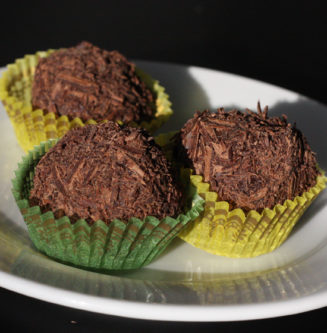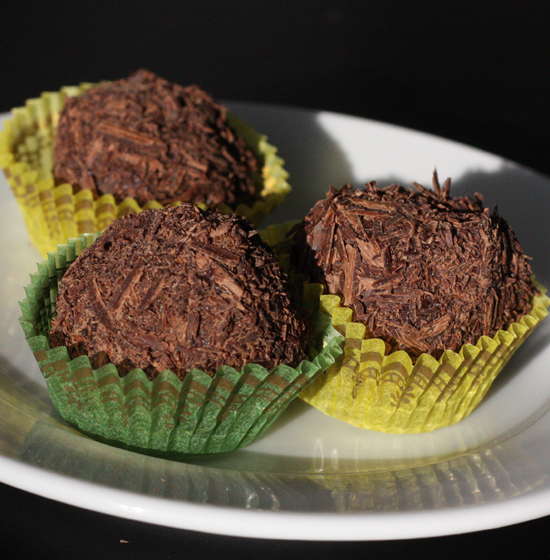 Thank You For Printing This Recipe! Visit Us Again Soon!
Recipe Page: http://www.couldntbeparve.com/recipe/chai-truffles/