Carrot Cake Push Up Pops
November 14, 2011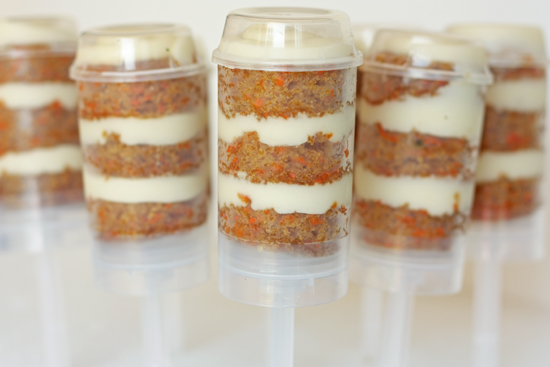 A little while back I saw these rainbow cake push-up pops and I was immediately smitten. A little bit of poking around on the web and I discovered how much fun the new phenomenon of cake push-up pops really can be. I was hooked at first sight. They are like a cupcake with the cuteness of cake pop, as tasty as they are fun to eat. I have to admit that even though cake pops are adorable I don't really like the mushy texture of the cake mixed with frosting, so I love that the cake and frosting stay separate in these. Even better, they have lids, so transporting them to an event is as easy as throwing them in a box. It is a perfect way to ship cake through the mail too. (Although cupcakes in a mason jar are a pretty cute way to mail cupcakes too.)
I decided that I wanted to make push-up cake pops for a large gathering we were having over sukkot and ordered a case of the containers. While I waited for them to come I daydreamed about all the different flavor combinations I could make. We were having sixty people over so that gave me a lot of room to play around. The greatest thing about these (besides the cute factor) is that you can mix and match in all different combinations much more easily than with a larger cake. I ended up making only two kinds of cake (yellow cake and carrot cake) but ended up with four different kinds of push pops (I was being restrained) by combining different fillings with the cakes (vanilla buttercream, cream cheese frosting, raspberry curd, mint chocolate ganache and chocolate ganache). It also makes it easy to have a gluten-free option that is just as good as the traditional one. I made a gluten-free yellow cake and assembled those pops first so there wouldn't be any cross-contamination. They were a huge hit, especially with the people who needed to eat gluten-free and were thrilled to have the same fun dessert as everyone else. I am already looking forward to the next opportunity I have to make these again. The pop containers can be washed and reused, which is what I did, so I am ready to make more cake push-up pops at any time.
For the carrot cake I used the recipe from Smitten Kitchen. It was good, especially with cream cheese frosting, but I am not sure it is my all time favorite carrot cake recipe. I am going to have to experiment some more before I can decide.
Recipe Updates – Delivered Fresh!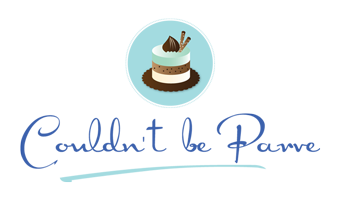 Ingredients & Instructions
Ingredients & Quantities
2 cups all purpose flour
2 teaspoons baking soda
1 teaspoon salt
2 teaspoons ground cinnamon
1/2 teaspoon ground nutmeg
1 teaspoon ground ginger
2 cups sugar
1 1/4 cups canola oil
4 large eggs
3 cups grated peeled carrots
one recipe cream cheese frosting, see below
Cream Cheese Frosting
1 cup margarine
2 oz solid vegetable shortening
10 oz toffuti cream cheese
1.5 lbs 10X confectioners' sugar
1 teaspoon vanilla
2 tablespoon lemon juice (more to taste)
1 tablespoon meringue powder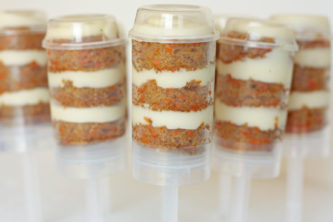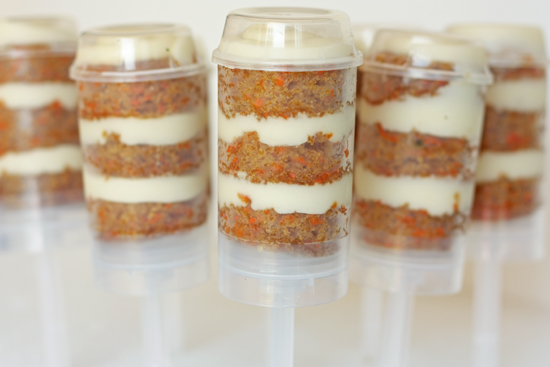 Preparation Instructions
Preheat oven to 350°F. Line a half sheet pan with parchment paper and lightly spray with cooking spray.
Whisk flour, baking soda, salt, cinnamon, nutmeg and ginger in medium bowl to blend. Whisk sugar and oil in large bowl until well blended. Whisk in eggs 1 at a time. Add flour mixture and stir until blended. Stir in the carrots. Spread the batter evenly over the prepared pan.
Bake cake 14 to 18 minutes, or until a tester inserted into the center comes out clean. Let the cake cool in the pan for five minutes or so, then transfer to a cooling rack. Let cool completely. Transfer cake to a large cutting board and remove parchment paper. Using the top of the pushpop container cut out as many circles as possible from the cake. Place the circles on a parchment lined cookie sheet and freeze until firm, approximately ten minutes (this makes them easier to work with).
Assembling the pops: Place the frosting in a pastry bag fit with a large tip (a ziplock with the end cut off works too). Put one cake circle at the bottom of the push pop. The easiest way to do this is to push the bottom of the container up to the highest position, place the cake on it, and then pull it down to the bottom. Top the cake with frosting. Add another cake circle and another layer of frosting. Repeat one more time and then cover cake pushup with the lid. Repeat with the rest of the pushups.
It is more striking to display the cake pushups standing up. A great way to do that is to take a piece of styrofoam and poke holes with the stems of the pushup pops. To make it look nicer cover the styrofoam with decorative paper or tissue paper.
Cream Cheese Frosting
Cream margarine, shortening, and cream cheese together until well mixed. Stop and scrape the bowl.
Sift the sugar. Beat sugar 1 cup at a time into the margarine mixture.Add the lemon juice, vanilla and meringue powder. Beat for a minute or two making sure the ingredients are throughly incorporated.
Add more lemon juice to taste to give the frosting the desired level of tanginess.
Note: Any leftover frosting can be frozen for up to three months. Defrost it and re-beat to soften it before using.
Thank You For Printing This Recipe! Visit Us Again Soon!
Recipe Page: http://www.couldntbeparve.com/recipe/carrot-cake-push-up-pops/