Carrot Cake Pancakes
October 21, 2012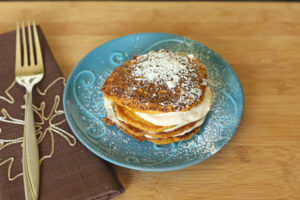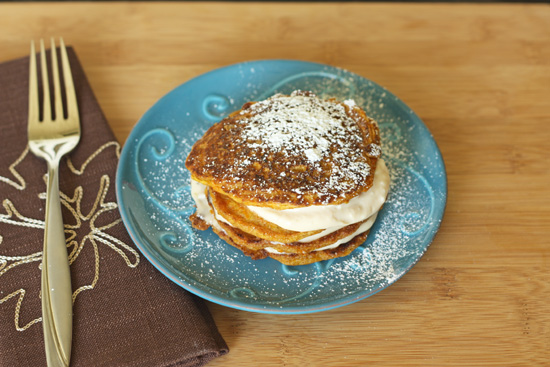 A while ago my son's school had a book fair. As I was browsing the books he had picked out I couldn't help notice the table of cookbooks they had set up. I caved and bought two books I had been wanting for a while, Heidi Swantons Super Natural Cooking and the Cookie Dough Lover's Cookbook. It wasn't until I got home and saw them sitting stacked on top of each other on the table that I realized what a strange pair they make. It might seem strange that the same person would want both of these cookbooks, but together they illustrate a lot of who I am as a cook and eater. As you can tell from my blog I love intensely delicious over the top sweets and desserts, and creating them is my definition of fun. While that is great for special occasions or holidays, in our normal everyday lives I try to make sure that my family and I are eating healthy, wholesome, nutritious food that is not overly sweet or processed. There are of course weeks that I do better at that than others, but healthy eating is something that is very important to me.
These healthy carrot cake pancakes are one of our favorite special breakfasts. They get most of their sweetness from the natural sweetness of the carrots and my kids absolutely adore them. The cream cheese sauce makes them feel especially decadent but actually has less sugar than the amount the pancakes would have if they were smothered with maple syrup. In the interest of full disclosure I usually serve a dairy cream cheese sauce made of greek yogurt, low fat cream cheese and a bit of sugar. I found that to, my taste, the parve cream cheese sauce, while still absolutely delicious, needed more sugar to taste right. Feel free to experiment with it according to your own tastes. As a warm and comforting fall breakfast I thought these would be the perfect contribution to the October Kosher Recipe Linkup since the theme of the month is root vegetables. Check out the links below to see the delicious things everyone else has made.
Recipe Updates – Delivered Fresh!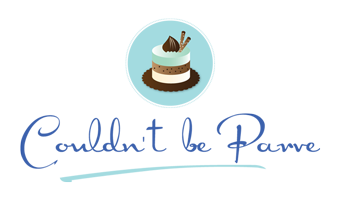 Ingredients & Instructions
Ingredients & Quantities
Pancakes:
1 large carrot (approximately 4 oz)
1 cup (4 oz or 120g) whole wheat pastry flour
1 teaspoon baking powder
scant ½ teaspoon salt
1 teaspoon ground cinnamon
½ teaspoon freshly ground nutmeg
1 tablespoon refined coconut oil
1 large egg
1 cup non-dairy milk of choice (such as soy or almond)
Cream Cheese Sauce:
4 ounces parve cream cheese
½ tablespoon lemon juice
1 ½ teaspoon vanilla
5-6 Tablespoons (1.5 oz) powdered sugar (or to taste)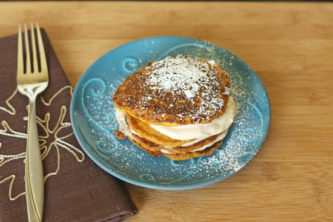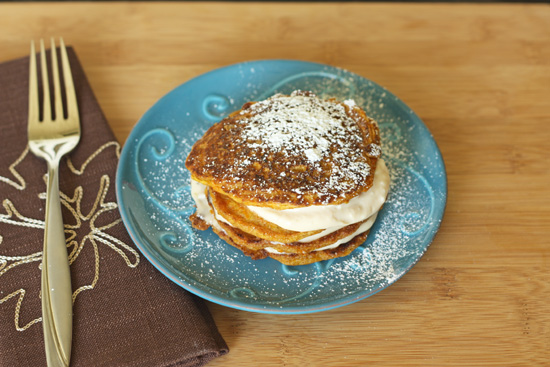 Preparation Instructions
To make the pancakes:
Finely grate the carrot (a microplane works best for this) into a small bowl and set aside.
Place the flour, baking powder, salt, and spices in a large bowl and whisk to combine. Combine the oil, egg and milk in a medium bowl and mix until well blended.
Pour the liquid mixture into the flour and stir gently until just combined. Stir in the carrots.
Place a small amount more oil in a skillet and heat over medium heat. Spoon the batter into medium sized circles in the pan and cook the pancakes until bubbles cover the top surface. Flip the pancakes and cook a few more minutes until cooked through. Repeat with remaining batter. Transfer to a plate and serve with cream cheese sauce.
To make the sauce:
Place the cream cheese in a medium bowl. Add the rest of the ingredients and beat until well combined and smooth. (This can also be done in the bowl of an electric mixer).
Recipe Yield
6-8 smallish pancakes
Thank You For Printing This Recipe! Visit Us Again Soon!
Recipe Page: http://www.couldntbeparve.com/recipe/carrot-cake-pancakes/