Caramelized Rice Krispy Bark
April 8, 2013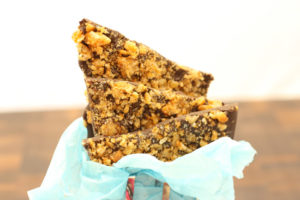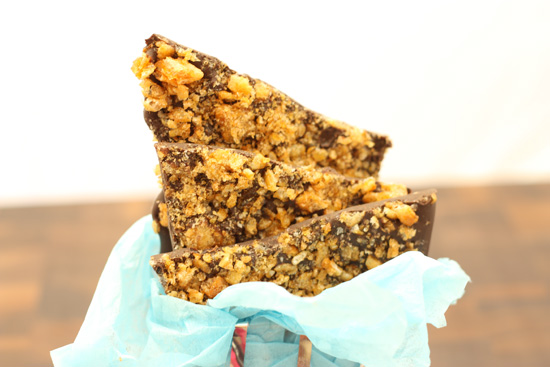 When I saw that the recipe contest on Food52 this week was "Your Best Recipe with Cereal" I knew I wanted to submit my recipe for one of my favorite candies, Caramelized Rice Krispy Bark. When I went to get the recipe off my blog to submit it to Food52 I realized that I never shared it here. Which is a real shame, and something that needs to be corrected immediately. So here it is.
This is one of my favorite candies to make for presents. It is made with just a few ingredients but the finished product is so much more than the sum of its parts. Sweet caramel completely encases the rice krispies making them even more crispy. When combined with good quality dark chocolate the end result is like a grownup crunch bar. Crispy, crunchy and intensely chocolate-y with the additional depth of flavor from the sweet caramel. It is fairly easy to make but looks quite impressive which makes it great for gift giving. That is, if you are willing to share.
Recipe Updates – Delivered Fresh!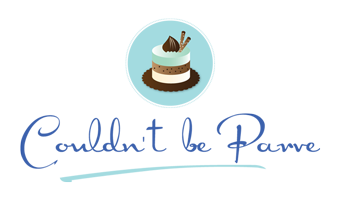 Caramelized Rice Krispy Bark
Ingredients & Instructions
Ingredients & Quantities
½ cup sugar
2 tablespoons water
2 cups crispy rice cereal
1 pound bittersweet chocolate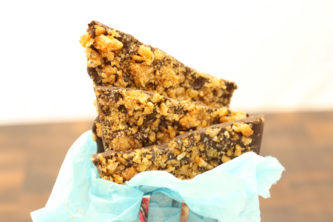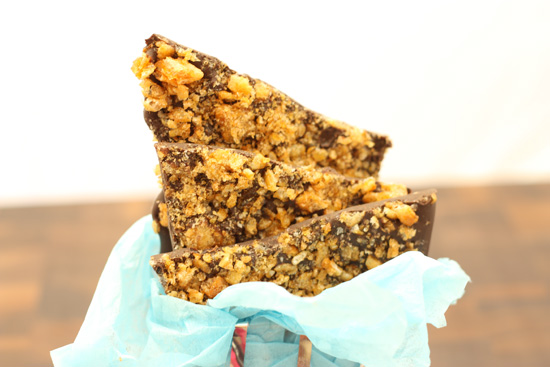 Preparation Instructions
Place a silpat mat or parchment paper on a baking sheet. If using parchment paper lightly spray it with cooking spray. Spray a spatula with cooking spray and set aside.
Place the sugar and water in a heavy bottomed saucepan and stir to combine. Place pan over medium-high heat and stir just until the sugar is dissolved. Once the sugar comes to a boil do not stir the mixture. If it is cooking unevenly gently swirl the pan. Cook until the mixture turns a medium amber color. Remove the pan from the heat and stir in the rice cereal until it is coated with the sugar mixture. Turn the mixture out onto the prepared pan and spread it as thin as possible using the greased spatula.
Let the caramelized rice cereal cool. Break it into pieces and place it in a large zip-top bag. Using a rolling pin, crush the pieces until they are the size of one or two pieces of rice.
Place a piece of parchment paper on a baking sheet. Temper or melt the chocolate. (The easiest way to melt chocolate is in a microwave on 50% power. Stir every 30 seconds to prevent the chocolate from burning.) Spread the chocolate on the parchment paper into a layer approximately ¼ inch thick. Sprinkle the chocolate with the caramelized cereal. Press down lightly on the cereal to insure that it sticks to the chocolate. Place in the refrigerator for a few minutes until the chocolate sets.
Break into pieces and store in an airtight container. If using tempered chocolate store the chocolate at room temperature. If not, store the bark in the refrigerator.
Thank You For Printing This Recipe! Visit Us Again Soon!
Recipe Page: http://www.couldntbeparve.com/recipe/caramelized-rice-krispy-bark/