Caramel Popcorn Marshmallow Treats and a winner
April 27, 2010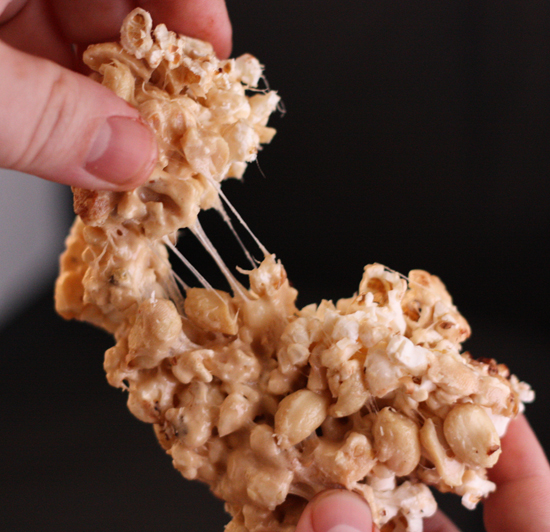 These adorable cupcake wrappers from Bake It Pretty made me start thinking about popcorn desserts.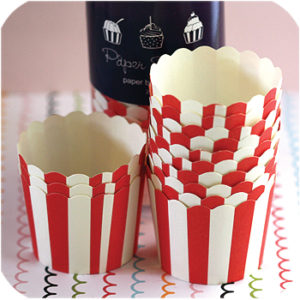 Since they haven't come yet I can't make the cupcakes I have been dreaming up, but I couldn't get the idea of a popcorn dessert out of my head. These popcorn treats are quick and easy to make. They are the popcorn version of a rice krispe treats with a bit of brown sugar thrown in to add caramel flavor. They aren't the best thing I have ever eaten for sure, but they are quick to throw together and tasty enough that I kept going back for just a little bit more. The popcorn gives them more chewiness than rice krispies making them a totally different treat. Made in the microwave they are the perfect thing to make with kids. I made mine into bars, but the recipe can also be used to make adorable popcorn pops.
I also want to announce the winner of the giveaway. Congratulations to Nechama who is the winner of Chocolate Obsession by Michael Rechiutti. Email me your address and I will send it to you right away.
Recipe Updates – Delivered Fresh!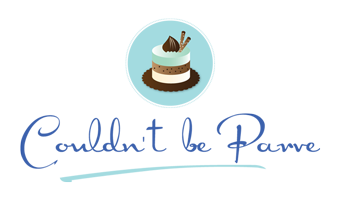 Caramel Popcorn Marshmallow Treats and a winner
16 large squares or 24 small ones
Caramel Popcorn Marshmallow Treats and a winner
Ingredients & Instructions
Ingredients & Quantities
10 cups popped unflavored popcorn (from 1/4 cup kernels or 1 microwave bags) 1/2 cup dark brown sugar 6 tablespoons salted margarine (add a healthy pinch of salt if using unsalted) 10 oz marshmallows (5 cups mini marshmallows) 1 cup salted peanuts, coarsely chopped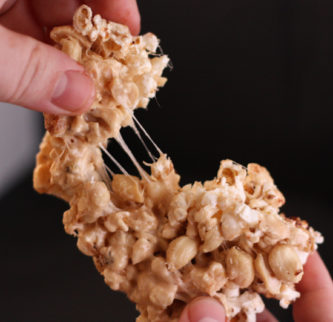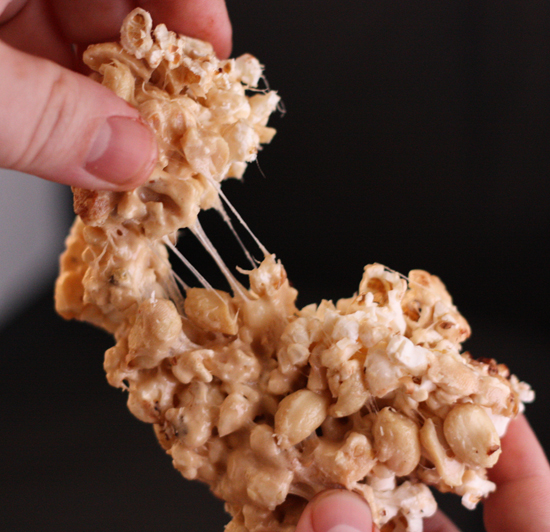 Preparation Instructions
Grease a 9 x 13 baking pan. Sort the popcorn to make sure there are no un-popped kernels.
Cooking Instructions
Combine the sugar and margarine in a large microwaveable bowl. Microwave for one minute or until margarine is melted. Stir to combine. Add the marshmallows and microwave 1-2 minutes more until melted. Stir well to combine. Stir in the popcorn and the peanuts. Scrape the mixture into the prepared pan and press down evenly with on oiled spatula (or clean oiled hands). Let cool and then cut into bars. If making balls, let the mixture cool slightly in the bowl and then shape into balls.
Recipe Yield
16 large squares or 24 small ones
Thank You For Printing This Recipe! Visit Us Again Soon!
Recipe Page: http://www.couldntbeparve.com/recipe/caramel-popcorn-marshmallow-treats-and-a-winner/