Candy Sushi
December 6, 2011
My favorite food when I was a kid was sushi. When teachers would ask what our favorite food was I would always say something like "pizza" to be more like the other kids (sushi wasn't as wildly popular almost 30 years ago) but I always chose sushi for any celebratory meal. My older son absolutely loves sushi as much as I do. From the time he was a baby he always ate more at the sushi restaurant than anywhere else and that is still true. (The baby seems to like it pretty well too but he is still too little for raw fish.) Given my son's love of sushi he was absolutely smitten last year when he tried candy sushi at a school fundraiser. Made of assorted candy and rice krispie treats with fruit roll-ups as the seaweed it had all of his favorite things combined in one. We decided that we would make them for his birthday party as a fun treat. Since his birthday was right before all the fall holidays I never managed to post the recipe so I'm posting it now. It was a huge success at the party. I expected that the kids would like the candy sushi, but the adults loved it too! It is a fun addition to any festive get together.
Candy Sushi is a lot of fun to make. The sky is the limit when it comes to what candy can be used to make sushi like rolls and nigiri. We used orange jelly beans for salmon roe, banana laffy taffy for tamago (egg) and a variety of rope shaped candies to make cucumber and California rolls. Gummy worms work well too, but the store was all out of kosher ones that week so we stuck with licorice. We even made some nigiri with whole gummy fish on top! With a little imagination I think that any kind of sushi could be possible! Fun to make and fun to eat, what could be better?
Recipe Updates – Delivered Fresh!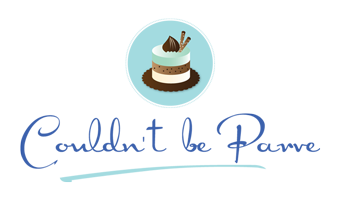 Ingredients & Instructions
Ingredients & Quantities
3 tablespoons margarine
12 oz marshmallows (I find that Elyon brand works better than the other kosher brands for these)
1/3 cup marshmallow fluff (optional, but helps keep the treats flexible for rolling)
6 cups crisp rice cereal, such as Rice Krispies*
Fruit roll ups (preferably green but that is very hard to find)
assorted candy for decorating
orange sprinkles (optional)
*if making these gluten-free, make sure the rice cereal is gluten-free and does not contain malt flavoring and make sure all the candies used are gluten-free. (Laffy Taffy ropes are a good substitute for the licorice.)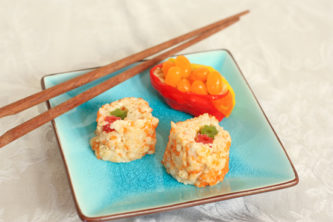 Preparation Instructions
Place the margarine and marshmallows in a large microwave bowl. Microwave on high for two minutes. Remove mixture from microwave and stir. If it is not completely melted, microwave for an additional minute. Add the marshmallow fluff and mix well. Stir in the rice cereal. Pour the mixture out onto a large piece of parchment paper and press it as flat as possible. Let it cool for a few minutes. Place another piece of parchment on top and use a rolling pin to roll the rice krispie treat slab as thin as possible. (If making inside out rolls with "tobiko" on the outside like in the picture, sprinkle the orange sprinkles on the rice krispie treats before letting them cool.)
Cut the rice krispie slab into rectangles the width of the fruit roll-ups. Place the filling on one edge of the rectangle (rope shaped fillings work best for the rolls). Roll up as tightly as possible until the rice krispie slab has gone one time around the filling. Trim the remaining rice krispie off with a sharp knife. (If making inside out rolls, make sure the side with sprinkles is on the outside.) Repeat with the remaining rice krispie slab until the scrap you cut off is too small to make another roll. Wrap each roll tightly in a fruit roll-up, pressing hard to make it stick. Using a sharp knife cut the roll into pieces. Use any remaining rice krispie treats to make nigiri, shaping them with your hands and using a small strip of fruit roll-up to attach the topping to the "rice".
Thank You For Printing This Recipe! Visit Us Again Soon!
Recipe Page: http://www.couldntbeparve.com/recipe/candy-sushi/