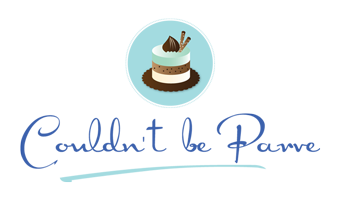 Candy Corn Fudge
October 20, 2010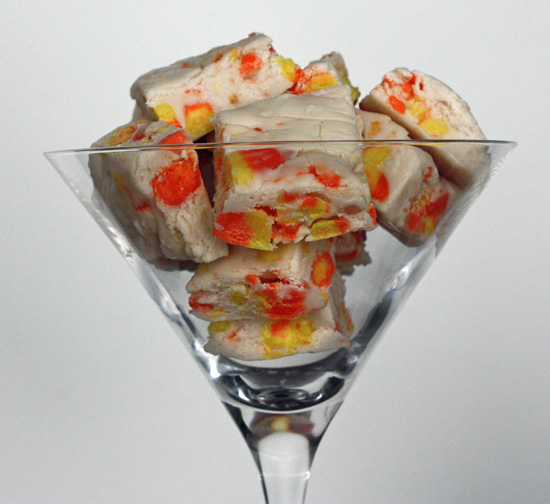 When I think about the seasonal flavors of October pumpkin, apples, and caramel top the list. But it wouldn't be Halloween season without the sweet flavor of candy corn. While candy corn is available year round, there is something about seeing it appear on the Halloween displays that somehow causes me to put a bag in my cart and take it home with me. For years it was hard to find kosher candy corn, but now that the Jelly Belly brand is widely available it is much easier.
Because I love candy corn so much, I wanted to do something creative with it so I decided to make fudge. A variation on classic opera fudge, the soft white fudge is the backdrop that highlights the flavor of the candy corn. Like anything made with candy corn it is quite sweet. I have quite the sweet tooth and I couldn't eat more than a piece or two without needing a glass of water. That being said, I found myself going back throughout the day for just one more piece, so if you like candy corn this fudge is worth making. It is certainly a fun way to feature the flavors of the season.
Candy Corn Fudge
Makes approximately 16 squares
2 cups sugar
1/4 cup soy milk powder
7/8 cup (1 cup minus 2 tablespoons) unsweetened original almond milk
2 tablespoons vegetable oil
2 tablespoon light corn syrup
1/8 teaspoon salt
3 tablespoons unsalted margarine (if using salted margarine omit the salt)
2 teaspoons vanilla extract
1 1/2 cup candy corn
Line an 8 x 8 pan with foil and spray well with cooking spray.
Combine soy milk powder, almond milk and oil in a medium and whisk well to combine. Add sugar, corn syrup and salt and whisk until well blended. Place pan over medium high heat and stir until it comes to a boil. Once it comes to a boil stop stirring and cook until the mixture reaches 236 on a candy thermometer, or soft ball stage.
Remove from heat and add margarine. Do not stir the margarine in. Add the vanilla and beat vigorously with a wooden spoon until the mixture becomes thick and looses its shine. This can take a while by hand, so it can also be done in the stand mixer. Once the mixture thickens and looses its shine gently fold in the candy corn.
Pour the mixture into the prepared pan and spread evenly. Let the fudge cool for 1-2 hours and then cut into small squares.
Recipe Updates – Delivered Fresh!
Thank You For Printing This Recipe! Visit Us Again Soon!
Recipe Page: http://www.couldntbeparve.com/recipe/candy-corn-fudge/