Candy Corn Chex Mix
October 25, 2012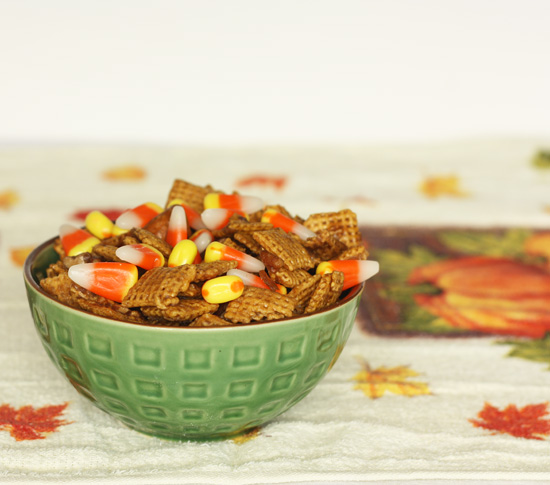 In direct contrast to my last healthy post, today's recipe is all about the candy corn (which in spite of the word corn in its name has no relation to any vegetable of any kind). Every fall when I see it appear in the stores I always buy a bag. I just can't help myself. It's funny because the pink and red candy corn they sell around Valentines day tastes exactly the same but they don't call me me in the same way. There is something about the yellow and orange candy corn in October that just seems so appropriate. After eating some, I wanted to make a recipe that incorporated the rest (although I am saving some to make these turkeys for Thanksgiving). A few years ago I made candy corn fudge but this year I wanted to go in a different direction.
This sweet chex mix sweet, addictive and utterly delicious. The salted pecans and pretzels help to temper the sweetness of the candy corn and caramel coated chex. It may seem totally bizarre that I used brown rice syrup, a sweetener usually found in health food stores, in a snack mix containing candy corn but hear me out. Rice syrup is about half as sweet for the same quantity as corn syrup. When I tried the recipe using corn syrup it there either wasn't enough syrup to fully coat the chex or the finished mix was way too sweet. By using the rice syrup it is possible to get enough caramel to coat all the chex without the mix being cloyingly sweet. One word of warning. This mix is addictive, so don't leave it out on the counter unless you want it to disappear.
Recipe Updates – Delivered Fresh!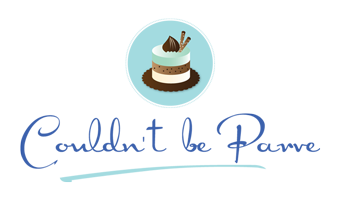 Ingredients & Instructions
Ingredients & Quantities
6 cups chex (6.6 oz or 186 g)
1 cup (3.5 oz or 100 g) salted pecans
¾ cup (6 oz or 168g) brown sugar
6 tablespoons (4.5 oz or 126 g)brown rice syrup
1 teaspoon cinnamon
1 ½ sticks (6 oz or 168g) margarine
1 teaspoon vanilla
½ teaspoon baking soda
1 ½ cup (10.5 oz or 300 g) candy corn
¾ cup (2.25 oz or 63g) pretzel nuggets*
*if making the mix gluten-free use chopped gluten-free pretzels in place of the nuggets.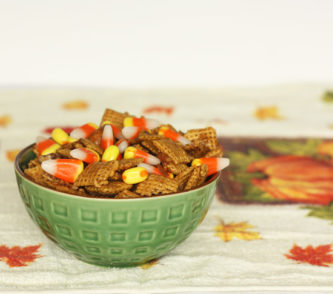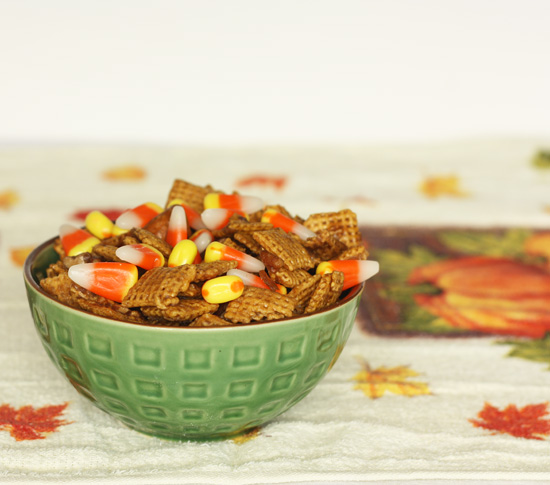 Preparation Instructions
Preheat the oven to 300. Place the chex and pecans in a large bowl. Combine the brown sugar, brown rice syrup, cinnamon, and margarine in a large microwave safe bowl. Microwave for one minute and stir to combine. Microwave for two more minutes and stir again. Microwave for two more minutes. Remove the bowl from the microwave and stir in the vanilla and baking soda. Pour the hot caramel over the chex and stir well until all the chex is coated.
Spread the chex mix out on a parchment lined cookie sheet. Bake for 30 minutes, stirring every 10 minutes, or until slightly browned. Remove the cookie sheet from the oven and let cool. Once the chex mix is cool stir in the candy corn and pretzel nuggets. Store in an airtight container.
Thank You For Printing This Recipe! Visit Us Again Soon!
Recipe Page: http://www.couldntbeparve.com/recipe/candy-corn-chex-mix/