Candy Cane Jo-Jo Brownies
December 26, 2013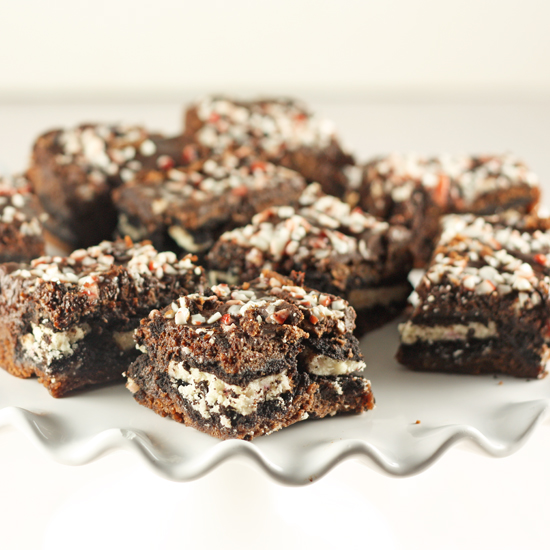 I absolutely adore grocery shopping. That is not to say that every trip to the store with kids in tow is a pleasure, but when I do manage to take a "store-cataion" (a store vacation, ie a trip to the store with only the baby so that no one is begging me for everything they see) I throughly enjoy it. I love walking through the isles thinking of what I can make with the interesting produce or products I find. I am constantly on the lookout for new good kosher products, so it is not uncommon to find me in the ethnic foods isle carefully scrutinizing every jar of sauce in the hopes of finding something new I can try. With more and more kosher products coming to market I am often pleasantly surprised to find previously unavailable items now come in a kosher version. And I have to admit, I get very excited when I find new products that I can use, especially for desserts. I tend to stock up without having a clear plan for the ingredients, just so I can have it available when I come up with an inspiration. I can never guarantee that I will find the same products again (or I forget which store I saw them in the first place) so it is easier just to stock up. Perhaps this is why I have an entire cabinet full of eclectic ingredients for baking, with everything from chick o sticks to multiple kinds of chocolate to all natural maraschino cherries.
When a friend mentioned to me that she noticed the Candy Cane Jo-Jos at Trader Joe's (the Trader Joe version of an oreo) were parve this year I knew I needed to take advantage of this before they disappear for the season. So I stocked up. My friend used them to make amazing peppermint cookie and cream chocolate ice cream cake but I didn't need a dessert that big so I decided to make something a bit more portable, that would be easier to share. (Although, now that I think about it, the Candy Cane Jo-Jos would be amazing in the peppermint version of this easy ice cream pie. Perhaps I will make that for shabbat this week.)
I decided to make Candy Cane Jo-Jo brownies and I am glad that I did. They were a big hit. Chewy chocolatey brownies are layered with candy cane cookies and topped with a rich chocolate ganache and peppermint candy. The cookies get soft inside the brownie so the crunch of the cookie is no longer noticeable but the flavor of the cream filling shines through making these brownies truly something special. These dressed up brownies embody everything that is delicious about peppermint season and are a welcome dessert for any occasion.
Recipe Updates – Delivered Fresh!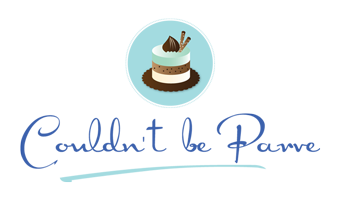 Candy Cane Jo-Jo Brownies
Candy Cane Jo-Jo Brownies
Ingredients & Instructions
Ingredients & Quantities
1 prepared and unbaked recipe of chewy brownies for a 9 x 13 inch pan (see below or use your favorite recipe or box mix)
1 package plus 3 cookies Candy Cane Jo-Jos
1/2 cup (4 oz)Thai style canned coconut milk
7.5 ounces semisweet or bittersweet chocolate with 55% to 60% cacao, finely chopped
1/2 cup (60g or 2 oz) crushed peppermint candy (I like these because they have no artificial colors)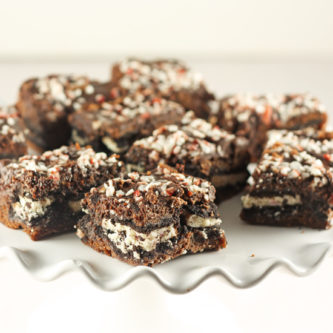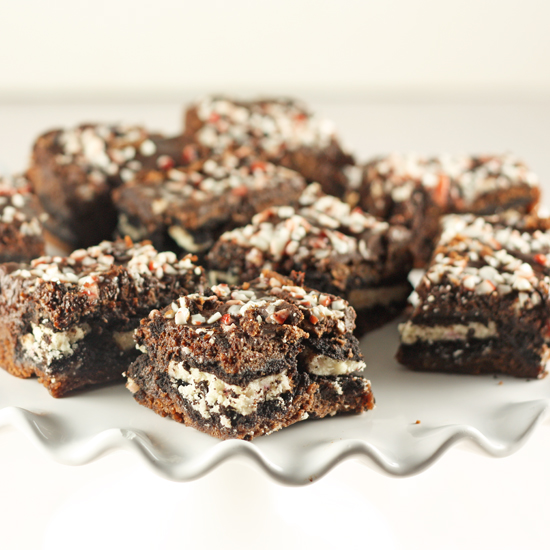 Preparation Instructions
Chewy Brownies
Prep Time: 15 minutes
Cook Time: 35 minutes
Yield: 24 brownies
Ingredients
1/3 cup Dutch-processed cocoa
1½ teaspoons instant espresso (optional)
½ cup plus 2 Tablespoons (5 oz) boiling water
2 ounces unsweetened chocolate, finely chopped
4 tablespoons (2 oz) salted margarine, melted
½ cup plus 2 Tablespoons (5 oz) vegetable oil
2 large eggs
2 large egg yolks
2 teaspoons vanilla extract
2½ cups (17½ ounces) sugar
1¾ cups (8¾ ounces) all-purpose flour
1/2 teaspoon salt (increase to 3/4 teaspoon if using unsalted margarine)
6 ounces bittersweet chocolate, cut into ½-inch pieces
Preparation
Adjust the oven rack to lowest position and heat the oven to 350 degrees F. Line a 9×13-inch baking pan with foil or parchment paper, leaving about a one-inch overhang on all sides. Spray with nonstick cooking spray.
Whisk cocoa, espresso powder, and boiling water together in large bowl until smooth. Add the unsweetened chocolate and whisk until chocolate is melted. Whisk in the melted margarine and oil. (The mixture may look curdled.) Add the eggs, yolks, and vanilla and continue to whisk until smooth and homogeneous. Whisk in the sugar until fully incorporated. Add the flour and salt and mix with rubber spatula until combined. Fold in bittersweet chocolate pieces.
Scrape the batter into the prepared pan and bake until toothpick inserted halfway between edge and center comes out with just a few moist crumbs attached, 30 to 35 minutes. Transfer pan to wire rack and cool 1½ hours.
Using the foil overhang, lift brownies from pan. Return brownies to wire rack and let cool completely, about 1 hour. Cut into 2-inch squares and serve. Brownies can be stored in an airtight container at room temperature for up to 4 days.
* Recipe adapted from Cook's Illustrated via Brown Eyed Baker
Cooking Instructions
Preheat the oven to 350. Line a 9×13 pan with a parchment paper sling, leaving a few inches overhang on each side. Lightly oil the pan and parchment.
Pour half of the brownie batter into the prepared and spread to make an even layer. Place the cookies in an even layer over the batter in the pan. Push them as close together as possible to make sure there are cookies in every bite. Top with the remaining batter and spread it evenly.
Bake the brownies for 30-35 minutes or until a tester about half way between the edge and middle comes out with only a few crumbs. Remove the brownies from the oven and let cool completely on a rack.
Once the brownies are cool make the ganache topping. Place the finely chopped chocolate in a bowl. Heat the coconut milk until not quite boiling, either in a pan or in the microwave. Pour the hot coconut milk over the chocolate and let the mixture stand for five minutes. Gently stir until all the chocolate is melted and the mixture is homogenous. (If there are chunks of chocolate that do not melt microwave the mixture at 50% power for 15 seconds then stir again). Pour the chocolate ganache over the cooled brownies in the pan and sprinkle the peppermint candy evenly over the top. Let the ganache set at room temperature, or place the pan in the refrigerator to set it more quickly.
Using the parchment paper remove the brownie from the pan and cut it into squares.
Thank You For Printing This Recipe! Visit Us Again Soon!
Recipe Page: http://www.couldntbeparve.com/recipe/candy-cane-jo-jo-brownies/