Cake Batter Rice Krispy Treats
February 18, 2013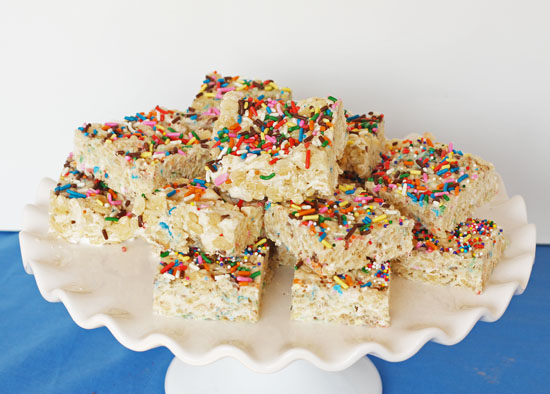 These festive rice krispy treats are my contriubtion to a wonderful virtual wedding celebration. The talented Allison of AliBabka got married yesterday and a bunch of us are throwing her a virtual Sheva Brachot celebration today. There is a tradition of having celebratory meals with family and friends for the seven days after the wedding, and the seven special blessings for bride and groom are recited each evening in the Birkat Hamazon, grace after meals. It is a wonderful way to spend time with friends and family after the craziness of the wedding. There is always celebratory food, so of course I always bring dessert.
For this virtual celebration I wanted to make something fun and, of course, delicious. A wedding is a formal event, but there is no reason the Sheva bracot has to be formal so I wanted to make something pure fun, to capture the spirit of joy that accompanies a wedding. And what is more fun than cake batter and sprinkles? I had seen cake batter rice krispe treats floating around the web and I had a box of natural cake mix in my pantry so I decided to throw some cake mix and sprinkles into my basic rice krispe treat recipe and see what happened. These cake batter rice krispie treats are easy to make and even easier to eat. I recommend making a large batch since they tend to disappear very quickly.
In my experience store-bought kosher marshmallows tend to make harder and less chewy rice krispe treats than their non-kosher couterparts. One way to solve this problem is to make your own marshmallows, but rice krispe treats should be a low stress endeavor and starting from scratch certainly turns them into a bigger project. (Although if you make cutout shapes from your homemade marshmallows by all means freeze the scraps to turn into rice krispe treats, they are fantastic). The other way to get around this is to use store-bought marshmallows and add just a bit of marshmallow fluff to give them extra softness. That way you get the stretch of the marshmallows with the softness from the fluff which is the perfect combination. I recommend the Elyon brand of marshmallows, they seem to melt and reform better than the other brands I have tried. Either way, the addition of cake batter and sprinkles makes these fun treats absolutely irresistable, to young and old alike.
Be sure to check out the rest of the menu for the virtual celebration for Ali and Matan, there are all kinds of great dishes that I can't wait to try! Mazel Tov Ali!
Recipe Updates – Delivered Fresh!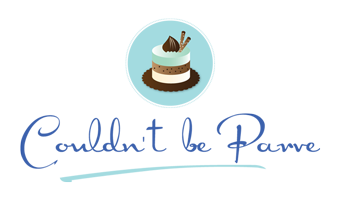 Cake Batter Rice Krispy Treats
Cake Batter Rice Krispy Treats
Ingredients & Instructions
Ingredients & Quantities
3 tablespoons (1.5 oz, 42g) margarine
10 oz (280 g) marshmallows
1/2 cup (1.7 oz, 48 g) marshmallow fluff
1/3 cup (2.3 oz, 65 g) unmixed cake batter*
6 cups (5.7 oz, 160g) crisp rice cereal*
1 bottle (1.75 oz, 49 g) sprinkles
*to make these gluten-free use gluten-free cake mix and make sure the rice cereal is gluten-free.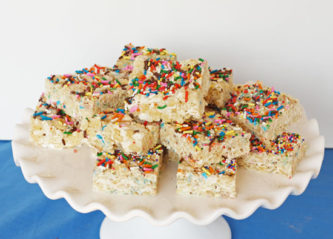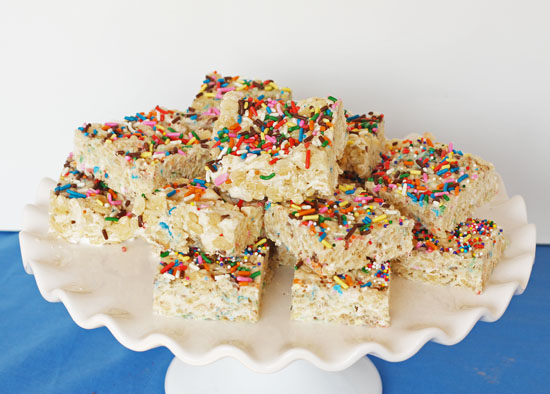 Preparation Instructions
Grease a 9 X 13 pan and set aside.
Combine the marshmallows and margarine in a large microwave safe bowl. Microwave for one minute. Remove from the microwave and stir to combine. If the marshmallows are not fully melted return to the microwave and cook for 30 seconds at a time until they are fully melted. Stir in the fluff and mix well. Add the cake batter and stir until combined. Stir in the cereal and half of the sprinkles.
Turn the mixture out into the prepared pan. Top with the remaining sprinkles. Let cool, then cut into squares.
Thank You For Printing This Recipe! Visit Us Again Soon!
Recipe Page: http://www.couldntbeparve.com/recipe/cake-batter-rice-krispy-treats/