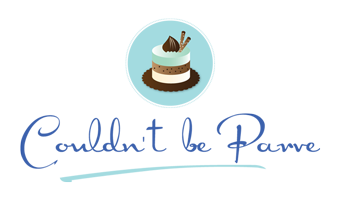 Cake Batter Oreo Cookie Bars
May 23, 2014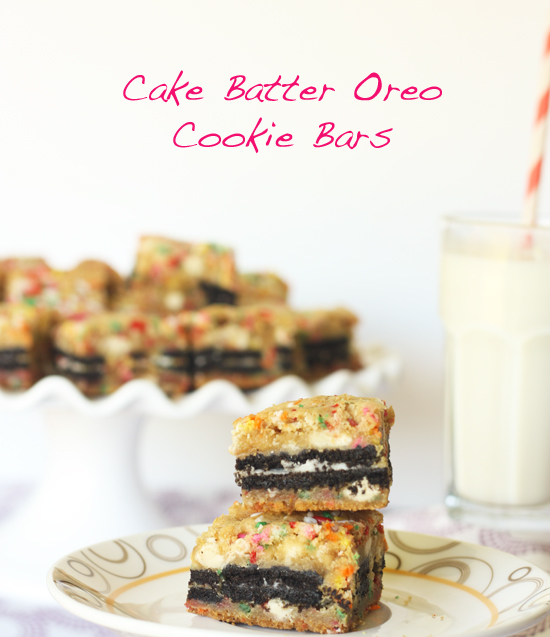 Even though my kids have a couple more weeks of school it is already starting to feel a lot like summer. We can stop at the fruit stand on the way home from school to get local stone fruit (and my kitchen looks a murder scene from all the cherries I have been pitting to make things like jam and ice cream). We play football outside after dinner because there is still plenty of light. I fire up the grill on a random Wednesday to make dinner just because a barbecue sounds good to me. Things have a kind of lighter more fun pace during the summer than they do during the heart of the school year, and that more relaxed pace has already kicked in even though school is still in session.
One thing about summer is that I find myself wanting to make more fun lighthearted desserts. There is something about the more laid back pace that makes me put away the layer cake pans and instead make simple "buttermilk" cakes or fun cookies. And what could be more fun than cake batter and sprinkles?
These cookies came about because I had a mostly full package of chocolate sandwich cookies (oreo style) in my pantry. I knew that the longer it sat there the less full it would become (ahem), so the best line of defense was to make them into something and get that something out of the house. Inspired by the birthday cake flavored oreos I decided to make cake batter flavored bar cookies with a layer of oreo style cookies in the middle. I added a whole bunch of sprinkles, because if something is going to taste like cake batter I wanted it to be like funfetti.
I wasn't sure how these would come out, but I have to say they came out even better than I had hoped. The sandwich cookies stay nice and crunchy making a distinct layer in the soft chewy cake batter flavored cookie. My kids absolutely adored these, and I have to admit so did I. (And I don't have the automatic bias that my kids do that if something has sprinkles it will always be amazing). These would be the perfect fun thing to take to a memorial day party or barbecue. I am going to be making them for the end of year party in my son's class, and I know they will be a hit.
Cake Batter Oreo Cookie Bars*
Yeild: 16 bar cookies
1 and 1/4 cup (160g)all-purpose flour
1 and 1/4 cup (190g) yellow or vanilla boxed cake mix (I like this one because all the ingredients are pronounceable)
1/2 teaspoon baking soda
3/4 cup (1.5 sticks or 170g) non hydrogenated margarine
1/2 cup (100g) granulated sugar
1/2 cup (100g) dark brown sugar
1 egg, at room temperature
1 and 1/2 teaspoons vanilla extract
1/2 cup (90g) parve white chocolate chips
1/2 cup (80g) sprinkles
18 chocolate sandwich cookies (Oreo style)
Directions:
Line an 8 x 8 pan with parchment paper with an over hang on each side. Set aside. Preheat the oven to 350.
In a large bowl, sift together the flour, cake mix, and baking soda. Set aside.
Place the margarine and sugars in the bowl of an electric mixer and beat medium speed until the mixture is smooth. Add the egg and mix on high until well combined. Scrape down the sides and bottom of the bowl and beat an additional 30 seconds. Add the vanilla and mix until combined. Add the flour mixture to the mixer bowl and mix on low-medium speed until just combined. Stir in the chocolate chips and sprinkles.
Using lightly floured hands, press half of the dough into an even layer in the prepared pan. Top the cookie dough with an even layer of the cookies. Crumble the remaining cookie dough evenly on top of the cookie layer and press gently to make an even layer (it will spread some so it is ok if there are tiny gaps in the dough.).
Place the pan in the preheated oven and bake until the cookies are set (moist crumbs will remain on the a tester), approximately 20-25 minutes. Do not overbake or the texture will not be nice and chewy.
Let the pan cool on a cooling rack, then remove the cookies and cut into bars.
*Cookie dough recipe adapted form Sally's Baking Addiction
Recipe Updates – Delivered Fresh!
Thank You For Printing This Recipe! Visit Us Again Soon!
Recipe Page: http://www.couldntbeparve.com/recipe/cake-batter-oreo-cookie-bars/