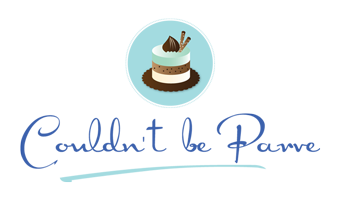 Cake Batter Cookie Dough Brownies
May 26, 2014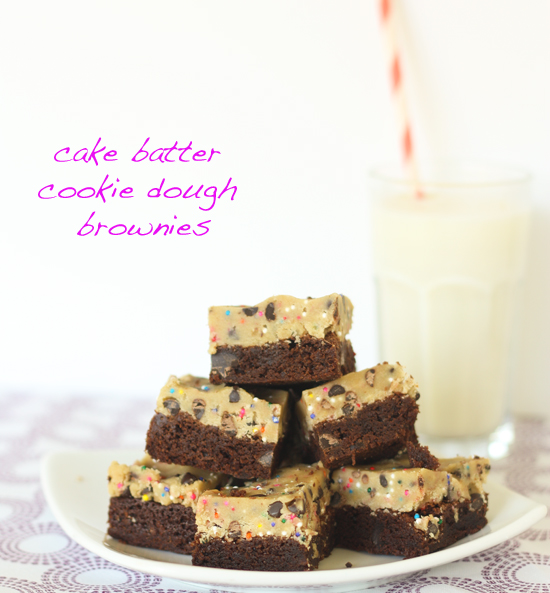 Ever since making those amazing cake batter oreo bars earlier this week I have had cake batter on the brain. There is something about eating cake batter flavored treats that makes me feel like smiling. The flavor evokes great memories of licking the beaters while baking and that just makes me happy. I have to admit, the sprinkles don't hurt either. With my current cake batter obsession I keep thinking about ways to incorporate that flavor into other treats. (I have to try these marshmallows soon). Since part of the appeal of cake batter treats is that feeling of licking the batter before baking, I decided to combine that with another treat that is best snuck right out of the bowl, raw cookie dough. I know that I am not alone in thinking that cookie dough is perhaps the best thing about baking cookies. In fact there is an entire cookbook dedicated to cookie dough treats. So I made cake batter flavored cookie dough. And I'm not sorry, it is delicious. And since it is has no raw eggs you can eat it risk free.
Having previously made (and loved) the cookie dough topped brownies from the Cookie Dough Lover's Cookbook I decided to make brownies topped with the cake batter cookie dough. The cake batter cookie dough is incredibly sweet, far sweeter than regular cookie dough, so it is perfect in a thin layer atop a dark chocolate brownie. The combination of brownie and cookie dough is just about perfect.
Cake Batter Cookie Dough Brownies*
Yields approximately 32
For Brownie layer
1 cup (4.5 oz) all-purpose flour
2 tablespoon dark or Dutch-processed cocoa powder
1/2 teaspoon salt
7 ounces dark or semisweet chocolate, chopped
2/3 cup (5.3 oz) non-hydrogenated margarine, cut into cubes
1 1/3 cups (10.6 oz) light brown sugar, packed
4 large eggs, lightly beaten
2 teaspoon vanilla
For the cookie layer
1 and 1/4 cup (5.7 oz or 160g)all-purpose flour
1 and 1/4 cup (6.8 oz or 190g) yellow or vanilla boxed cake mix (I like this one because all the ingredients are pronounceable)
1 cup (2 sticks or 8 oz) non hydrogenated margarine
1/3 cup (2.5 oz) granulated sugar
2/3 cup (5.3 oz) dark brown sugar
2 tablespoons coconut milk, at room temperature
1 and 1/2 teaspoons vanilla extract
1 cup (6 oz) mini chocolate chips
1/2 cup (3 oz or 86g) sprinkles
Preheat oven to 350 degrees F. Line the bottom and sides of an 9-by-13-inch pan with parchment paper, leaving a slight overhang on two sides.
To make the brownies: Sift together the flour, cocoa powder, and salt in a small bowl and set aside. Melt the chocolate and margarine in a double boiler. Stir until smooth, then remove from heat. This can also be done in the microwave on 50% power, stirring every 30 seconds until fully melted. Add the brown sugar to the chocolate mixture and whisk until the sugar is dissolved and mixture has cooled slightly. Whisk in the eggs and vanilla. Using a large rubber spatula, fold the flour mixture into the chocolate mixture until it is just incorporated. Pour the batter into the prepared pan. Bake the brownies for 18 to 20 minutes, or until a toothpick inserted into the middle comes out clean. Transfer the pan to a wire rack to cool completely.
While the brownies are cooling make the cookie dough layer.
Beat together the margarine and both sugars with an electric mixer until light and fluffy. Add the coconut milk and vanilla and mix to combine. Add flour and cake batter and stir until incorporated. Stir in chocolate chips and the sprinkles. Gently spread the dough onto cooled brownies, gently pressing the top into an even layer. Refrigerate until firm, at least one hour.
Cut the brownies into bars. Store in an airtight container in the refrigerator for up to three days.
*Brownie recipe adapted from the Cookie Dough Lover's Cookbook
Recipe Updates – Delivered Fresh!
Thank You For Printing This Recipe! Visit Us Again Soon!
Recipe Page: http://www.couldntbeparve.com/recipe/cake-batter-cookie-dough-brownies/