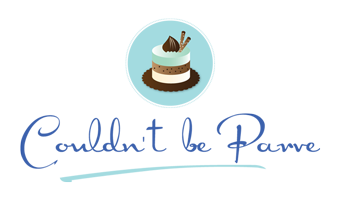 Brandy Brown Sugar Apple Butter
October 27, 2011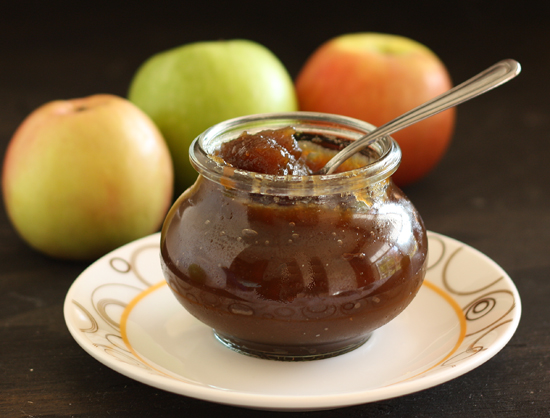 [donotprint]Growing up we had an pippen apple tree. The apples are tasty and tart, perfect for baking. Other than the tarte tatains that my dad made every year trying to perfect them pretty much all the apples we didn't eat turned into apple sauce or apple butter. The only difference between the two was how long they cooked and the spices used. I liked the apple butter but it wasn't my favorite thing. When I realized this week that we had a counter full of apples (from the store and friends, the squirrels got all of our apples this year) that we weren't going to be able to eat before they went bad I decided I needed to cook them. I love the way simmering apples and spices make the whole house feel like fall. We already had a big container of homemade applesauce in the fridge so I decided to try making some apple butter.
Looking around for recipes I was struck by the description on the apple butter recipe on Simply Recipes as having a "smooth and buttery texture". By cooking the apples with their peel and cores the natural pectin in the apples thickens the apple butter and gives it an extra smooth luscious texture. Even better, you don't need to peel and core the apples which makes the prep easier. I was intrigued with that recipe, but I wanted to try something a little different. That recipe uses apple cider vinegar to balance the sweetness of the final spread, I decided to go a different direction and use brandy instead. The brandy flavor is subtle but gives depth of flavor to this sweet spread. I used brandy to cook the apples but I'm not sure that made any difference to the final flavor. It is the brandy stirred in at the end that gives it the brandy flavor. I wanted my kids to be able to eat this, so I wanted the brandy flavor the be subtle but feel free to add more if making this for a more adult audience.
This apple butter is not like apple sauce, it is more like jam. Perfect for spreading on toast or stirring into yogurt for a fall treat. It has changed my mind that apple butter is simply overcooked spiced apple sauce. It is an entity all its own and I will absolutely be making more before apple season is over.
[/donotprint]
[print_link]
Brandy Brown Sugar Apple Butter
Makes approximately 3 half pints
4 pounds apples, cut into fourths, with peels and cores
3/4 cup water or brandy
2 cups brown sugar
1 teaspoon ground cinnamon
1/4 teaspoon ground cloves
1-3 Tablespoons brandy, or to taste
Place the apples, water or brandy, and brown sugar in a large saucepan. Cook over medium heat until the apples are soft, approximately 20 minutes. Pass the apples through a food mill and discard the skins and cores.
Place the apple puree in a large skillet or saucepan. The larger the surface area the quicker it will cook. Stir in the cinnamon and cloves. Cook over low heat, stirring occasionally until dark and thick, 1-2 hours. As it gets close to being done stir it more frequently to make sure it doesn't burn. Remove from the heat and stir in the brandy.
Transfer the apple butter to clean jars and store in the refrigerator.
Recipe Updates – Delivered Fresh!
Thank You For Printing This Recipe! Visit Us Again Soon!
Recipe Page: https://www.couldntbeparve.com/recipe/brandy-brown-sugar-apple-butter/