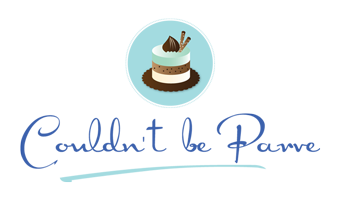 Blueberry Nectarine Crisp
July 23, 2010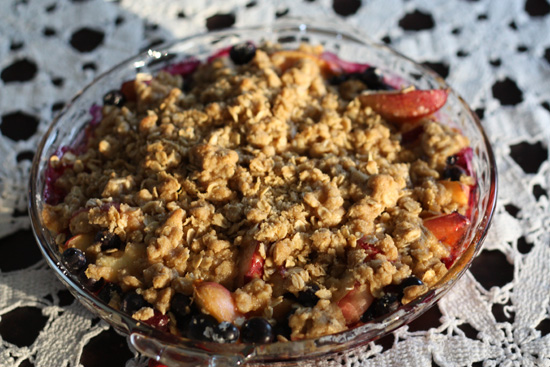 One thing I can't seem to wrap my head around since we moved to California is just how amazing all the fruit is. I grew up here, so it shouldn't be so shocking to me, but I just don't remember it being this good. Maybe it is because I just took it for granted before. All I know is that having been away all these years makes me appreciate just how delicious local in season fruit from the farm-stand can be. The cherries were so sweet I almost couldn't eat them, and believe me when I say I never thought I would say something like that. I've been eating berries by the basketful straight out of the fridge. In fact, the fruit has been so good I have barely wanted to bake. Why take a perfectly delicious peach and do anything with it but eat it?
Well, this crisp is the answer to that question. When an overzealous purchase of white nectarines left us with more than we could possibly eat before they went bad I decided it was time to cave in and make something out of them. Also, I couldn't bring myself to make a shabbat dinner without dessert. Inspired by the blueberry peach cobbler I had seen on smitten kitchen I decided to use nectarines and blueberries to make a crisp. And I am glad I did. It was absolutely delicious. The combination of fruits was even better than each fruit individually and the crumble topping really pulled it all together. The flavor of the blueberries really shines with the nectarines as the supporting flavor. Served with a scoop of non-dairy vanilla ice cream it was the perfect taste of summer.
I used white nectarines in this recipe because I didn't want to bother to blanch and peel peaches for a simple dessert, but peeled peaches work in the recipe too.
Blueberry Nectarine Crisp
Serves 6
For the fruit mixture
1 1/2 pounds (about 4 cups) nectarines, pitted and cut into slices
1 pint (about 2 cups) blueberries, rinsed and dried
1/4 cup packed dark-brown sugar
 (slightly more if the fruit is not very sweet)
2 tablespoons cornstarch
2 tablespoons fresh lemon juice
1/4 teaspoon ground cinnamon
1/4 teaspoon salt
For crumb topping
3/4 cup all-purpose flour**
1/2 teaspoon ground cinnamon
1/2 cup packed brown sugar
3/4 cup rolled oats**
1 tsp lemon zest
1/2 cup margarine
Preheat the oven to 375. Combine all of the ingredients for the fruit mixture in a 9-inch deep dish pie pan.
In a medium bowl combine cup flour, cinnamon, brown sugar, oats, and lemon zest. Mix thoroughly, then cut in 1/2 cup margarine until mixture is crumbly.
Top fruit with crumb mixture and bake until the fruit is bubbly, 35-45 minutes depending on the ripeness of the fruit. Serve warm or room temperature.
**If making the crisp gluten-free substitute a gluten free flour blend for the all-purpose flour and make sure to use certified gluten-free oats.
Recipe Updates – Delivered Fresh!
Thank You For Printing This Recipe! Visit Us Again Soon!
Recipe Page: http://www.couldntbeparve.com/recipe/blueberry-nectarine-crisp/