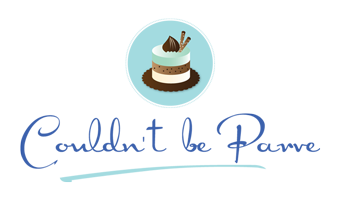 Bittersweet Chocolate Souffles
May 6, 2010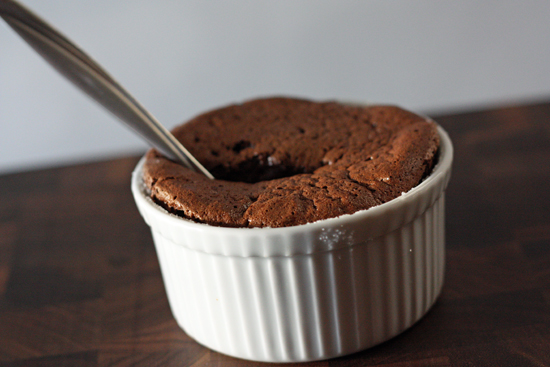 Last night I taught a chocolate class at the synagogue. In addition to tasting a wide variety of different chocolates we made souffles, truffles and rocky road fudge. I had a great time and it seemed like everyone enjoyed themselves, especially when they were coated in chocolate while dipping truffles. Someone commented to me, very surprised, that the impressive looking souffles were the easiest thing we made. It is so true. Souffles have a reputation for being very finicky. While they do need to be served immediately, because they begin to collapse almost instantly (a trait that makes them very difficult to photograph), the chances that a souffle will simply fall or fail to puff are small in a modern oven. Much of the mystique around souffles comes from a time when ovens had inconsistent heat sources. In most modern ovens they will puff and rise beautifully with no more effort from the baker than it takes to make a mousse.
These particular souffles are intensely chocolate-y. I am not a huge fan of souffles that taste like just biting into lightly sweetened air. These are nothing like that. They are a substantial dessert in spite of their light airiness. Even better they can be made and refrigerated up to 2 days in advance and baked while clearing the dishes from dinner. Since most of my entertaining is on Shabbat it is difficult to serve souffles, but they are the perfect dessert for a holiday when cooking is permitted. Made in advance they become a no stress dessert. Perhaps souffles as a counterpart to cheesecake for Shavout? Or an impressive way to end a seder meal? Or maybe just a treat on a tuesday night when you need something warm and chocolate-y? The souffles are delicious on their own but if you want to take them over the top serve them with a small scoop of ice cream. Burnt caramel or cinnamon would both be delicious.
Intensely Bittersweet Chocolate Soufflés
(adapted from Bittersweet: Recipes and Tales from a Life in Chocolate by Alice Medrich)
Serves 8
Ingredients
About 2 tablespoons sugar for coating ramekins
8 oz bittersweet chocolate, finely chopped
1 tablespoon unsalted margarine (plus more for greasing ramekins)
1/3 cup coconut milk*
3 large eggs, separated, at room temperature
1 large egg white, at room temperature
1/8 teaspoon cream of tartar
1/3 cup sugar
Equipment
8 6 oz ramekins
If baking the soufflés right away, position a rack in the lower third of the oven and preheat to 375.
Grease the ramekins and sprinkle with sugar. Place the chocolate, margarine and coconut milk in a large heatproof bowl in a large skillet of barely simmering water. Stir until the chocolate is melted and the mixture is smooth. Remove the bowl from the water bath and whisk in the egg yolks. (Don't worry if the mixture isn't perfectly smooth at this point)
In a medium dry bowl beat the egg whites and cream of tartar with an electric mixer on medium speed until soft peaks form when the beaters are lifted. Gradually sprinkle in the 1/3 cup sugar and beat at high speed until the whites are stiff but not dry. Fold one-quarter of the egg whites into the chocolate mixture to lighten it, then fold in the remaining egg whites. Divide the mixture evenly among the prepared ramekins, filling each three-quarters full. (The soufflés can be prepared to this point, covered, and refrigerated for up to 2 days. Bake directly from the refrigerator.)
Place the soufflés on a cookie sheet. Bake until they rise and crack on top and a wooden skewer plunged into the center emerges very moist and gooey (but the center should not be completely liquid) 14-16 minutes. They may need an extra minute or so if the soufflés have been refrigerated.
When they are done, remove the soufflés from the oven and server immediately. Top with a bit of powdered sugar and any of the additional toppings listed above
*If making souffles for Passover use this recipe to make the coconut milk.
Recipe Updates – Delivered Fresh!
Thank You For Printing This Recipe! Visit Us Again Soon!
Recipe Page: http://www.couldntbeparve.com/recipe/bittersweet-chocolate-souffles/