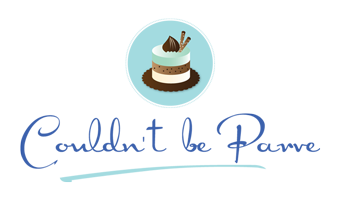 Beach Cupcakes
July 11, 2013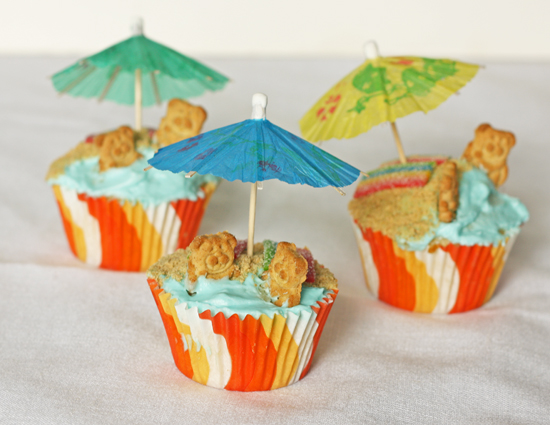 With summer in full swing I wanted to share these fun beach themed cupcakes. I actually made them many months ago for my older son's birthday, but with all the other exciting recipes to share never got around to posting them. His birthday party was beach theme so I made beach cupcakes to bring for the party at school. The kids loved them! What's not to love about tiny teddy bears lounging on striped beach towels? I don't actually remember where I first saw these cupcakes, there are versions of them all over the web, but they are all variations on the same ideas. The pictures really don't do them justice, but the cupcakes are so cute and easy to make I wanted to make sure to share them before the summer beach season is over.
I'm not going to post a recipe, since this is more about the decorating than the cake. The beach towels are made from Airhead Extremes and the bears are the Whole Foods Graham Bear shaped cookies. Ground up graham crackers for sand, blue frosting for the water, a few cocktail umbrellas, and these cupcakes are done. The bear cookies I used are actually dairy, but they would be just as cute with gummy bears instead if parve bear shaped cookies aren't available.
As long as I'm sharing the cupcakes I might well share a couple of the other things we served at the beach themed party as inspiration for a full blown summer beach bash.
We served lemonade dyed blue as "ocean punch" and filled it with octopus and fish shaped ice cubes. A fish bowl filled with assorted blue jelly beans and gummy fish decorated the drink table and was a treat for the kids to enjoy during the party.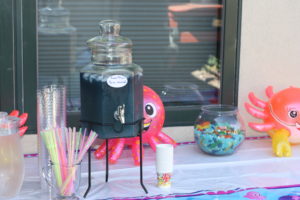 Hummus and veggies were dressed up with a red pepper octopus (like this one, I seem not to have gotten a picture of the one I made). The kids also decorated all kinds of marine shaped cookies.
And of course it wouldn't be a birthday party with out the cake, complete with chocolate fish, sea shells, and coral. (The mermaid on top was at the insistence of the birthday boy)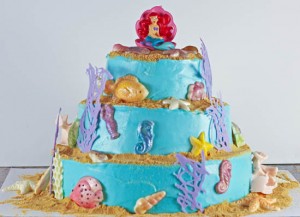 As is probably obvious, I have a ton of fun creating theme of parties and I wanted to share some of what we did. Since this is a baking blog I am not posting the ocean based crafts we did, but if anyone is interested leave a comment or send me a message and I would be happy to share.
Recipe Updates – Delivered Fresh!
Thank You For Printing This Recipe! Visit Us Again Soon!
Recipe Page: http://www.couldntbeparve.com/recipe/beach-cupcakes/