Apple Cider Concentrate
January 23, 2014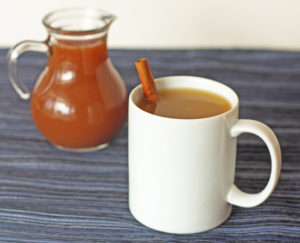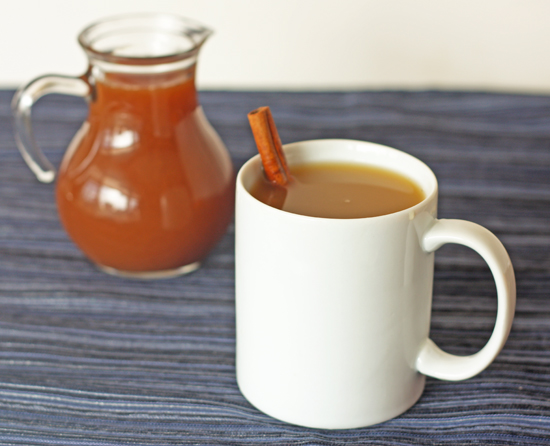 I love the feeling of coming in from the cold and wrapping your hands around a steaming hot mug of something delicious. This winter (or the little of it that we have had here in California) my treat of choice has been steaming hot apple cider. I love the crisp sweetness of the apple paired with the warm and cozy mulling spices. I have been enjoying it so much that I wanted to find a way to enjoy my apple cider on Shabbat as well as the rest of the week. The thing about Shabbat is that since I do not cook on the Sabbath any warm drinks I want to enjoy have to be made by simply adding hot water, because I always leave a carafe of hot water plugged in and ready to go. That works fine for tea or instant coffee but I can't heat up milk to make hot chocolate or apple juice to make apple cider. A few years back I developed a parve hot chocolate mix that is rich and creamy with just the addition of water so this winter I decided it was time to make spiced cider a Shabbat reality. My kids heartily agreed.
The answer is apple cider concentrate. I absolutely love it. It takes a little while to make, but mostly unattended, so I put on a pot to boil while I am doing other things in the kitchen. It also makes the house smell absolutely delicious! I store the concentrate in the refrigerator and it is so convenient I find myself using it even when it isn't Shabbat. Simply heat some water and you have instant apple cider, no measuring of spices or simmering required (It also makes amazing gummy candy, check back next week for that recipe). As soon as one batch runs out I make another, just to make sure I always have some on hand. It is the perfect thing to take the edge off of winter.
Recipe Updates – Delivered Fresh!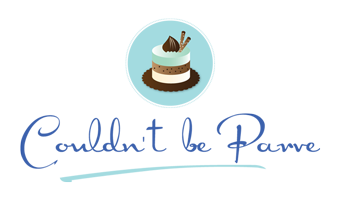 Ingredients & Instructions
Ingredients & Quantities
64 ounces fresh apple cider*
8 (3 inch) cinnamon sticks
15 cloves
1 (1-inch) piece fresh ginger, sliced into 1/4 inch coins
zest of one organic tangerine or small orange, removed from the fruit in strips without any of the pith
zest of one organic meyer lemon removed from the fruit in strips without any of the pith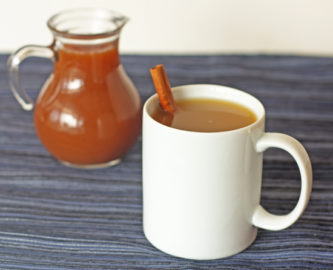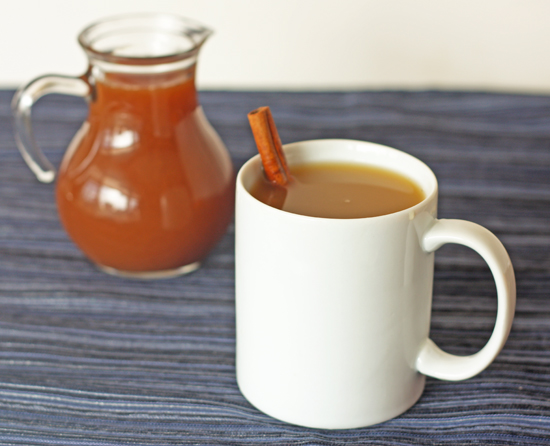 Preparation Instructions
Combine all the ingredients in a saucepan. Bring to a gentle boil and cook, stirring occasionally, until reduced to 2 cups. How long this takes will depend on how strong it is boiling and the shape and size of the pan, but plan for between one and two hours. Strain the mixture to remove the spices. Store the concentrate in the refrigerator for up to two weeks.
To make a cup of cider combine 1/4 cup of concentrate with 3/4 cup boiling water (or to taste)
*Note: For an easier cider concentrate substitute one can of frozen organic apple juice concentrate for the fresh cider. Bring to a boil with the spices, remove from the heat, and steep for one hour. It will not have the same depth of flavor as the concentrate made from the fresh apple juice but it will still be deliciously warm and cozy.
Thank You For Printing This Recipe! Visit Us Again Soon!
Recipe Page: http://www.couldntbeparve.com/recipe/apple-cider-concentrate/