Apple and Honey Trifle
August 23, 2013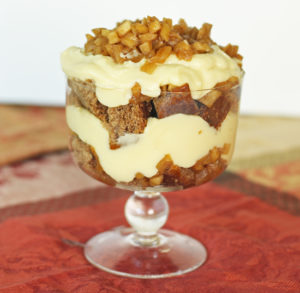 I know it's still August, but with Rosh Hashana so early this year it is time to start talking about honey cake. I often feel that in many ways honey cake (lekach) is kind of like the Jewish equivalent of fruitcake. It is the baked good that everyone has to have on the table and give to friends for the holiday celebration to feel complete, but no one really wants to eat it. (Although in the interest of full disclosure I have to say I adore a good fruitcake). Sure it is tradition to have honey cake for Rosh Hashanah, but too often it is so dry that it is barely palatable. It just gets nibbled on and passed up for whatever other dessert offerings there may be. My solution to that is to make a honey cake that is moist and wonderful and truly worth eating. However even though that honey cake would be a perfectly great dessert on its own I find that people's prejudices against honey cake keep them from even trying a piece, and I always have a ton left over. As a result I tend to make another dessert for Rosh Hashanah in addition to the honey cake because I hate for my guests to go without a real dessert.
This trifle transforms the honey cake from something that is merely symbolic on the table to a show stopping dessert. It takes the tradition of eating apples and honey on Rosh Hashana and makes those flavors the centerpiece of this dish. Sweet sautéed apples are layered with luscious pasty cream and layers of honey cake to make a creamy flavorful fall pudding. This trifle makes the perfect Rosh Hashanah dessert, or would be a great way to use up some of that leftover honey cake once the holiday is over. I always look for ways to incorporate the symbols and flavors of the holiday into as many of the dishes I serve as possible so this is a great way to do it.
Looking for some other apple and honey dessert inspiration? Try some of these!
Apple and Honey Marshmallows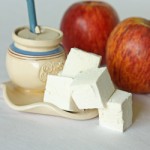 Apple Galette with Honey Ginger Ice Cream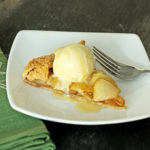 Recipe Updates – Delivered Fresh!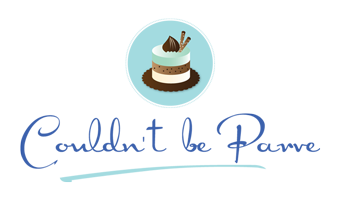 Ingredients & Instructions
Ingredients & Quantities
4 granny smith apples, peeled and diced small
1/2 cup brown sugar
2 tablespoons margarine
1 teaspoon cinnamon
1 loaf honey cake*
1 recipe pastry cream (see below)
3 tablespoons brandy
*to make this gluten-free use this honey cake recipe instead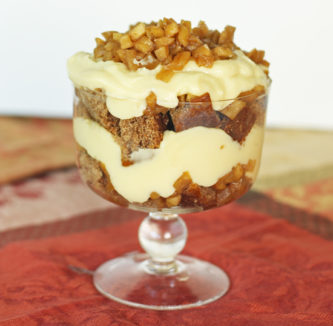 Preparation Instructions
Combine the margarine, brown sugar and cinnamon in a saute pan.
Cook over medium heat, stirring frequently, until the margarine and sugar are melted.
Add the apples and cook until soft 5-10 minutes. Set aside until ready to use.
Cut the honey cake into one inch cubes.
Layer one third of the cake in the bottom of a 7.5 inch (3.5 quart) trifle dish. Sprinkle with one tablespoon brandy.
Top with a third of the pastry cream followed by a third of the apples.
Repeat layering two more times.
Refrigerate the trifle for at least four hours and up to eight hours to allow the cake to soften and the flavors to meld.
Ingredients
2 (13.5 oz) cans Thai styl coconut milk
10 tablespoons (5 oz) water
1/4 teaspoon salt (increase to 1/2 teaspoon if using unsalted margarine)
6 tablespoons corn starch
1 cup (7.5 oz) sugar
8 egg yolks
1/2 cup (4 oz) margarine
2 teaspoons vanilla
Preparation
Place a fine mesh strainer over a large bowl and set aside.
Place the coconut milk, water and salt in a medium saucepan and bring to a boil over medium heat.
In a large mixing bowl, whisk the sugar, cornstarch and eggs until smooth. Slowly pour the milk mixture into the egg mixture while whisking constantly.
Return the mixture to the saucepan. Cook over medium heat, whisking constantly, until the custard thickens.
Remove from heat and pour through the strainer into the bowl. Let cool for 10 minutes and then incorporate the margarine, one tablespoon at a time, whisking gently just until smooth.
Cover the surface with plastic wrap, directly touching the cream, let it cool completely in the refrigerator.
Recipe Yield
10-12 servings
Thank You For Printing This Recipe! Visit Us Again Soon!
Recipe Page: http://www.couldntbeparve.com/recipe/apple-and-honey-trifle/