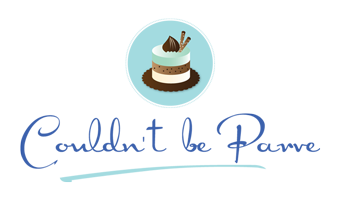 Amaretto Ice Cream with Roasted Cherries and Fudge Chunks
July 17, 2011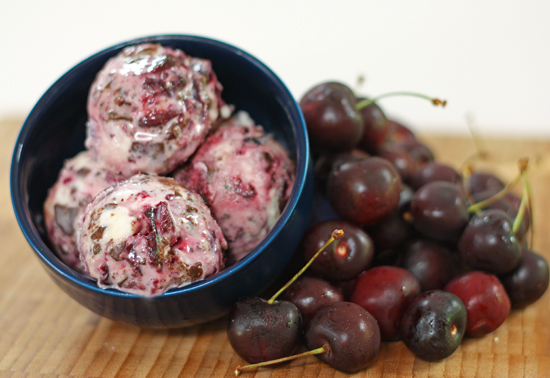 [donotprint]I can't believe that we are more than half way through National Ice Cream Month and I haven't posted a single ice cream recipe yet. Shocking, really, given how much I love to make ice cream. (Photographing ice cream does stress me out a bit, however, so maybe that is part the reason). With cherry season in full swing here I wanted to post a recipe that takes advantage of the bounty of the season. The cherries around here are absolutely amazing, and I am doing my best to take advantage of them while I can. (Stay tuned for a cherry vanilla jam and some homemade cherry lemon liquor). I love the combination of almond and cherry so I decided that I would highlight the flavor of the cherries by putting them in a creamy amaretto ice cream base. And adding some fudge chunks, because a little chocolate just makes everything better. Roasting the cherries and then steeping them in the brandy overnight helps keep them from getting icy in the freezer. I found the method a while back on some website but no longer have the link. If anyone recognizes it please let me know so that I can properly attribute it.
With quite a bit of summer left ahead of us there is plenty of time left for making ice cream. I hope to playing around with a bunch of new flavors in the weeks to come, but I will absolutely be making this one again.
[/donotprint]
[print_link]
Amaretto Ice Cream with Roasted Cherries and Fudge Chunks
Makes approximately 1 quart
3 cups almond milk (I used Almond Breeze unsweetened original)
1 cup soy milk powder
1/2 cup vegetable oil
2/3 cup sugar
pinch of salt
6 large egg yolks
3 tablespoons amaretto
¼ teaspoon almond extract
In a medium saucepan whisk together 2 cups of almond milk, soy milk powder, oil, sugar and salt. Place the egg yolks into a medium bowl and whisking to combine. Place the remaining cup of almond milk in another medium bowl set over a bowl of ice water and set the strainer on top.
Slowly stream the warm mixture into the egg yolks while whisking constantly. Scrape the warmed yolk mixture back into the pan and cook over medium heat stirring constantly with a heatproof spatula. Make sure to scrape the bottom of the pan with the spatula while stirring. Cook until the mixture thickens and coats the back of the spatula. Pour the custard through the strainer into the remaining almond milk. Stir in the amaretto and almond extract. Stir over the ice bath until cool.
Chill the mixture thoroughly in the refrigerator and then freeze in a ice cream maker according to the manufacturers instructions. Remove the ice cream from the ice cream maker and carefully fold in the cherries and chocolate chunks. Freeze until firm.
For Cherries
30-40 fresh sweet cherries, pitted
2 tablespoons sugar
3 tablespoons cherry brandy, divided
Preheat oven to 450° F. Place the cherries in an oven safe roasting pan or dish, such as a pie pan. Sprinkle with sugar and 2 tablespoons cherry brandy and mix well. Roast at 450° for 10-15 minutes, stirring occasionally and watching to make sure the sugar doesn't burn. Once the cherries are soft, remove them from oven and cool completely. Coarsely chop the cherries and stir in the remaining brandy. Refrigerate in juices overnight.
To Make the Fudge Chunks (recipe adapted from Bittersweet by Alice Medrich)
4 ounces semisweet chocolate, coarsely chopped
2 tablespoons water
Melt the chocolate with the water in a medium heatproof bowl set in a skillet of barely simmering water, stirring frequently. Remove from the heat and pour the mixture onto a piece of parchment paper. Slide the paper onto a small baking sheet and freeze until firm. Chop the chocolate into whatever size chunks you desire.
Recipe Updates – Delivered Fresh!
Thank You For Printing This Recipe! Visit Us Again Soon!
Recipe Page: http://www.couldntbeparve.com/recipe/amaretto-ice-cream-with-roasted-cherries-and-fudge-chunks/