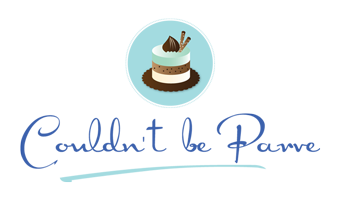 Almond Stuffed Dates for Tu B'Shevat
January 18, 2011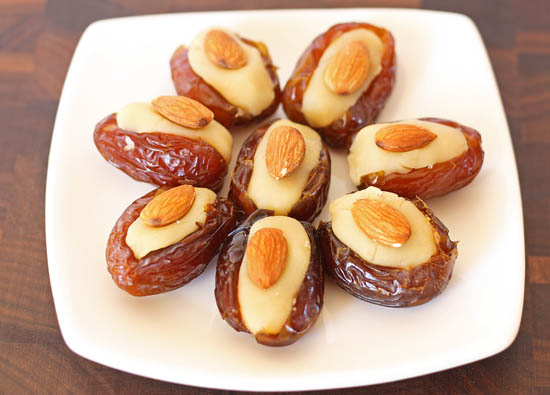 After celebrating many snow covered Tu B'Shevats indoors on the East Coast I am very much looking forward to being able to spend Tu B'shevat outside this year. Since moving to California I have been trying to plant all of the biblical species of trees in our backyard. So far we have pomegranate, olives and figs. Dates don't really grow in this climate so I am skipping those, but this year for Tu B'Shevat we are going to plant grapes.
On Tu B'Shevat, the Jewish New Year of the Trees, it is traditional not only to plant trees but also to eat food from the seven species mentioned in Deuteronomy (wheat, barley, olives, pomegranate, figs, dates and grapes). Although they are not mentioned in the same verse, almonds also have a special significance for the holiday because they are one of the first trees to bloom in the spring in Israel and have the symbolism of fertility and rebirth.
We always try to eat a wide variety of fruits and nuts as part of our Tu B'Shevat seder, but it is also nice to have something a little more interesting than simply a fruit and nut platter. These almond stuffed dates are a common Middle Eastern sweet. A bit of sweetened almond paste is stuffed into a date and then topped with a whole almond. The soft sweetness of the date complements the almond flavor perfectly and the crunch of the whole almond brings it all together. These are extremely quick and easy to put together, but look much more elegant than a simple dried fruit plate. I was able to make them, photograph them and write up most of this blog post this morning all in the brief window of the baby's nap, which is certainly saying something.
If stuffed dates don't seem like quite enough of a dessert for the holiday try making these almond linzer cookies or almond cake in addition.
Almond Stuffed Dates
Makes 12
12 large medjool dates
1/4 cup almond paste
12 whole almond
Cut a slit in the side of each date and remove the pit. Pinch off a small piece of the almond paste and roll it into a cylinder that is a bit shorter than the date. Stuff the date with the almond paste and top with a whole almond. Repeat with remaining dates.
Recipe Updates – Delivered Fresh!
Thank You For Printing This Recipe! Visit Us Again Soon!
Recipe Page: https://www.couldntbeparve.com/recipe/almond-stuffed-dates-for-tu-bshevat/