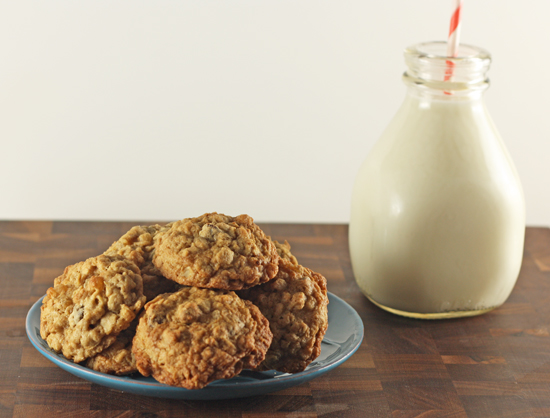 Since December seems to be cookie month across the blogsphere, not that I am complaining, I  wanted to get in on the fun by posting some of my favorite cookie recipes. As a food blogger I am constantly experimenting with new recipes but I have to admit sometimes it is nice and comforting to just make old favorites. A perfect classic chocolate chip cookie is always going to be a crowd pleaser, but my personal favorite comfort cookie is oatmeal chocolate chip. Slightly adapted from the recipe on the lid of the Quaker oatmeal box this is the perfect chewy oatmeal cookie. I posted it here on my blog way back in my early days of blogging, but it is a cookie I keep returning to over and over. That being said i just can't resist tinkering slightly every time I make them. My husband is a cookie purest so I usually make a whole batch of dough, divide it in half, and play around with different variations in half the batch while keeping the other half classic. That way I don't get bored making the same cookies over and over but if the tinkering is less than successful (like that time I added marshmallows) we still have some great cookies.
This spicy ginger variation is one of my absolute favorites. It is perfect for the holiday season. I love the combination of dark chocolate and candied ginger (like in these truffles) and it works wonderfully with the chewy oatmeal cookie. The cookie is unassuming in appearance and might not be the first one picked off a cookie platter but once people try it the cookie is sure to be a surprise hit.

Ingredients
1/2 Cup plus 6 tablespoons (7 oz) salted margarine
3/4 Cups (6 oz) firmly packed brown sugar
1/2 Cup (3.75 oz) granulated sugar
2 Eggs
1 Teaspoon vanilla
1-1/2 Cups (6.75 oz) all-purpose flour
1 Teaspoon Baking Soda
1 Teaspoon ground cinnamon
1/4 Teaspoon salt
3 Cups (10 oz) rolled oats
1 Cup (6 oz) chocolate chips
1/2 cup (4.25 oz or 120 g) finely minced crystalized ginger
flaky sea salt for sprinkling on top
Preparation
Heat the oven to 350°F. In large bowl, beat the margarine and sugars on medium speed with an electric mixer until creamy. Add the eggs and vanilla and beat well. Mix together the flour, baking soda, cinnamon and salt in a medium bowl. Add the flour mixture to the sugar mixture and mix until just combined. Add the oats, chocolate chips, and ginger and mix until just combined. Drop dough by rounded tablespoonfuls onto ungreased or parchment lined cookie sheets. Sprinkle the tops of the cookies with a few grains of flaky sea salt.
Bake 8 to 10 minutes or until light golden brown. Cool 1 minute on cookie sheets then transfer them to a cooling rack. Cool completely. Store tightly covered.
Recipe adapted from Quaker Oats
http://www.couldntbeparve.com/2013/12/ginger-oatmeal-cookies/
Copyright Couldn't Be Parve