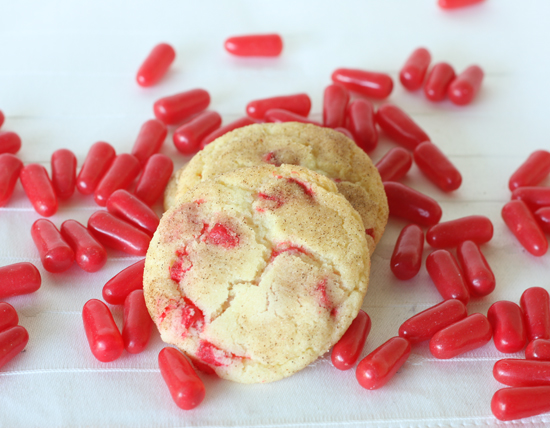 In keeping with my assertion that fall is the perfect season to enjoy cinnamon flavored treats I wanted to share another cinnamon dessert to enjoy throughout these fall months. Snickerdoodles are one of my favorite cookies. They are perfect eaten by themselves, but are even better when paired with a nice mug of apple cider or sandwiched into ice cream sandwiches. There is something very warm and comforting about the sugary cinnamon flavor and slight chew of the cookies that makes me reach my hand back into the cookie jar for just one more.
Well let me tell you, these snickerdoodles are like standard snickerdoodles on overdrive. They still have the warmth and gentle spice of the cinnamon and sugar coating but they are also studded with bits of spicy Hot Tamale cinnamon candy. The cinnamon of the candy is not warm and comforting. Instead it is bold and spicy and that is what makes it so great. The combination of the spicy candy and chewy cookie is so good I may never want to make regular snickerdoodles again. They are best when still slightly warm from the oven, but they are great at room temperature too. These cookies would be a fun addition to a cookie exchange or dessert buffet. They are sure to catch people's attention and leave them wanting more.

Hot Tamale Snickerdoodles
Ingredients
1/4 cup (2 oz) salted margarine, softened
1/4 cup (2 oz) shortening (I use Spectrum Organic)
¾ cups (5.6 oz) granulated sugar
1 egg
1 1/2 cups (6.75 oz) all-purpose flour
1 teaspoons cream of tartar
½ teaspoon baking soda
pinch of salt (increase to 1/4 tsp if using unsalted margarine)
½ cup (4 oz) Hot Tamale Candies, coarsely chopped*
4 teaspoons granulated sugar
4 teaspoons ground cinnamon
*the candy is quite sticky so the best way to chop it is with a lightly oiled knife.
Preparation
Line two cookie sheets with parchment paper and set aside.
Using an electric mixer cream together the margarine, shortening and ¾ cups sugar. Add the egg and beat until thoroughly combined.
In a separate bowl, combine all dry ingredients. Add the dry ingredients (except the candy) into the creamed mixture and mix until just combined. Add the chopped candy and mix until the candy is evenly distributed, a few minutes more.
Refrigerate the dough for at least 15 minutes (this makes it easier to handle).
Preheat the oven to 375 degrees. Combine the remaining sugar and cinnamon in a small bowl. Form dough into balls the size of small walnuts (I use a tablespoon cookie scoop). Roll the balls of cookie dough in the cinnamon sugar.
Place the cookies two inches apart on the cookie sheets. Bake for 8 minutes, rotating the cookie sheets in the oven at the halfway point. They are done when they look puffed in the middle and slightly brown at the edges (the tops of the cookies will form cracks). Be careful not to overcook.
Remove cookie sheet from the oven and let cookies sit on it for another minute or so before removing to cooling rack; cookies will flatten out as they cool.
These cookies are best served warm, straight out of the oven, but they are can
be stored in an airtight container for up to two days.
http://www.couldntbeparve.com/2013/11/hot-tamale-snickerdoodles/
Copyright Couldn't Be Parve