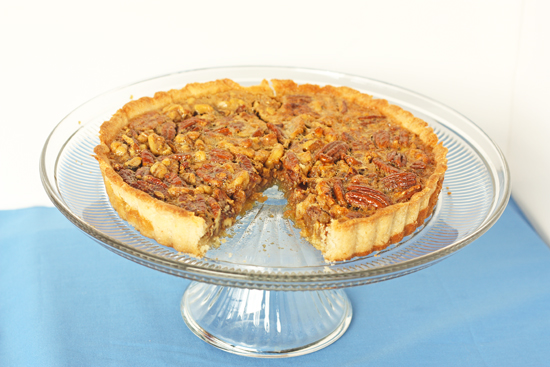 On Thursday I took the kids to Costco to do some of the Pesach shopping. By the time we were done the cart was overflowing and I hadn't even added any impulse buy items (like the giant bear filled with animal crackers that my son convinced me to buy last time that we are never going to finish by Passover). In addition to the alarming number of eggs (16 dozen to be exact) and the 25 pounds of onions, the other thing that took up quite a bit of that space were all the nuts. I bought pounds and pounds of different nuts. Between the charoset, mock chopped liver, nut butters, and all the desserts it is amazing how many pounds of nuts we go through on Passover. Finely ground nuts make up the base for all kinds of flourless cakes and nut butters are a quick and easy way to whip up a batch of last minute cookies. (Like these, these and these)
This year I am am making a dessert for the seder that brings the nuts out of the background and puts them center stage. This tart has the texture of a pecan pie but instead of just pecans the filling is made up of walnuts and pecans suspended in an orange scented honey custard. I like serving desserts for the seder that can be cut into small pieces because people are often too full for a lot of dessert. That being said, this tart is delicious combination of flavors that is sure to have people coming back for "just one more sliver".

Honey Nut Tart
Serves: 8
With baking, accuracy in measurement can make the difference between a tender crust and a tough one, so if at all possible I recommend measuring by weight rather than using the volume approximations.
For crust
1.5 oz (1/4 cup) potato starch
2 oz (6 tablespoons) matzah cake meal*
2 oz (1/2 cup) almond meal
1/2 tsp salt
2 oz (1/4 cup) oil
2 oz (1/4 cup) almond milk
1 oz (2 tablespoons) sugar
For Filling
1 cup (3.5 oz) walnuts
1 cup (3.5 oz) pecan halves
½ cup (6 oz) honey
½ cup (4 oz) dark brown sugar
1 teaspoon fresh orange zest, packed (zest of one small orange)
½ teaspoon salt
1 teaspoon vanilla extract
3 eggs, lightly beaten
*to make this tart gluten free substitute Yehudah Gluten Free Cake Meal for the standard Matzah cake meal. That also has the advantage of making it non-gebrotz.
To make crust: Preheat the oven to 375.
Whisk the potato starch, cake meal, almond meal, sugar and salt together in a large bowl. Add the oil and almond milk and stir to combine. Press the crust into a 9-inch tart pan with a removable bottom. Trim the top edges flush with the top of the pan. Reserve the scraps. Cover the crust with a piece of foil, top with pie weights and bake for 15 minutes.
Remove the foil and bake and additional 5-10 minutes or until golden brown. Remove the tart shell from the oven. If there are cracks in the shell patch them with the reserved scraps and return the pan to the oven for a minute or two to cook them into the crust.
(This is important so that the filling doesn't leak out the bottom). Remove the tart from the oven and turn the oven down to 325.
Warm honey until very thin and liquid-y. Whisk in the brown sugar, orange zest, salt, vanilla and eggs. Stir in the nuts. Pour filling into baked tart crust.
Bake at 325 for 30 minutes or until tart is set.