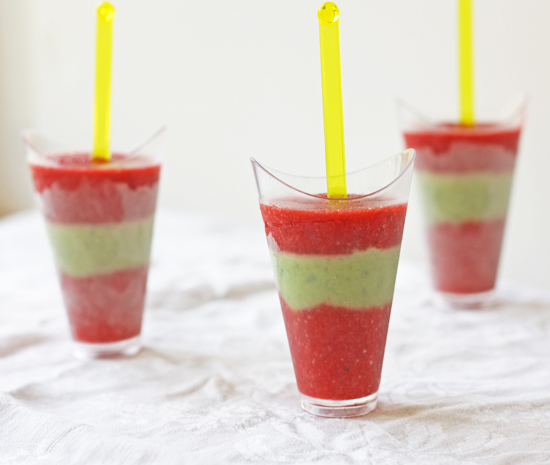 I have absolutely fallen in love with the combination of strawberries and basil. Ever since I made the basil ice cream in
The Perfect Scoop
I have been hooked. With strawberry season in full swing here I have been enjoying this flavor combination as much as I can. Strawberry soup with a basil cream? Yes please!
Strawberry parfait with basil meringues
? Don't mind if I do. I know it might not seem like the most logical flavor pairing but trust me when I say it is outstanding. I mean if you really think about it, basil is just another herb. It is growing outside right next to the mint which no one would think twice about adding to a fruity dessert so really it does make sense. (Another great herb to use in desserts is tarragon, like in this
tarragon grapefruit sorbet
)
With summer in full swing we have been making a lot of popsicles these days. We have been making all kinds of flavors but these strawberry basil ones have been my favorites so far. They take a bit of time to make because each layer needs to freeze until set on top before the next layer can be added, but the end result is so pretty it is worth it. If you are a bit leery of the strawberry basil combination you can just make the strawberry part which has a hint basil (but I recommend just going for it)!
I am not saying how many popsicles this makes because it really depends on the size of the molds. I used tiny ones so I got a lot out of this recipe, but I would imagine that with regular sized popsicle molds I would have gotten 6-8ish.

Strawberry Basil Popsicles
Strawberry Layer
1 qt strawberries
zest of 1 lemon
1/2 cup simple syrup*
4 large basil leaves
Basil Layer
1/4 cup tofutti sour cream
1/4 cup simple syrup
12 g (12 leaves) basil
Puree the strawberries, lemon zest, simple syrup and the four large basil leaves in a blender or food processor until completely smooth. Pour half of the mixture into popsicle molds (they should be approximately 1/3 full). Reserve the remaining strawberry puree. Place the molds in the freezer and freeze until the tops are set, 20-30 minutes.
Combine the tofutti sour cream, 1/4 cup of simple syrup and basil in a blender or food processor and process until completely smooth. Remove the popsicle molds from the freezer and pour the basil mixture carefully over the strawberry layer. Return the molds to the freezer and freeze until the tops are set, 20-30 minutes.
Remove from the freezer and fill with remaining strawberry puree. If using popsicle molds place the tops on and return to the freezer until frozen solid, at least a couple of hours. If using cups with popsicle sticks freeze again until the tops are set, insert the sticks, and then freeze until solid.
*Simple syrup can be made by combining one cup of sugar with one cup of water in a small saucepan. Bring the mixture to a boil, stirring occasionally to make sure that the sugar dissolves. Once it boils remove the syrup from the heat and let cool. Syrup can be stored in the refrigerator for up to a month.