A Week of Chocolate
August 3, 2009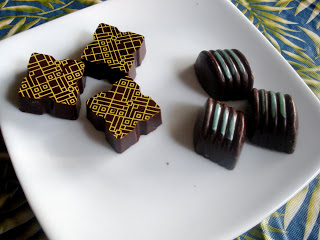 Last week I took an intensive chocolate making class at the Institute of Culinary Education in Manhattan. For five days straight we learned techniques of chocolate making. It started with basics like tempering chocolate and then covered various methods for dipped, molded and coated truffles and other chocolate confections. I had a blast and learned a lot.
One of my goals is to develop non-dairy truffles that are as luscious and delicious to eat as dairy ones, and I figured that I should understand the underlying principles of chocolate confectionary before messing with recipes to remove the dairy. I made one non-dairy attempt at cherry truffles one evening last week and they came out much better than any I had made in the past so I have high hopes for future experimentation. Since I spent the week literally covered in chocolate I though I would post some pictures of the finished products. The lighting wasn't great so it was hard to get good pictures, but these at least give a feel for what we made.
Recipe Updates – Delivered Fresh!