Magic Ice Cream Cupcakes, and other parve experiments
May 17, 2009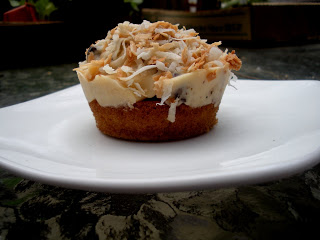 One of the reasons I have not been blogging lately, besides just being extremely busy with finishing up school (I am being ordained on Thursday!), is that I have been experimenting with my own recipes. Since I don't want to post them before they are right, I have been doing more baking than I have been posting. My most recent challenge has been trying to perfect a parve version of magic bars, also know as six layer bars, the delicious gooey bars loaded with various kinds of chips, nuts and coconut and topped with sweetened condensed milk that bakes to caramel perfection in the oven. I am getting close in my experimentation, but the bars don't really hold together well enough to serve.
Never one to throw away perfectly good sweets, even if they are too soft, I decided to freeze them to use as a mix-in for ice cream. That was the inspiration for these cupcakes.
I had been wanting to enter a cupcake in the Ice Cream Cupcake Roundup organized by the Cupcake Project and Scoopalicious but the endless possibilities made it hard to focus. With a bag of chopped magic bars in the freezer I had a direction, and I was off and running with an idea.
I decided that since magic bars have a graham cracker base I would make a graham cracker cupcake topped with magic bar ice cream.
Unfortunately, my freezer isn't quite cold enough to successfully freeze the insert for my ice cream maker, so I had to use store bought ice cream. Having been eating homemade parve ice cream, I am much less generous towards the parve ice cream options available in the store, and so that part of the cupcake was a disappointment. However, I loved the flavor combination, and definitely will make magic bar ice cream again as soon as I have a better freezer. It is worth making the failed bars on purpose just to mix them into ice cream, it was that good! With chocolate ice cream it is even better.
Once I had made graham cracker cupcakes my mind of course jumped to s'mores, so I also made a few s'more ice cream cupcakes: graham cracker cupcakes with chocolate ice cream topped with toasted marshmallow fluff. It is always fun to have an opportunity to bust out the blow torch, and graham crackers just cry out for toasted marshmallows.
Recipe Updates – Delivered Fresh!