Sugared Cranberries – The perfect Christmas candy
December 25, 2008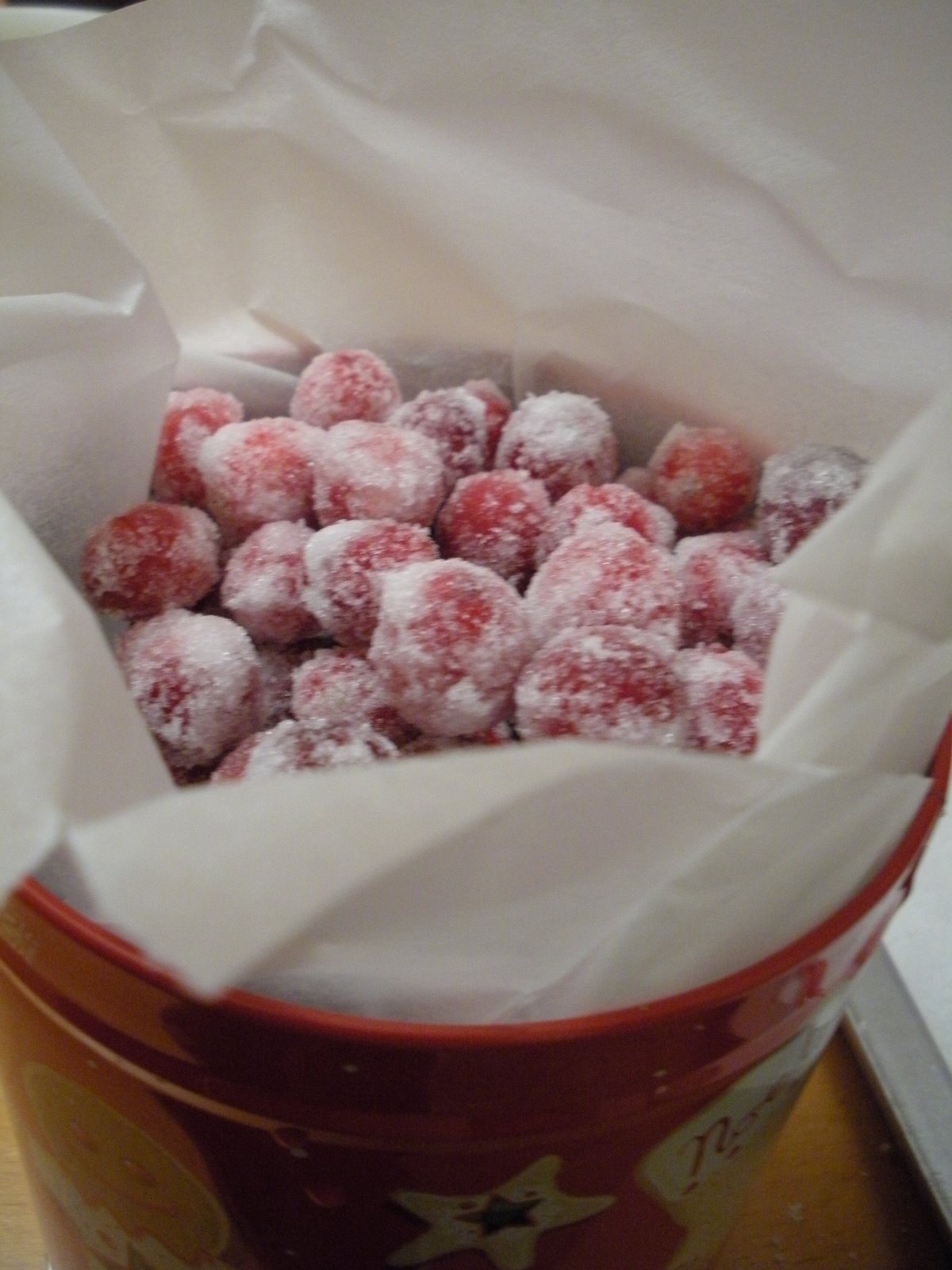 My number one recipient of Christmas candy is my college roommate. It is her tastes I consider when planning the candy to make each year. She knits amazing things for us and I send her sweets. I know I have the better end of the deal, but I do what I can. When I came across a recipe for candied cranberries I knew I had to make them. Cranberries are high up on her list of favorite foods. Fall of our senior year of college she went to a cranberry festival and came home with a crate of ten pounds of cranberries. Of course, we decided that was certainly not enough cranberries to get us through the winter so we ordered two more crates and filled the freezer. Cranberries found their way into all kinds of unlikely and delicious places that year. One of our favorites was an often repeated coconut cranberry kugel, but I distinctly remember making sandwiches of leftover duck on homemade cranberry walnut bread with homemade cranberry mustard that almost ten years later still brings a smile to my face.
I have made candied cranberries several times using the recipe from the original Joy of Cooking and they come out beautifully, but it is a many day process of soaking and drying and turing the berries. Very labor intensive. I was thrilled to find this recipe for sugared cranberries from Cooking Light that only takes a day, almost entirely inactive. I loved the look of the finished berries, the sugar coating looks like sparkling snow.
The relationship between the crunchy sweet exterior and the tart pop of the interior was perfect. I would have keep eating them nonstop, if only I had the foresight to make a double batch! In the spirit of generosity I let my husband have the few that didn't fit in the gift tin, but next time I will make more for sure. They would be a fantastic addition to any holiday party.
If anyone was wondering what was in the gift box I posted yesterday, it was pumpkin fudge and peppermint bark.
For those who are celebrating, Merry Christmas.
Recipe Updates – Delivered Fresh!