Rosh Hashana Challah
October 7, 2008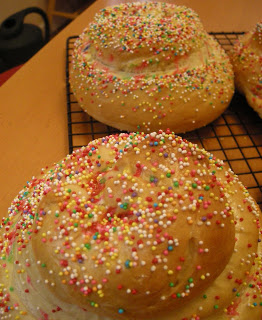 This year I didn't have a chance to make challah for Rosh Hashana and we were stuck eating slightly stale store bought challah to usher in the New Year. Since in my family we eat sweet round challah throughout the holiday season, and my parents were in town this weekend, it seemed like the perfect opportunity to make a Rosh Hashana challah my way. My family's Rosh Hashana challah is not quite the standard challah. Sure it is round an sweet, but it is so much more than that. Many years ago my mom bought a unique Rosh Hashana challah from a bakery run by an Egyptian Jewish woman and we have adopted this challah as our annual tradition. It was a round braid of challah topped by sprinkles.
Yep, that's right, sprinkles. Like the kind you would put on a cupcake. These colorful balls of sugar add a whole new meaning to a sweet new year. Sometimes they stay intact as the challah bakes and other times they melt into a multi-colored glaze, but either way this is the most festive challah anyone has ever seen. The sprinkles are simply added after the egg wash, the same way sesame or poppy seeds might added at other times of year.
The additions to the challah aren't typical either. Sure, raisins are good, but they are standard. I like to make things a little more interesting. My standard addition to the Rosh Hashana challah is a combination of dried cranberries and apricots. Most people seem to like this combination, especially when drizzled with honey. My personal favorite (also my dad's) is challah made with candied fruits, like the ones used in fruitcake. As a fruitcake lover I realize that I am in the minority, but if you love fruitcake then this is the challah for you. I made one like this for my dad and myself and we throughly enjoyed it over Shabbat.
While personal tradition is an important part of all holidays, if you are ever in the mood to branch out a little I highly recommend this festive challah. Just use these suggestions to add sweetness to your favorite challah recipe (or use this one here) It can't help but bring a smile to your face.
Recipe Updates – Delivered Fresh!